@oristarA,

oristarA wrote:

Thank you.

The newspaper's headline is: "Critics site troubles for some energy producers manufacturers"

site: to put in position for operation, as artillery: to site a cannon.
( Random House Unabridged Dictionary of American English)

That is, Critics bring troubles to feed manufacturers.

You do realize that's not a real newspaper, right? Even if it was? That newspapers do and often make grammatical errors as errors do get past lackadaisical editors (they're still human).
After all these years, you still haven't realized that many times typos and bad grammar get published in books, news articles, and whatnot. That idioms, slang, etc... also get published and sometimes you probably read too much or too literally into these sentences as well.
There's no such thing as a national DFL Party (as stated in another headline). That acronym in this context is bull hockey.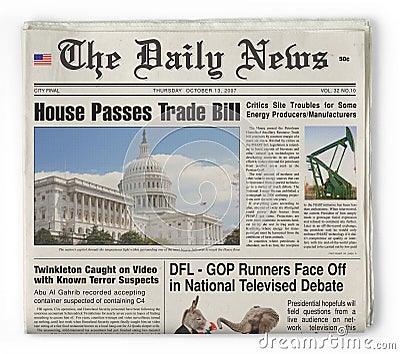 I didn't change any of this image file. Found it by Googling for Daily News. Both images are created in Photoshop (or some similar program).
The headline stated above is simply a typo on the word cite. The word site makes absolutely no sense in almost any context provided by the real world.
If you force that word into this sentence, you're pushing the line into poetry and metaphor which would be fine in a poem but the very opposite of a proper news headline (that at least isn't pithy and punny).