I'm fond of Ansel Adams, Thomas Moran, and
Galen Rowell
Own a Moran chromolitho that maybe sort of valuable - always get differnt valuations, I like the picture.
I'm going to read through the new additions in a bit - daughter and I are really enjoying this - she came up with this lovely Doisneau site
doisneau
timberlandko wrote:
Bit o' trivia; a large portion of photographs credited to Matthew Brady in fact were the work of his enployees/assistants. It is not at all uncommon to find fotos dated identically, credited "M. Brady", yet taken 100's and 100's of miles from one another.
That's true Timber.
After the war O'Sullivan went out west and produced one of my favorites:Canon de Chelle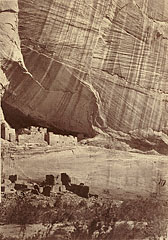 I have always liked Helmut Newton. Gee, I wonder why?
Well, okay, if your heading into erotica, nobody does it like Paul Outerbridge did it (and he did it in the 1930s)
Link to image
EDIT (Moderator): Image converted to link
LOL...of all people...Boomer got pulled.
Way to go Boomer. You're in a special group here on A2K
I received a nice note from the moderator explaining why they linked the photo instead of just showing it. I thought that the image would be okay on a photography thread but I certainly understand their reasoning.

Paul Outerbridge's work could be offensive to some people, I suppose. His erotica most certainly ruined his career.

He is revered for his mastery of carbo-color "technology" - an amazingly complicated early type of color photography that used vegetable dyes.

Stylistically, Newton and Maplethorpe and the like owe him a nod; thats why I thought to include him.

Hmmm.....

I wonder if.... say.... Edward Weston's "Civilian Defense" would pass muster.....

Nah, not gonna try it.
In any case...kudos for introducing me to someone I didn't know.
That's what it's all about.
And for that you are welcome!
Good job Boomerang. I was wondering about that pic myself. And do you know how hard it is to find a HN pic that can be posted here?
Ansel Adams was the master of black&white photography. He worked using large format film and wrote a series of books on his use of the zone system. Minor White taught at M. I. T. in Cambridge Mass. and presented methods for adapting Adams' zone system to 35 mm photography.
I would immediately have to say my mentor and friend Berenice Abbott.Yes there are lots of others but Berenice saw the future and captured it in her city photographs without knowing it. Unfortunately she did not really see the digital age but New York by Night is exactly what we have become .
I'm also interested in this topic (my fav. photograph's always been Bresson) .. anyway, at the moment I'm in the 2nd year of a BA (Hons) in digital Art and I have to research digital photographs but I'm having real problems finding one that I like ... Any idea ???

I'm also trying to find the name of a photographer whos work I saw on a BBC2 documentary last year ... I missed his name but his photographs were of large groups of people that he used to create designs/shapes out of ..

Thanks for your help.

mojo
You could use just about any number of Berenice NYC photographs the clue is in the relationship between the computer chip and the design element in her work. Make sure to credit me for this explanation.Cartier Bresson is in a elite group of artist who capture the spontaneous moment like an artist skettching a scene. His work does not apply to be visionary. Berenice Abbott had a premonition of the future and captured it using the city as an abstract model for the up and coming dominate chip of the world.The micro computer chip not Ruffles with Ridges.