Sun 20 Jun, 2004 05:45 am
No. Really. Bananas. I buy bananas and in two days, three days tops, they are mush. Fit for making banana bread, or mashing into fruit salad, but only after I scrape away the ooky parts. I would occasionally like to put some slices on my morning Wheaties.

I only noticed this after moving to New York. Are the bananas different here?

Is this the least consequential thread ever started on this forum?

Thanks for you help.

and I'm serious about needing an answer to this, I go to Frank's Market in fifteen minutes. So hurry.

Joe
Just buy them less ripe, Joe, green even. Or, hire a banana fluffer.
I buy fairly green ones on Sunday and by Wednesday, black as your hat.
Do those banana hangers work?
Now, all my life I had believed that you should "never never put bananas, in the refrigerator". Not so. When the banana is getting too "flecked with brown", I stash them in the frig. You can get a day or two extra out of them, before they turn to mush. The peel will turn a disgusting brown, but the fruit will be ok.

Also, I when I buy bananas, I will pick from three bunches. First one that is just about ripe, then a couple that are all yellow, and a couple that are green. In that way, they don't go bad all at once!
Strange Joe. You don't keep them near any tomatoes, do you?
Lots of reearch is needed in this area.I suggest we write up a grant proposal. ill go to Costa rica .
See ya.
Hold off on the cereal thing till i get back
I'm off to Frank's to try Phoenix's three bunch idea. [good one] The full report will follow.
Farmerman: Don't wait for the grant money, I'll get it. I know some people. You go ahead. Wait for me at the Paradisio Hostel, just ask at the airport.
Very important. Don't use the name Joe Nation, they know me as Viscount du Raefella de Raul and my nickname is ..
sorry, gotta go.
J
I suspect it has something to do with New York. My ex-girlfriend m,oved there two years ago and she looks like she's aged 10 years. Bananas may do the same thing.
I live in Tx and the humidity here will turn anything brown and limp. hehe. seriously.
I have abananna hanger in my fridge. I buy them once ever 2 weeks or so.
serious. it looks horrible when i open my fridge and there is a hanger of banannas ..BUT i hate having to do what you do and go to the store every flipping time i want a bannana.

Get a hanger.
or viagra.
hehhe ( had to sneak that one in )
Joe...do you store your bananas in a brown paper bag by any chance? My Mom used to say that keeping them in a brown bag will make them ripen faster and I've found that to be true.
I live 3 miles from the grocery store and I walk there for little things. Bananas are a regular part of my diet so I just buy a few every few days. My cubs like 'em too so they don't have time to go bad.
I'm the only in the suburbs guy I know who walks to the grocery store. It embarasses my cubs to no end. Bonus.
Nick
Quote:
I suspect it has something to do with New York. My ex-girlfriend m,oved there two years ago and she looks like she's aged 10 years. Bananas may do the same thing.
That is because you can do 10 years of living in 2 years in NY
Regarding bananas. Put them in the refrigerator for about an hour when you first bring them home. That will help them last a little longer. The best and most simple answer of course is to buy only as many as you can use in two or three days.
In the olden times, when they still made girls take home economics, we were taught that you shouldn't even consider eating a banana unless the skin was all brown and the banana was softsoftsoft inside. Yellowy-green and yellow bananas were not to be eaten - they'd be unripe and hurt your tummy AND you wouldn't get any of the good healthy benefits of eating a banana. Sooooooo, Mrs. Abbott (Kitchen Home Ec teacher, LCVI, 1973) would say, Joe, wait til it's allllll brown, then eat it. And don't remove the smooshy bits - they're the only good bits.
Sorry, ehBeth, but Mrs. Abbott's instructions are in conflict with those of the banana authority, Chaquita, who stated that "when they are flecked with brown and have that golden hue, that's when bananas are the best for you." And, Phoenix, as you probably recall, that same authority stated that "since bananas like to ripen in that very very tropical equator, you should never put bananas in the refrigerator".
SHEWOLFNM:

I also live in Texas...I like your occupation:Vivid Director: I am away to old to audition but would just love to sit and watch....remembering the good old days.
Now getting back to that Bananna Hanger are you kidding ?
Joe Harris
flyboy - as is the case with so many things, Chiquita changed her mind a few times over the years, as did the food authorities.

sugar is good for you
sugar is bad for you
honey is good for you
honey is bad for you
bananas are good for you
bananas are bad for you
alcohol is good for you
alcohol is bad for you
soy is good for you
soy is bad for you

I've read studies stating all of the above over the past several decades. Do I believe any of them?
I'm sure that Chiquita was thinking about what was best for the United Fruit Company, not the public health.
Joe, actually, it depends on the degree of ripeness, you bought those bananas.
Learn more about that
HERE
And, only buy some with these labels :wink: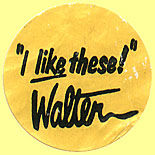 when we stopped over in costa rica for a day we took a trip to one of the coffee plantations. after lunch had been served, we were invited to pick our dessert from one of the banana bunches hanging from the ceiling in the open-air restaurant. those bananas were certainly ripe; they were small bananas (about the size of a thumb), dark-yellow turning to brown in colour and tasted like they had been sitting in a honeypot for a day. tried the small ones we can buy in the store here ... YUK . while we have to make do with the bananas that stand up to travel, they certainly don't taste as good as in a country of origin. hbg
Okay, I'm back after a long day of banana shopping. (Damn, Walter, what a link!!)

Here's the report: I bought three really green, (the green of her eyes that last night in Costa Rica, the green of the parrot, of the darkening sea) Okay, so crayon green, sue me. and two that are yellowish with green tips.

I don't keep in the fridge.
I don't keep on a bridge.
I don't keep them in a bag.
I don't keep them next to tomatoes ( what the hell is that, we blame tomatoes for everything now?")

We'll see how they are doing in a day or two.

Stay tuned.

Joe