I recently purchased a new SkilSaw tablesaw - to replace my trusty Craftsman tablesaw that I purchased nearly 15 years ago.
I had equipped my Craftsman tablesaw with four lockable wheels, to facilitate moving the tablesaw. Fortunately, my Craftsman tablesaw had pre-drilled hole, on the flat surface at the bottom of each leg - which made installing the locable wheels quite simple.
Unfortunately, my new SkilSaw came with a leg stand, but the legs are much simpler steel construction, where the legs have been bent at a right angle, but with no flat piece at the bottom of each leg - which leaves me with nothing to insert and bolt my lockable wheels onto.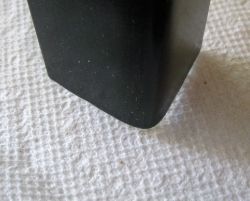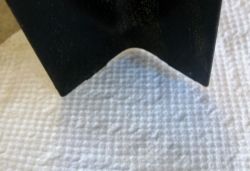 My new SkilSaw tablesaw did come with four, rubber feet, that fit onto the ends of the tablesaw legs, to prevent slippage.
I thought these rubber feet, might be a good starting point to a possible solution. I wondered if there might already be an aftermarket part, with a similar friction fitting that slips over the tablesaw legs, but in metal - and with a flat, bottom flange - at a right-angle to the fitting, which might be pre-drilled (or that that I'm sure capable of "post-drilling"). Anyone familiar with any kind of fitting that's "out there" - that might fill the bill?