Quote:
Calamity said: It is arguments like yours that made me leave the church, or more accurately asked to leave for asking questions and not accepting stupid answers (I may have a temper problem). You cannot teach that this earth is a testing ground AND that your god is a loving god
Think of God as drill Sgt Hartman mate, he wants only the BEST recruits for his Marine Corps, so he pushes them to their limits to find the toughest..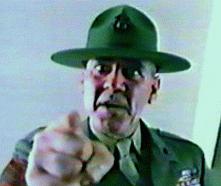 As for you refusing to take **** from your church, GOOD, you're the sort Christianity wants, you don't take krap from anybody and neither did JC-
Jesus said to the snooty priests-
"You're full of ****! (Matt 23:27)

("Woe to you, teachers of the law and Pharisees, you hypocrites! You are like whitewashed tombs, which look good on the outside but on the inside are full of the bones of the dead and everything unclean" Matt 23:27)
And Jesus's young cousin John used to go in town to yell insults at the corrupt rulers.
Jesus said-
"John is the greatest man ever to be born" (Matt 11:11)
John v Herod and Salome
Jesus said:-
"The world wants you to dance to its tune" (Matt 11:16)
but true Christians are daredevils and refuse to dance..