@Smileyrius,

Bad vibes are a no-no, for example remember when Jesus went to bring that little girl to life and everybody started yelling "Don't be stupid, can't you see she's dead?"
He had to clear them and their bad vibes out of the room before he could bring her back, allowing only some disciples and the girl's parents to stay.
Here's a little story i've woven around the incident in Mark ch 5 involving a woman we'll call Jessica-
JESSICA
Jessica had a good life in ancient Israel, she got married and had children, and was kind and friendly to all.
Like everyone else, she knew the story of the young carpenter from Nazareth who the snooty priests had killed years before when she was just a little girl, and she often used to sit and think about him and wished she'd seen him.
The years passed, and grey hairs began to appear. Her dear father died of old age, and then her mother became gravely ill.
As she sat at her bedside holding her hand and talking to her, their conversation turned to years gone by.
"Mum" she said, "you were a young woman when Jesus was alive,and i just wonder if you ever saw him?"
Her mother looked up into her eyes and said with a gentle smile:- "Well yes, as a matter of fact he came to our town one day when you were just a little girl"
"Wow mum!" replied Jessica "and did you manage to catch a glimpse of him among all the crowds?"
"Yes i did, in fact he came down our very street!" replied her mother.
"Really?" asked Jessica in wide-eyed astonishment.
"Yes darling" answered her mother, "and as a matter of fact your dad ran out to him and asked him to come into our house"
Hearing this, Jessica's jaw dropped in amazement.
"Oh mum, thats fantastic!..I wish I could remember it!"
"Darling" replied her mother tenderly, "I've never told you this before,but when he came in he held your hand and he spoke to you!"
"Wow thats absolutely incredible mum!" said Jessica in delight, "And what did he say to me?"
Her mother looked into her beloved daughters eyes and replied:- "He said to you softly and gently 'Get up little girl'.."
"Ooh and what happened then mum?"
"You came back to life darling" answered her mum, "he brought you back to us.."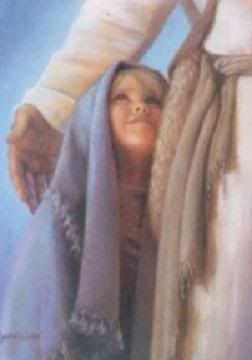 Mark ch 5 - "He went in and said to them, "Why all this commotion and wailing? The child is not dead but asleep." But they laughed at him.
After he put them all out, he took the child's father and mother and the disciples who were with him, and went in where the child was.
He took her by the hand and said to her, "Talitha koum!" (which means, "Little girl, I say to you, get up!" )