Well, Halloween has always been one of my very favorite holidays from the time that I can remember.
When I was growing up, we were allowed to wear our costumes to school if Halloween fell on a school day. We would have a little Halloween assembly and parade. I don't remember if they gave prizes or not.
Then we'd run home and I mean RUN home from school, grab our pillow cases and hit the streets. I can't remember either of my parents ever coming with us - different times I guess. It was safe for just a group of us to walk around the neighborhoods - we lived in Halloween heaven - nothing but houses arranged in suburban neighborhoods for miles and miles.
We'd walk from 4-9 pm, when we finally had to give up and go home because it was dark and people were starting to not answer the door.
Then we'd switch and sort candy for about an hour. My sister loved baby ruths but hated hershey bars - I loved hershey bars but hated baby ruths so we'd make those switches.
My dad got all the Bit o' honeys - no one but him liked those.
I can remember having candy stashed away until Christmas.
I trick or treated all the way through highschool. It was acceptable in those days where I lived. You DID have to put a little effort into a costume - you could be a bum or something - wow - just reminded me of the other thread - how pc is that?
Even as an adult with kids of my own, Halloween was still my favorite holiday.
Same thing - we'd start out after school when they were little - I did walk around with them just because I liked the atmosphere and I didn't want them getting hit by a car- we lived in a small town in Maine with not alot of sidewalks. I wasn't afraid of anyone hurting them deliberately.
Our routine once we got home was to eat candy and watch the Rocky Horror picture show - not the kids - the adults.
I'd have to make sure they had a costume under which we could stuff a winter coat - it was always cold by Halloween there particularly after the sun went down. My friends on facebook who still live there have told me they got 4-8 inches of snow last night.
Again - our little town there was Halloween heaven.
By the time we moved to a more upscale neighborhood in North Carolina, it was a bitter disappointment.
No one let their kids out anymore - we might get ten trick or treaters all night. By that time it was all community center parties, etc.
No one really does it around here in England either - yeah, it's all safe parties in village halls over here.
One word of warning - if there is a haunted house - make sure your kids are old enough to go. I let my son go in with a group of his older friends while I stood outside waiting with my daughter at the one the local highschool had set up and when they came out one of the girls was hysterically crying - she'd been really afraid.
I still love Halloween.
Last year, I happened to be in the US visiting my sister on Halloween. Talk about Halloween heaven - her neighborhood is the best Halloween neighborhood I've ever seen. I went through this haunted house with one of my old students. We had a blast - but you wouldn't want your little kids to have bad dreams - which they might after seeing something like this haunted house: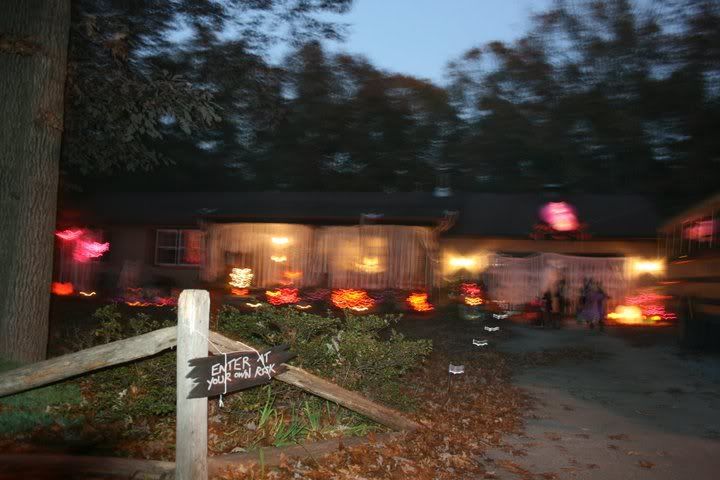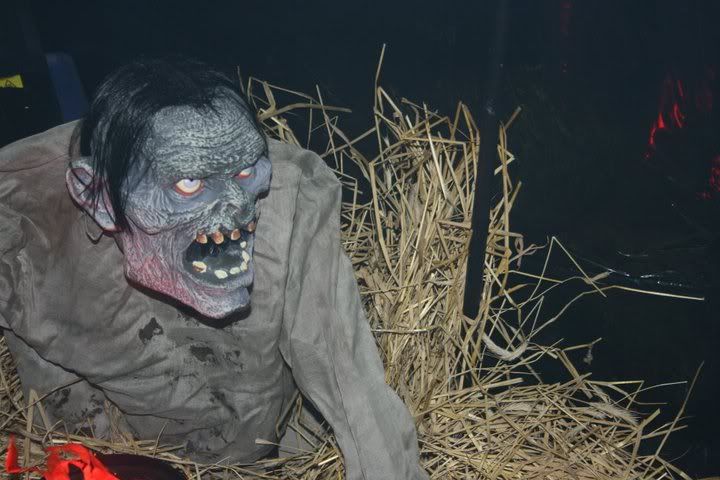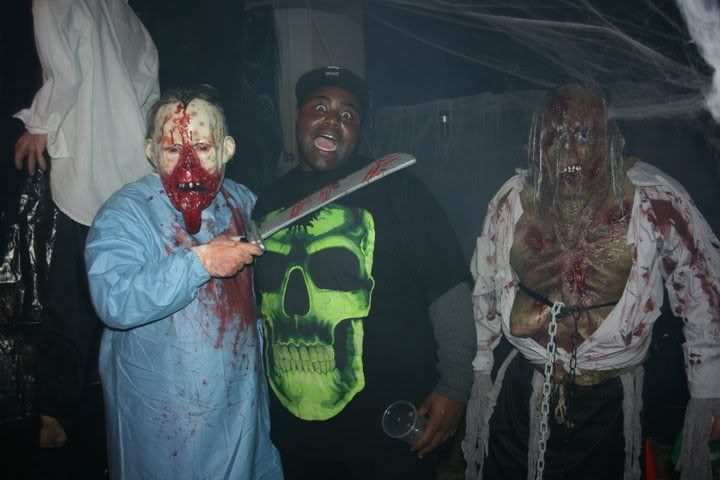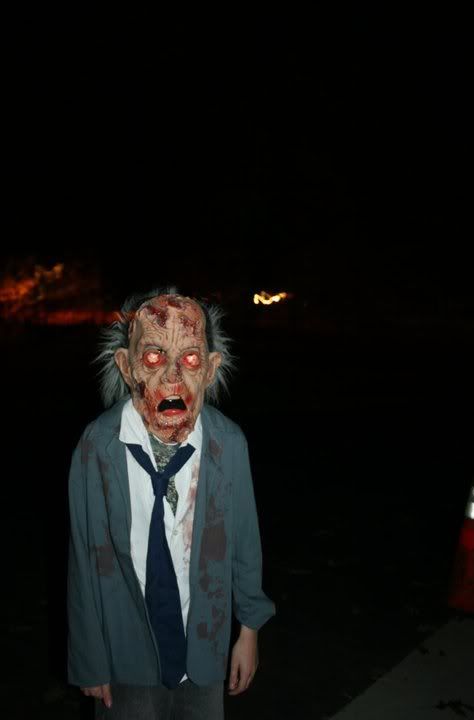 Kudos to the little guy at the end. He ambushed me as I walked out - and YES - he did surprise and scare the heck out of me. He was so proud of himself- getting to be part of the haunted house with the big guys and scaring an adult. I told him he did a great job and gave him one of my candy bars.
Happy Halloween!