Mon 13 Jun, 2011 12:08 am
There's a lot of strong female leads in film.
But today I was thinking about villainous females in film, and I couldn't think of one that I enjoyed and found believable. What about you all?
I really enjoyed the Mags Bennet character in the FX "Justified" series.

@MrIVI,

Cruella De Vil
Rap
Anita Pallenberg as The Black Queen in "Barbarella"
sandra bullock in the blind side

jennifer anniston in marley and me
@MrIVI,

Glenn Close - Fatal Attraction
Jeanne Moreau as the title character in The Bride Wore Black
(This movie greatly influenced Quentin Tarrantino's Kill Bill.)
Nurse Ratched, One Flew Over the Cuckoo's Nest
Margaret Hamilton from
all those coffee commercials
The Wizard of Oz
.
Bette Davis, planning Joan Crawford's menu in
Whatever Happened to Baby Jane?
Oh, wait, you want
believable
female villains?
Never mind.
Jessica Walter in Play Misty For Me
@joefromchicago,

Bette Davis scared the daylights out of me in that movie!
I found Angelina Jolie as Olympias in
Alexander
to be very convincing, in a Mommy Dearest sort of way . . .
Angela Lansbury in
The Manchurian Candidate
. Even more heartlessly cruel and cunningly vicious than that bitch Jessica Harper she played in
Murder, She Wrote
.
@Setanta,

Bringing up
Alexander
is pretty villainous in itself. You are history's greatest monster!
Officer Nancy Taylor, Conviction.

SPOILER ALERT!

I just watched this movie this passed weekend. It's based on a true story in which a guy, Kenny Waters, is wrongly convicted and sent to prison for life. To get him out his high school dropout sister resolves to get her GED, a bachelor's degree, and then a law degree so that she could represent him.

Officer Nancy Taylor, who has it out for Waters, coerces two witnesses to give false testimony against him.

I hadn't even heard of this film when it came out last year. I don't recall even having seen it in The NY Times Movie Review. I came across the trailer that was on the Black Swan DVD that I had rented.

I recommend it.
The wicked Queen in Snow White.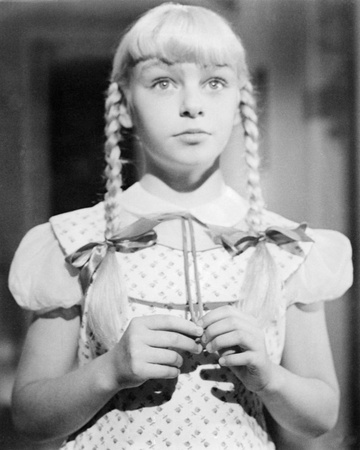 Patty McCormack in The Bad Seed
Anne Baxter in All About Eve.
Barbara Stanwyck in Double Indemnity
Eihi Shina in Audition (a 1999 Japanese film)
@firefly,

That little girl gave me nightmares! I have seen the remake of that movie and I think Claire Brown played the mother but the child.....she could not touch the original's performance. All About Eve.........I watch it everytime it comes on.