I'm going to enlarge the scope of the question a little, because I think the perceived "evilness" of bread and milk is a mere symptom of a much larger question.
I think that in the US, there is a festering self-hate and deep suspicion of just about everything.
Everything must be toxic, avoid everything.
Certainly that includes every food we eat, and Americans point to every malady and their obesity as proof that it must be the food's fault. Beyond bread/gluten and milk/lactose, there's of course meat, which they somehow imagine Impossible Burgers are better than, even though they're margarine-type concoctions of unnatural ingredients including GMO-heme, and are higher in saturated fat than real meat. And peanuts... Many soccer moms are lobbying to have schools 100% peanut free, though in my generation every kid was expected to eat PB&J sandwiches. What is particularly frightening is that pretty much every food is on the list at this point. Even salad, for instance, which is (legitimately) indicated as one of the most dangerous foods as a vector for food poisoning.
https://www.healthline.com/nutrition/foods-that-cause-food-poisoning
.
Beyond food, in politics for instance, Americans are now loath to simply tolerate the other party and wait for their own chance to again have the majority, instead they want to drag their feet, impede any progress, and scream non-stop for four years until the next election. And there's no single party leading that behavior; it's become the norm.
Even more troubling is the self-loathing that I think is at the root of many people covering their skin with tattoos (because their original skin is bad and must be disguised), or getting plastic surgery a-la-Michael Jackson, because their facial features are all wrong, or gender reassignment because this gender must be a mistake.
Not to seem insensitive; I know some people (including me) legitimately have something like a lactose intolerance or a peanut allergy, but that is not the same thing as vilifying everything, touting gluten-free bagels as a miracle drug, encouraging your son get the tattoos he wants to look like a reptile,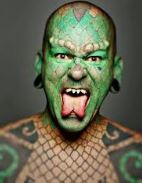 and insisting that your 5 year old daughter have hormone treatments to become a boy just because she didn't like having ribbons in her hair. And yes, there is genuinely a lobby advocating pre-pubescent gender reassignment.
https://www.cbsnews.com/news/sex-change-treatment-for-kids-on-the-rise/
I have spent quite a bit of time in other cultures, including living in several other countries, and I've never seen this sort of thing, nothing close. The Quechua of Peru,
The Chinese, Mongolians, Italians and so many other cultures wouldn't dream of questioning their food and rejecting their culture and their place in it as a man or woman... I can't imagine for instance a large percentage of Chinese rejecting rice, and saying "we will only eat non-plant rice from now on." They eat as their ancestors did, and they're thankful and loving toward their cuisine. Nor do large numbers of any of these people assume that their bodies must be wrong, and try to disfigure themselves with tattoos and surgery.
It's a deep-seated national sickness, in my opinion.