I love color in a house! I painted my living room walls purple from the Benjamin Moore Aria collection with a paler shade on the ceiling.

Actually, the ceiling is composed of those little sections of plaster with furring strips holding it together. Not classy. Painted white, it was disaster. Looked like a summer cottage on a lake.

I stenciled the walls with diamond shaped patterns that extend from about a foot from the ceiling to just about a foot off the floor. THe pattern is white and the trim was painted white (hiss, boo! not by me!).

The living room leads directly into the dining room which I am now painting in three shades of teal green (darkest on the window wall, medium in the middle and the lightest on the interior wall with fireplace) to pick up the tile surround of the fire place. I am leaving this ceiling white but dropping a space of 8 inches which I am painting antique white, then stenciling with a popular woody vine whose name totally escapes me now.

The kitchen is French blue but the added space which was once a porch is painted a much darker blue. So far, the ceiling is white but I intend to stencil it with a Victorian pattern in French blue.

What are your color flights of fancy?
Hey POM, long time, no see. We recently had a thread about this, but I couldn't find it to link up. I'm all about earth tones (surprised?).
Hey, Greenwitch, I sort of fell of able2know . . . but it is a long story with several elements. I moved and I dropped the yahoo account that connected me with A2K because it was overwhelmed with spam.

Is that your house? Your furniture is beautiful! I love the living room and the two wide . . . are they architraves? . . . around the windows are stunning!
@plainoldme,

Nope, not mine, just in color and feel. I'm a terrible photographer and Google Images has spoiled me forever.
That's cool! My living room was inspired by a magazine spread in Country Living from 1996. I saved the pictures for a decade. The design wouldn't have worked in the house where I lived before: the living room had the wrong shape. There was another house I wanted to buy but the design would not have worked there either. In fact, had I bought that house, I would have painted the living room in shades of aqua with Arts and Crafts trees painted in the corner.

Anyway, I tried to photograph my living room to send the pictures to the magazine and to the stencil company from which I bought the stencils. Did not work. You need great lighting and lots of skill to shoot your own house.
@Green Witch,

Love that second pix. it's color scheme reminds me of a Wyeth painting
I love vivid colors. My house is prime example for it - my living room and kitchen are orange, my bedrooms are different shades of yellow.
Here are some google pictures of those colors
When we first moved in, everything in the house was painted white. And I mean EVERYTHING -- even the doorknobs had been painted white. It wasn't even good white, it was primer white. We had to strip off most of the white before we could even start painting.
We have mostly used Aura paints too. If you have a color chip card you'll know exactly what colors I've used so far. The living room is "carob" with "mascarpone" trim. The dining room is "honeymoon". The entry hall is "wasabi".
I'd post some photos but both rooms are undergoing renovation right now and are full of construction equipment. Maybe next week I can post some.
I painted my bathroom "blurple" - I don't know the real name of the color. This room is about to be completely demolished but here's a before and after anyway: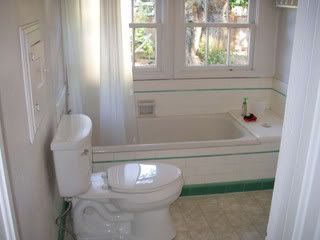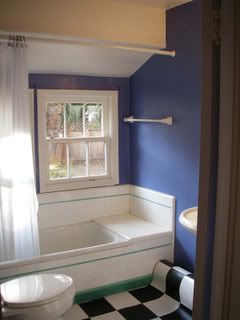 Boomer

I love that blue / purple colour. I have some pillow cases that colour - but couldn't find matching sheets.

My house is sort of the other way. The walls, floors, ceilings, tiles,etc., are all coloured a very pale dusty sort of pinky beige. I bought this place off the plan, (i.e., not yet built) and had a choice of 2 colourways. The other was a browny-beige, and as I'm big time opposed to brown, I chose this. I've been here 11 years, and find it just the most relaxing colour. It's very easy to live with and, IMO, better than having the whole place in white.

I have large and colourful paintings, photographs, wall hangings, cushions, and, on the windows with uninteresting outlooks, I commissioned some great lead-light pieces, in burgundies, reds and blues that I absolutely love. So, from a plain background, my house is very colourful.
Your color combination is really very nice especially that bathroom looks very beautiful.


@boomerang,

hey boomer, what kind of tub is that. YOu cannot believe it but we have been driving us each nuts trying to come up with a tub type becasuse one of or baths is in a shed room with just the same ceiling as the one you show. DAYUM , this is a find of the century on A2K for me.
@farmerman,

It was just a plain cast iron tub, probably from the 1920s, that they had tiled in. The only thing left of it is the drain cover reading M. L. Kline Company and Faultless -- so that was probably the hardware, not the bathtub manufacturer.
Paint colors miraculously do wonderful effects to our home. Searching the correct color temperature would aid in creating the mood for a particular room of our home. This crucially give effect on the overall appeal of the area.Fort Worth painting must also complement the colors of the furniture in your house.
Color is very important thing for house painting. It plays very important role in making home attractive. It add value to home and our life style. Thanks!

@Green Witch,

I am working on a blog on color! love Color!!! do check this out when you get a chance:
Edit [Moderator]: Link removed
Look fwd to your comments!
Vidya
@vsudarsan,

Vidya, some very neat ideas. I like the color wheel as a place to start. In US we use a system called the MUNSELL color system. Every color known has an index made up of an alphaneumeric symbol. Each colr group is developed with a letter or two (eg YR=yellow red) then a series of numbers that correspond to the amount of dark values and light values (eg 10 YR 452). This means its the 10th set of yellow reds that vary by hue and chroma , then the 452 is a descriptor that shows the intensity of that particular color swatch.
This allows colors to be added and diluted using a hexadecimal system of addition/subtraction.
In my main job, I carry 2 notebooks with color descriptors and paint swatches that I use to compare against natural colors of rocks. That way I will always have the equivalent color to compare one area to another's soil or rocks
@farmerman,

Thank you for your note! Will explore the MUNSELL color system.. sounds very interesting.
@farmerman,

Interesting. I knew nothing of this.
@plainoldme,

the painting colour should match with furniture and other home decors, once you've done this, you will get amazing effect finnally.