@MMarciano,

That makes sense.
Grrrr to that guy.
Quote:
Lissi the dog sits on a camp bed in a sport hall, where 350 people were evacuated, after a chemical accident that resulted in a toxic gas cloud occurred in Bad Fallingbostel, Lower Saxony. More than 1000 people were evacuated, local media told.

Fabian Bimmer/Reuters
http://www.csmonitor.com/Photo-Galleries/Photos-of-the-Day/2012/Photos-of-the-Day-10-16/%28photo%29/572833
This morning I found half a squirrel in the back yard. Still haven't found the other half.
Our little dog girl used to bark in the middle of the night, but when i'd go downstairs to let her out, she'd show no interest. Eventually, i was awake enough to realize that she just wanted a drink of water. (We close off the stairs so that they can't wander the house while we sleep.) So i put a water bowl upstairs, and it immediately stopped the middle-of-the-night barking. Well, one day a couple of weeks ago, i noticed that the girl dog, despite her infirmities, would climb the stairs to get a drink of water, rather than just going out into the kitchen. Last night, i came out of the bedroom to find the boy dog drinking from the upstairs water bowl--he had climbed the stairs rather than just go out in the kitchen. What? the water tastes better upstairs?

Dogs is goofy.
Havana, Cuba: a dog peers through a fence under a sign near a polling station that reads: 'Vote early, vote for the best.' Cubans are going to the polls on Sunday to vote in municipal elections.
Photograph: Ramon Espinosa/AP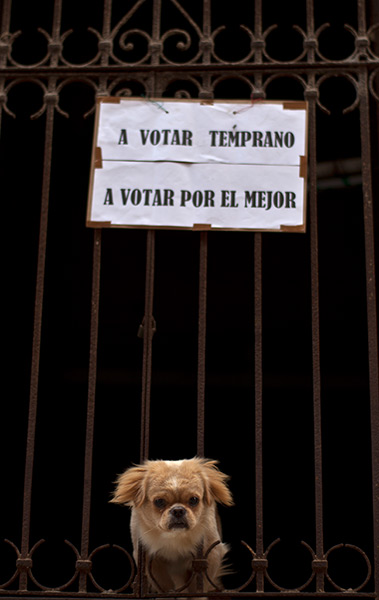 Quote:
Dogs are curious, they want to know what's happening out there! The PetPeek window can easily make that possible.
http://gizwizbiz.squarespace.com/daily_giz_wiz_gadgets/2012/10/22/two-doggie-gadgets-from-the-ny-pet-expo.html
@Region Philbis,

So funny. The Brain Function drawing explains Katy very well.
@msolga,

underwater BT...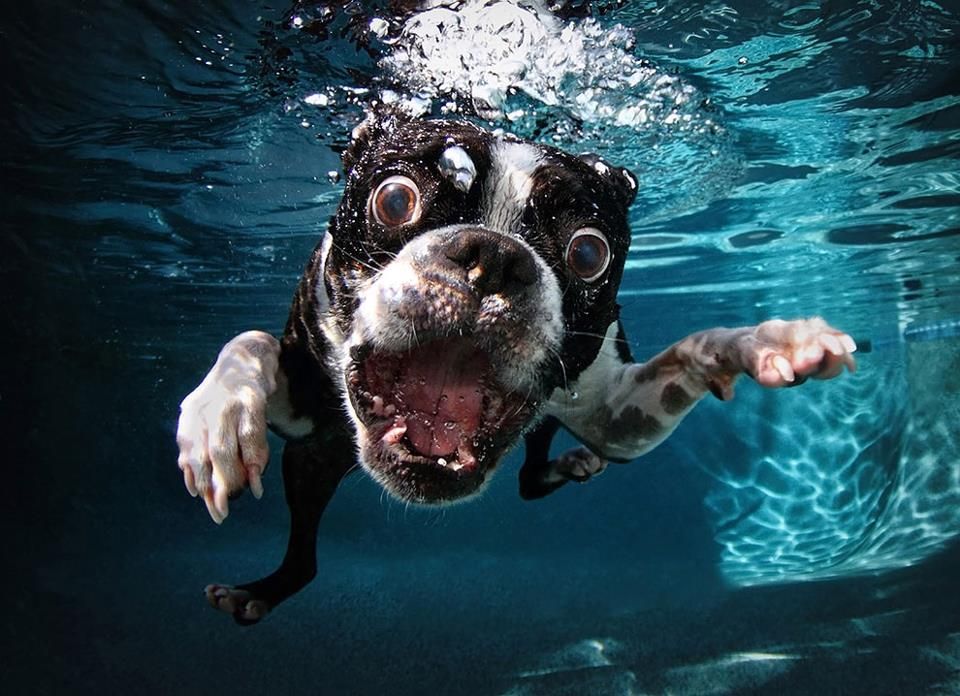 How Are Your Pets Weathering The Storm?
http://gothamist.com/2012/10/29/hurricane_pets.php#photo-1
@tsarstepan,

Katy turns into a talking moaning growling attack dog when we have a fifteen minute passing thunder and lightening episode. She'd probably get wacky in a hurricane, but then so would I, we'd be wacky together.
@Region Philbis,

Whaddya want me to bark, boss?
A little day old bread stale but still funny:
Mr. Burns Endorses Romney | The Simpsons