Fri 26 Dec, 2008 08:59 pm
I went to a hobby shop today and that place was jam packed. I had never been in this shop before and I was amazed at the variety of "hobby".

Photography used to be my profession but I guess now it is my hobby. Still, I would like another hobby. Today we bought paints to paint a model Ghostbuster car and painting it was a lot of fun....

Should building models and painting them be my hobby?

I want a hobby that I can buy stuff at the hobby shop to help me enjoy it. That leave out some things I'd like to learn like carpentry and welding. It also leaves out things like reading which is more of a way of life than a hobby.

Do you have a hobby shop style hobby?

What is it and why do you enjoy it?

Do you hang out with similar hobbists or is it a solitary endevor?

Thanks!
@boomerang,

I dunno if I have a hobby but "welding" reminded me that I so want to learn that.
And glassblowing.
I found classes here (glassblowing), just one of those time/ money things (don't have quite enough of either -- but then who does?)
Beading/ jewelry making is currently probably the closest thing I have to a hobby. I have tools, I have special storage containers, I have my favorite stores, etc.
A hobby I have always wanted to pursue, but never got off the planning stages is drawing. The reasons include: the materials are not really expensive (a few different numbered pencils, sketch book and eraser); many books in the library that offer help in learning to draw; there is a long history of drawing that one can read about; it can be something to give to friends and relatives as gifts, and leave for some legacy; I believe drawing puts one into the circle of art loving people for whatever that is worth; it might train one to see the world with more insight, rather than just see things like one is browsing a magazine.

I would be careful with any fixative spray. The fumes may not be healthy. This too can be elaborated in an art instruction manual from the library.


@Foofie,

I enjoy quilting - I know it sounds like an old lady kind of thing. But my neighbor taught me when I was a little girl. I am the kind of person that has to be doing something - even when I am just watching tv. So quilting it great like that...I have done it enough now that it is mindless...I can do it without much thought...but the colors I choose and the accessories to make it different are so much fun.
This is not a great picture but it is a small quilt I did that I framed.
Years ago I was an avid knitter. I stopped when M was born and didn't have two minutes to sit down. I never picked it back up once I did have the time.

I also used to do a lot of gardening. I can't physically do it any more so it's become a chore rather than a hobby.

I read much more than I used to and I do sudoku puzzles but I don't really consider them hobbies.
@boomerang,

Photography...
Did a lot of scrapbooking... making albums for friends...wedding pics / memory albums from my photos/old photos/things that are years old... many years old. Got a loada stuff when I was in the US in the summer.... sumptuous papers that look like warmth, petwer tokens, stuff... now I just have to do them... maybe in the New Year. I made cards for years... used to sell them... moons ago. Scrapbooking is very creative... has a lot of depth in how you put it together - for me anyhoo. Really need to get back into it.
@mismi,

mismi, that looks very nice. Do you do bedspreads too?
I used to knit lots of sweaters, but once we moved to California, I felt it was
kind of redundant in such warm climate. I also did a lot of sewing, but haven't
had time to do so in years. Dto. with painting, but all this took place B.C. (before child) - perhaps once the kid is driving herself and I don't have to play chauffeur,
I could pick up some of it again....
My ADD allows me to engage in several hobbies , and I love em all.
One that is not a hobby is watercolors. I handle this almost like a job, more like a career and Im always ripping watercolors to tiny shreds when they miss my point and dont become what I see in my mind.

Fishing, boating, gold panning, rock hunting, fossils ditto, wood working, wood carving. pottery, photography (Im a real beginner there), playing my pedal and lap steel guitar, bird watching, gardening, raising orchids (I do mostly Phaelinopses and Dendrobia)
hanging out with my dogs, and riding my bike(TR Daytona), and working on an old cougar XR7.
I also do cartooning for several local newspapers (which, with the downsizing of larger newspapers, Ive been approached for freelance work-so thats getting to be a job). Ice skating with my wife at the U of Delaware Rink, rabbit and goose hunting , cooking and baking,.
I guess I can be conned into playing with just about any toys and get hooked.
@CalamityJane,

Thanks Jane. I have never tried a bedspread - I could - it would take a long time. I just haven't gotten the gumption to go that big yet!
Painting is hard once you have kids. I can't do it anymore. I have tried and I just can't seem to carve out a block of time that suits. Just one of things that maybe one day I will get back to...it's why I like to quilt - that I can do "watching" a football game with the boys.
Izzie - there is no doubt you are a skilled photographer. You have a wonderful eye. JPB - I would love to learn to knit. I just learned how to do it on the circle looms...I would like to try to do it the traditional way. I keep a lookout for those around me who know...Someone has to show me!
@farmerman,

Wow Farmerman....you do have a lot!
@boomerang,

I knit and needlepoint, and I have a townhouse dollhouse that I am decorating.
i've never really had any one hobby, but a lot of interests

cooking, bird watching, fossil hunting, gardening

used to love making mixtapes, complete with hand made covers, back in the day, and still make some mix cd's

I consider cooking my main form of artistic expression and not a hobby, but some might call it such. I consider being a railfan a hobby, i like to talk about, photo, look at photos of , and ride...trains.
@mismi,

When I was living in the US... heck... 18 years ago!....whilst carrying a large bump and on bedrest I quilted a KS quilt bedspread... have just got it out of the wardrobe to show you .... took plenty of months to complete
gosh.. hasn't been used in years...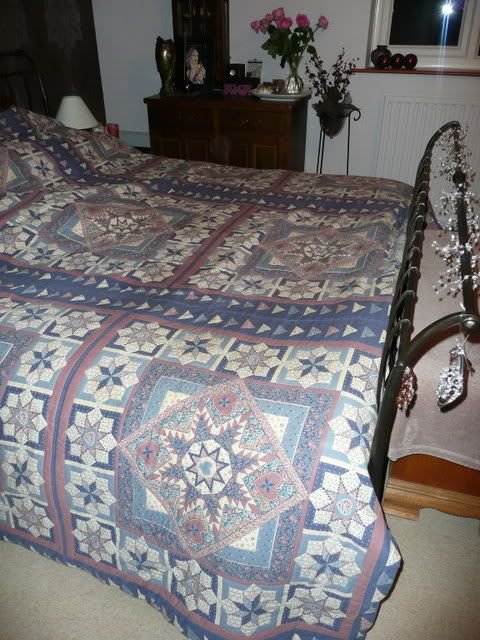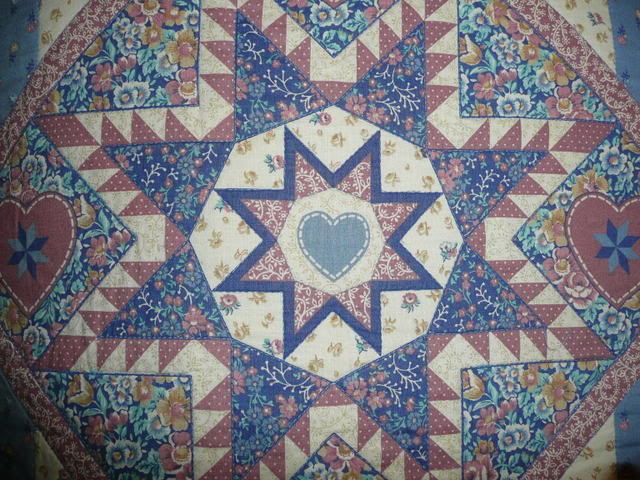 I think my best achievement was a cross-stitch for my brothers wedding... no pics... but the one thing I was really proud of. Would never be able to quilt or cross-stitch again with my hands as they are - did enjoy it tho way back when.
Quilts are having a come back, ladies. This one is very pretty, Izzie.
I should have bought one from the Amish when I was living in NYC.
I'd like to start a quilt that looks something like this I've seen at Anthropologie stores.
I could buy it, but the quality of their quilt is just lousy and not worth the price.
wow izzie, that's a beautiful quilt



@CalamityJane,

Izzie - I am amazed at how detailed and beautiful that is...my attention span is short - so it would take me a lot longer to do a quilt like that. That is why I do the cathedral window quilts. I can do them by hand and I don't have to pull out my machine to stitch them together. I just do it in front of the TV or on road trips....and they make great pillows. I made a table runner one time for my MIL - that is about as big as I've gotten.
Jane - I would love to see that one up close. I think it would be fairly simple to do. I am assuming the corners are mitered on it? It's hard to tell in that pic. It doesn't look like there is a lot of piecing - that would be my kind of quilting! It is beautiful though...I love the fabric and colors in it.
@JPB,

Quote:
I read much more than I used to and I do sudoku puzzles but I don't really consider them hobbies.
I have tried Sudoku puzzles...my neighbor bought me a book last year when I broke my foot...I was almost pulling my hair out after the first one. I am not good at math...and details...well fuhggetaboudit.
@mismi,

mismi wrote:
Jane - I would love to see that one up close. I think it would be fairly simple to do. I am assuming the corners are mitered on it? It's hard to tell in that pic. It doesn't look like there is a lot of piecing - that would be my kind of quilting! It is beautiful though...I love the fabric and colors in it.
mismi, I like those colors too, and my bedroom is painted yellow, so it would
fit. Here is the link to Anthropologie and there you can zoom into it
Quilt
@djjd62,