Thu 16 Oct, 2008 11:08 am
NO!

It seems the left believes that race trumps gender. I have heard people on the left say the phrase, "race trumps gender" with authority as if there is no doubt that the axiom is true.?

Well I am here to provide a dissenting opinion.

I was born a male and identify with others of male population.

I have lived my life to believe that there is no difference between a black man or a white man either intellectually or concerning equality.

But are women as equal to men? NO. It is just a plain fact.

There are vast differences between men and women.

I am bringing up this point because that both Hillary and Sarah Palin represent the vehicle for change not Barack Obama or John McCain.

Barack Obama is just another male dressed in black skin. Men, try to act all civilized and try to fit in but there is that sly subtle part that is always found sitting around the poker table smoking cigars with the boys.

A woman on the other hand if she is black or white is different in very many obvious ways.

They of course have been born with a completely different genitalia...

The brain itself of a woman is made of more compact denser gray matter.

Men are often characterized as cankerous, egotistical, vain, un-humble, too spontaneous, where a woman because of their physical weakness (in most cases) to a man have had to develop and evolve a keener sense of intelligence to combat the often misguided male aggressiveness. Men seek after this kind of female wisdom but do they ever achieve it? Just as women seek after the male orgasm but do they ever achieve it? Or do they surpass the male orgasm? All questions that reveal the differences in the way males and females think and feel.

Also men are driven by images where women are driven by touch. As much as Barack might like to get in touch with his feminine side it will never allow him to bring the type of change a women would bring to either office. I am not saying that women are more ethical. Or am I saying that? Not sure. Only time will tell. Both Cleopatra and Queen Elizabeth were great rulers over long times of peace and renaissance. Margret Thatcher was also a wonderful woman of the people. Joan or Arc was very influential and intellectual woman in a brutal time of such darkness.

Woman "generally" are more nurturing to children. This would make them also predisposed to be possibly more nurturing to people were they to associate people with this inbred instinct of "mothering"…

Men on the other hand seem distant and self absorbed often to the detriment of many households and families.

Minorities seem even more likely to have families without an in-home father.

A woman's sense of smell is 3 to 4 times greater than that of a man.

A man is often concerned with numbers and exact or specific amounts and women often guestimate and say things like "a whole bunch" or "really terrible." Men seem to attract to science where women seem to attract to literature. Men are detail oriented, woman have a cleverness that is illusive and sometimes even feared by most men. Woman may be greater problem solvers where men often secretively rely on women for this insight. "Behind every great man is a great woman."

Even the curvature of the bones within a woman's body are different than that of a mans.

To say a two men with different colored skin trumps the difference between a man and a women is actually insulting to the men, woman and race.

It detracts from the actual differences between men and woman and "creates a greater gulf" between the commonality and equality of race.

So I am sure the liberals collective chaos have this one wrong and when they beat up on these women in the press and favor a man because he is "black' they are committing a moral sin against the domains of sexuality.

They are black/white men and even some women, using brute to beat up on women because they dare to challenge race… These women dare to say the differences between race are less than the differences between gender.

Barack Obama may be black but he is JUST ANOTHER MAN and that represents change only to those "racists" who think a black man is different from his white counterpart. To imply that having a black president is more change than having a woman president or VP is overlooking one big thing…

A black/white woman has never been president or vice-president before. Barack dumping Hillary and picking Biden shows that Barack is not a harbinger of "change" he is status quo.

"Men" have been president and I strongly assert that color should be perceived as a "minor" difference compared to gender.

I am not trying to widen and make more of a gap between gender I am just saying that the gap is much larger without any exaggeration than the inequality posed by simply a different skin color. Consider that, gender differences cross the barrier of even race.
@RexRed,

Rex, here's a simple exercise for your simply mind:
First, tell me how many women are in our Congress.
Next, tell me how many black people are in our Congress.
Then, tell me which is a bigger barrier to achievement in our government.
Thanks for playing!
Cycloptichorn
@Cycloptichorn,

Quote:
First, tell me how many women are in our Congress.

Next, tell me how many black people are in our Congress.

And Barack sitting pretty with public funding money in corporate corruption pay backs from all the earmarks.
Palin has requested 197 million dollars for projects that help the state.
While Barack Obama has requested 330 million dollars, and most of them are things like 62 million dollars for BOEING, for BOEING??? this is corruption. Companies received funding from Barack Obama. The University of Chicago is one of Barack Obama's top contributors and the University of Chicago received Federal money from Barack Obama. This is CORRUPTION.
Barack Obama claims he's for equal pay for women, but women working in his Senate office earn an average of $9,000 less than men, while women in John McCain's Senate office earn an average of nearly $2,000 more than men. American women understand that real leadership is about what you do, not just what you say.
http://www.judicialwatch.org/judicial-watch-announces-list-washington-s-ten-most-wanted-corrupt-politicians-2007
whose names are not on the list?
McCain/Palin
Barack has even beat Nancy Pelosi in "corruption"...
Strange to see a woman's name at the top of the list.
You would think both Barack and Hillary would consider themselves birds of a feather.
@RexRed,

You didn't answer either question, but instead pivoted to a baseless attack on Obama. Please answer the question.
Cycloptichorn
And what has Obama done with all that money?

Obama funnels federal money to top campaign contributors

Although earmarking large sums of money to top supporters and fundraisers is a popular practice in both houses of Congress, not many people would expect such questionable activity from a shining star of liberalism and reform like Illinois Senator Barack Obama. Sadly, he is following a pattern of conspicuous allocations of federal funds. Just as he handed a million dollar earmark to his wife's employers in 2006 (immediately after which her pay shot up from $121,910 a year to $316,962), Sen. Obama is now drastically increasing earmarks that go to his biggest supporters.

In 2006, Sen. Obama requested an earmark $300,000 to replace and update the projector system at the Adler Planetarium. In 2008, he requested $3,000,000 for replacement of the projector system and other equipment in the Sky Theater. For reference, this is three times the amount he earmarked for the HIV/AIDS Policy and Research Institute at Chicago State University.

While the Adler Planetarium earmarks look normal on the surface, there is a catch. The Chairman and two of the Vice Chairman of the Adler Planetarium Board of Trustees raised a total of almost $250,000 for Sen. Obama's 2008 Presidential campaign. The Adler Planetarium was probably pleasantly surprised when they found that their earmark increased by $2.7 million dollars, in other words, by a factor of ten.

The Chairman of the Board of Trustees, Frank Clark, stands out amongst Obama supporters. On Sen. Obama's website, Mr. Clark is listed as a bundler who raised in excess of $200,000 for the Senator's Presidential campaign. In 2004, Mr. Clark donated $5,000 to the then State Senator Obama's U.S. Senate bid. In 2005, Mr. Clark became the Chairman of the Board at Adler Planetarium, and in 2006 Sen. Obama earmarked $300,000 to the Planetarium. Then, in the same year that Mr. Clark's involvement in the Obama campaign skyrocketed to raising an excess of $200,000, Sen. Obama's earmark for the Adler Planetarium increased tenfold to $3,000,000.

Mr. Clark isn't the only problematic donor. Two of the Vice Chairmen of the Board, Brian Cressey and Peter Thompson are also significant donors. Between donations from Mr. Thompson and the Cressey household, Sen. Obama received $13,800. The most significant donor here is Mr. Cressey. As a first time donor, Mr. Cressey gave the maximum possible individual donation in essentially one big check. What makes this even more troubling is that Mr. Cressey had never given to Sen. Obama before 2008, the year in which the Adler Planetarium's earmark increased tenfold.

The fact that three ranking members of the Adler Planetarium's Board donated huge sums of money (at least $200,000) is interesting by itself. The fact that these enormous contributions came in the same year that Sen. Obama increased their earmark by 900% is truly unsettling.

Written by David and Daniel Byler


@Cycloptichorn,

Quote:
You didn't answer either question, but instead pivoted to a baseless attack on Obama. Please answer the question.
http://www.censusscope.org/us/map_nhblack.html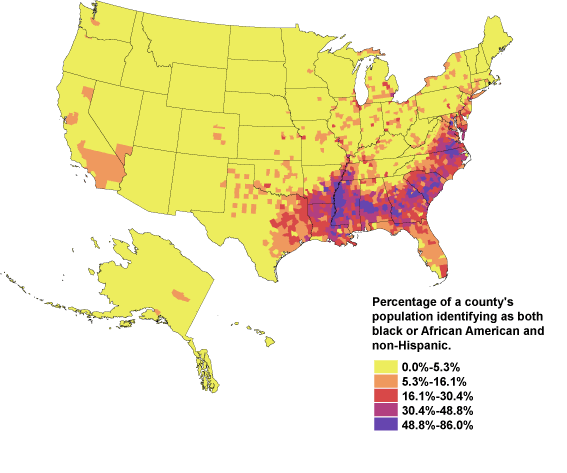 African Americans comprise the United States' largest racial minority, accounting for 12.1 percent of the total population in 2000. This population is concentrated largely in the southern states and urban areas.
Considering that non-Hispanic blacks make up roughly 12.1 percent of the total population do you expect congress to reflect a higher ratio of black congress people and senators?
Do you expect congress to be half black, does that match the population?
Then consider that females make up HALF of the population... Is the legislative body represented by a half female percentage?
Notice how few blacks are comparatively in Michigan (less than 20 percent), Barack's home state yet somehow he managed to "get the vote"...
Hope that answers your question...
@RexRed,

That didn't answer the questions, which were exceedingly simple:
How many women are currently serving in Congress?
And how many African Americans?
Please attempt to answer, Rex. I know it's difficult, b/c it kills your theory, but you should be able to answer simple questions like this if you are going to boldly put a theory forth.
Cycloptichorn
@Cycloptichorn,

I guess i answered it...
Correction: Barack's home state Illinois not Michigan. Illinois has even fewer blacks than Michigan. Yet somehow Barack got all those 60% of white people and the Hispanics in Illinois to vote for him in a state that is only 15% black. Something in the GOP sounds a bit rotten in the Denmark? Seems Barack has the "buying off the delegates" with tax payer earmarks thing down...