Swimpy wrote:
Is the Eau de cologne the pineapple basil?
no, it's just an aromatic herb sort of thing
dj, great links! I have long called your 'pineapple weed' wild chammomile. The other I'd never heard of. Amazing!

Swimpy, I'm fairly good with plants, especially the shady types. I'll help with those - gladly.

As for the herbs, I agree with Osso. Growing them in pots seems optimal to me, especially given adverse conditions.
Swimpy wrote:
Hey, gus. You may be just the guy I need when the destruction begins. What's your rate?
No charge. Destruction is inherent to my nature and doled out with glee.
here's the wikipedia link for
basil
no mention of a pineapple, in their list, but we also have the lemon variety
and just plain
Oh! Djjd, that weed, which I've never heard of, brings up camomile. I built a terrace in my own yard with some thick randburg stone pavers and this and that - where I played with various plants that you could walk on among and around the pavers. I tried all sorts of thymes and camomile, and many others, ending up liking wooly thyme best, but also something called mother of thyme. I remember the latin name for wooly, but not for mother of thyme. Camomile was too rambunctious, to me, for that, but I like it as a wee camomile field. I also tried yarrow, which is mowable, in my parkway. I could see a yarrow lawn, but it ain't all that tidy. Erodium is a nice short ground cover, quite the cutie, but I don't remember about its steponability, except I don't think it should be in a main pathway. Then I got interested in short native grasses...

On wooly thyme, Dys has it growing here, so presumably it lasts with the odd freeze. Or, we'll see.


I'll be quiet now. Will be interested to see what does grow in Iowa, on a bluff, by the Mississippi - and what is native.

Where's Green Witch?
Is there a way to build up from a 6 or 7 foot fence? In a non-fency sort of fashion? For example, could you weave a length of sail cloth between tall fence-posts to form less than permanent, fence-like, privacy inducing, dancing naked allowing blinders?
Re: Swimpy's Landscaping Thread
Swimpy wrote:
Olga, Thanks. I hope you give me some tips.

One other thing I want to make room for is an herb garden. I've grown herbs in pots on the porch, but never had any place in the yard for them.
I'm hardly an expert, Swimpy. But I've learnt fast by the "trial & error" method! :wink:
About herbs: If you don't have a lot of space, why not consider growing them amongst your other plants? I'm quite pushed for space (Victorian terrace on a long, thin block) & have grown many herbs under bushes & in amongst other plants in the flower beds, or as borders or ground covers. Some look really good when planted in this way: chives, parsley, marjoram, sage (which I don't like the taste of much, but grow purely for decorative value. Very pretty when flowering!). Rosemary is terrific & looks lovely when flowering (& attracts the bees! )- in dry, sunny parts of the garden. The more intrusive herbs (like my mints, Vietnamese mint, etc, I've planted in various sized pots & keep on the outdoor decking. I have a little bay tree which has survived happily in a biggish pot for years now. Oh & I grow "rainbow chard" (or silverbeet as we call it) - with the beautiful crimson & gold stems - in amongst the flower beds, too. Very pretty & very handy for cooking! Also some greens & mustard plants I'm experimenting with for the first time. All live quite happily with the rest of the garden. As I go out to collect the bits & pieces I need for dinner I sometimes feel like a farmer, "harvesting my produce"!
Freezes I know. Thyme can live through some serious winters, but it wants a sunny and protected area with good drainage. Basil, not so much. Parsely lives into winter, but dies once a the weather gets cold (freezing for 24 hours, for example - it can handle a light frost). Mints can be hardy - actually, we have one called pineapple mint which has become invasive. It's got beautiful variegated leaves and a wonderful aroma, but it is a total p-i-the-a.
Osso, I'm in NE Iowa. There are still some remnant prairies on the bluffs not far from my house. Unfortunately, the blufs are attractive to development.

I used to have time to grow veggies. Those days are long past. My yard, while not huge is pretty good sized as city yards go. It's roughly 95' X 100' deep. My house is a small brick bungalow. I have some pictures I took a few years ago. Now to see if I can find them. brb.
littlek wrote:
actually, we have one called pineapple mint which has become invasive. It's got beautiful variegated leaves and a wonderful aroma, but it is a total p-i-the-a.
perhaps the person who gave me the pineapple "basil", was mistaken, it could be a mint, they are somewhat similar
I thought later, after I posted that, that I don't know enough. Maybe the neighbor's land is higher than Swimpy's and it's six foot on one side and eight on another. Or maybe they don't have a six foot criterion in the midwest.

Lots of times neighbors agree on an add on, a stretch of trellis work that can get sawed off if the city notices. (Some airspace being good re wind anyway). A lot of times the city doesn't go looking, but will wait for a complaint. On the other hand, some cities get quite huffy, which is why I asked.

Deer safe fencing - not that that is relevant here - should be at least seven feet high, at least if it is one linear fence... so that sometimes we've had to do the deer safe fence inside the property some feet, at the set back line or interior to that. This doesn't seem so hard to me, as I happen to like deer having a corridor, but that's another subject.
This is the front of the house. The spruces are still there, but the rest of the shrubs obscuring the front door are gone. I got a little wild with the chainsaw. Yee ha!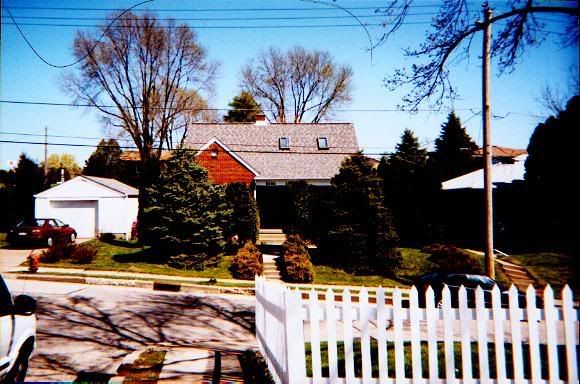 LittleK, isn't your mom a landscape designer, or am I remembering wrong?
I think that photo is about 5 years old. It's amazing how much smaller the trees look. You can't even see the red maple in the back yard. The big ash trees belong to the neighbor behind me.
If you look on the right. That's where the arbor vitaes will come out and the fence put in. the neighbors hous sits lower than mind. I can look directly into her living room from my living room. Kitchen to kitchen as well.
Good on their being gone, Swimpy. Well, IMHO.


Is that a porch across the front? Can't tell if the door is facing the street, or facing the neighbor to the right... guessing facing the street.
Yea, it's a porch and the front door faces the street. Those shrubs had to go. I'd like to get rid of the spruces, but hubby is very attached to them.
Anyway, the big job is in the back. I don't seem to have any backyard photos.
OK, so...
if you built (hmmm, could you get neighbor to help pay?) a retaining wall at the property line that was slightly higher than the level at your house grade,
just to the Face of House

and regrade there at least somewhat, you could then put a six footer on top of that, again, just to the Face of House (setback line) then slope down to the street, or terrace down to the street. Bunch of money there.

Is that where the terracing would happen? makes sense.

Not sure re the soil level around the arborvitae.

Hmmm. Consider weighing the cost of all that versus a variance. My variance didn't cost that much.

On the other hand, I like the terracing idea, it makes sense with the lines of the house, and gives you a more straightforward garden. It would provide sort of a land plinth for your house. Also, just looking at this picture, your house and property are connected to that apparent set of steps from hell to the right... the whole slip slide effect.

I'm really looking forward to seeing the plans, I think they're going to make sense, from what you said.