@edgarblythe,

edgarblythe wrote:

Today I came into a collection of Alley Oop comic strips, dating from the origin in the 1930s, running all the way through at least one or two artists who carried on after originator, VT Hamlin, retired from the strip. I am not sure how many volumes there are, as yet (they are gathered in binders), but it will require some new shelves to harbor them.

There is also one original daily in the hand of VT Hamlin, in a picture frame.

I feel the way one might feel on inheriting a Van Gogh.

They were passed to me by my brother, who requested that they ultimately end up in a museum. I don't know for sure what museum to contact, but he said he prefers it be a Texas museum.

Perhaps a University. It must be an institution with longevity.
Physically, the original Alley Oop has just a vague resemblance to the caveman we all know. Ooola looks like what I would call a "flapper." Guz and Umpa, Foozy and Denny, look a bit more like their more modern incarnations. After reading most of volume one, Doc Wonmug and Oscar Boom have yet to appear. There was a lot more action then, with internal warfare, battles with other cavemen, and lots of dinosaur chases and attacks.
Volume two of Alley Oop skips about a year. In the space of the gap, Guz and Umpa go from deadly adversaries to become allies of Oop and Foozy. I was very disappointed to miss so much.

Going through the binders, I discovered a 1936 story about Popeye and the first appearance of the Jeep. It was surprising to see how dry the humor was in it.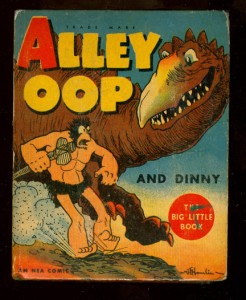 This is a link to a book on ebay. It shows Oop in the 30s.
Finally, in 1939, Doc Wonmug's time machine appears in Alley Oop.

Oop has a run in with the Grand Wizer, who, to get even, tricks King Guz into stealing and eating Dinny the dinosaur's egg. Oop goes after Guz and in the action that follows, the army of Moo, led by Guz, is chasing Oop. Oop meets up with Ooola and they run away together. They come across a motion picture camera, that vanishes very quickly. They are curious and approach the site. Suddenly they are in the 20th Century.

Fortunately, cave people and North American humans speak the same language. Oop injures himself trying to eat with modern utensiles, once too often. He goes out to kill his own dinner. He sees a train. "The doc said they didn't have any monsters here," he says. He decides to kill one of the trains and gets on the top of a trestle bridge to wait, axe in hand. That's where I left off reading.
Oop was planning to bust the train's skull. He fell asleep after a long wait. The engineer saw him up there and tooted his whistle, causing a startled Alley Oop to fall on top of a boxcar. He eventually was the only one aboard a runaway train that finally ran off the track.

The time machine is a sensation, but widely believed to be a fraud. When Wonmug sends a scientist purportedly to Moo, millions of years in the past, he gets arrested for murder, after just the man's helmet, with a hole in it, returns. Oop and Ooola refuse to get sent back to look for him, because they don't want to leave the 20th Century. They do get sent back, and they end up in Troy. Ooola gets in a fight with Helen. In the strips that follow, Oscar Boom enters the strip (Feb 1940) and goes back there to look for the time travelers. He is befriended by Hercules, who is about to go to the land of Amazon women to take the belt of Hippolyta. Boom has taken a station wagon with him, and he and Hercules set out in it, eventually coming on Oop and his friends. Oop kicks Hercules butt more than once. They never quit picking on one another. In the last instalments I read, Oop is chasing Oscar on horseback, because Oscar took off with the belt. Oop's horse gives out and he has to carry it on his shoulders.
Well, since I reported last, Ooola has confronted Cleopatra, Oop has been a pirate, and they somehow got Denny the dinosaur into England, around the time of Robin Hood. Oscar Boom came back with a bundle he thought was the stolen belt of Hippolyta, but it had been switched on him. And they installed a viewing screen on the time machine.

In the early installments, the artwork was adequate, but not inspired. The effect of unleashing Oop on all of history was, it pushed Hamlin to develop his talent into something really wonderful. It has now become, in my progression through the strip, the same as the comic I grew up with. Oscar Boom has been a criminal throughout the comic's run. In the current installments, here in 2009, Oop and Boom are together once again, and the belt Oop has stored all these years, proves to be the true belt of Hippolyta. A twist: President Bush pardoned Oscar Boom in the last days of his presidency. He is back at the time machine and he and Oop are on equal footing.
Oop continues to have some entertaining adventures. More than I can write about. In one installment Doc Wonmug put a device on Oop's head so they could watch a TV screen that showed the contents of his mind while reading Robinson Crusoe. His imagination conjured a female Crusoe, and himself as Friday.

In another, he and Boom got stuck in a fourth dimension, when an earthquake rattled the time machine. They ended in an Arabian Nights setting. Boom gained control over Aladin's lamp genie and ended killing the genie by telling him, "Aw, drop dead."

In the latest reading, he goes to the very beginning phase of the "creation" of the Sahara Desert. He leads a ragged tribe to the Nile, where they proceed to begin Egyptian civilized history. One of their statues, the Sphinx, is modeled after Oop, whom they regard as a god.
I am to 1949, the year Oop and Oscar Boom went to the moon. I am having trouble locating the right order of volumes on this. I am just assuming they are all present in that stack of boxes.
@edgarblythe,

Can't make out the name of this comic. What's the name?
@Reyn,

Reyn wrote:

Can't make out the name of this comic. What's the name?

Heathcliff
@edgarblythe,

edgarblythe wrote:
Reyn wrote:


Can't make out the name of this comic. What's the name?


Heathcliff
Ah, of course!
[smacks forehead]
Had a brain freeze!
These characters were introduced to Gasoline Alley in recent years.
To say this book is a remarkable volume or even a landmark volume in comic art is somewhat of an understatement. It doesn't hurt that excerpts of the book appeared during the summer in the New Yorker and that the Hammer Museum in Los Angeles is opening an exhibit of the original drawings from which the book's contents were adapted.
"The Book of Genesis," Robert Crumb's version, nevertheless stands on its own as one of this century's most ambitious artistic adaptations of the West's oldest continuously told story.
@edgarblythe,

http://www.nytimes.com/packages/khtml/2007/01/20/style/20070121_COMICS_AUDIOSLIDESHOW.html
In today's installment, Ooola finally says yes to Oop's marriage proposal. (They've been together since the 1930s)
@edgarblythe,

Ummm ... I never follow this comic so forgive my potential blasphemous question... is
Ooola
suffering from mumps, measles, full blown cases of body herpes, or other affliction?
@tsarstepan,

Oop was jealous of her attention to another man and concocted a tea to turn him that way. She had a drink of it also.