Wed 27 Jan, 2016 07:45 pm
I love learning weird historical facts. Do you know what happened when Hermann Goering (at one time Hitler's chosen successor) surrendered to American forces? He wasn't put in chains or tortured. He was granted a friendly press conference with the American media! It's not an exaggeration to say that's like granting Osama bin Laden a sit down with CNN and the NY Times before a trial.

Sounds like they treated him like a surrendering celebrity.

Of course he committed suicide before he was hanged so there is that.

Next!


@jcboy,

William Breuer has a series of books about bizarre, unusual, etc. events from World War II. The retail price is absurdly high but they can often be found deeply discounted as remaindered items. I found them highly entertaining. No more than a few pages is spent on each item (usually less) so each book contains a lot of items. It's like eating popcorn. If one item bores there are plenty more that don't.
On February 14, 1854, the first telegraph office in Texas was opened in Marshall. It was on that day that the Texas and Red River Telegraph Company connected lines to Shreveport, Natchez, and Alexandria, Louisiana. Before the end of the year Marshall was also connected to Houston, Galveston, and a few other towns. In those early days there were no telegraph poles and the wires were strung across treetops. Even a mild breeze --- and Lord knows sometimes here in Texas we get more than just a mild breeze ---- could often be enough to sever the fragile links.
@edgarblythe,

Up until a few years ago telephone companies in rural areas actually used ranchers' fences as the telephone lines.
In 1886, the Sultan of Zanzibar agreed that upon his death, a son of his who was pro-British would succeed him. On August 25, 1896, he died, but another son seized the palace, and ordered all British subjects to leave Zanzibar. Unfortunately for him, a Royal Navy flotilla of three cruisers and two gunboats has left East Africa and steamed to Zanzibar for the investiture of the British candidate. At 9:02 am, local time, a shore battery in the harbor began shelling the British flotilla, and their "navy"--the royal yacht and two gunboats--opened fire. There were also artillery emplacements and machine guns at the palace which also opened fire. There were about 3000 troops there, too. The British returned fire, destroying the royal yacht and the gunboats, destroying the shore battery that had opened on them, and destroying the artillery and machine gun emplacements at the palace. At 9:40 am, the flag was hauled down over the palace, and a message sent on the ship to shore telegraph saying that the new Sultan surrendered. One British sailor was wounded, and about 450 members of the palace guard and local citizens who had gone to defend the palace were killed or wounded. At 38 minutes, it is the shortest war recorded in history.
@edgarblythe,

Telegraphers (this is from a book Thomas got me, actually) communicated with each other a lot, often using abbreviated code that we would recognize as text speak. Female telegraphers would find themselves flirting and there were some marriages. Sound familiar?
My grandfather was a station master and a telegrapher. These days, if i say he was a telegrapher, most people say "A what?" . . . and dismiss me as a story teller.
Edison invented the electric chair not to make a more painless method of execution, but to put down Westinghouse's promotion of AC power lines. Edison was committed to DC power lines, which reduce voltage the longer they run with no way to boost it, and so invented the electric chair, which to be effective must run on AC. He wanted to impress upon the public how deadly AC voltage could be. He also promoted the use of the term, with some success, of "to Westinghouse" a convict instead of electrocuting a convict.
@Setanta,

Gene Autry was a telegrapher before he was a singing cowboy in the movies.
@jcboy,

Quote jcboy:
Quote:
Do you know what happened when Hermann Goering (at one time Hitler's chosen successor) surrendered to American forces? He wasn't put in chains or tortured. He was granted a friendly press conference with the American media!
Well, he went around wearing make-up all the time, so they probably figured he was a natural for public appearances.
Quote:
Quote:
He [Goering] wore make-up and jewelry.
http://auschwitz.dk/Goering.htm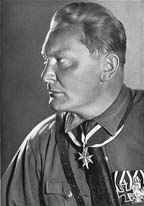 Wow. I never knew this photo existed until just now. Helen Keller meeting Charlie Chaplin. Who knew?
That's amazing. Love that she's touching his face and he's in sheer amazement.
@Setanta,

I saw the telegraph station in Adelaide, Australia, when I visited many years ago.
It was the first time Australia communicated with the outside world.
https://en.wikipedia.org/wiki/History_of_telegraphy_in_Australia
@cicerone imposter,

Incas had an empire over 1500 miles log, but still had no written language.
@Blickers,

That's true. They used knotted string to communicate ideas.
@jcboy,

In 1910, a group of British pranksters, including author Virginia Woolf,
masqueraded as the emperor of Abyssinia
and his entourage and managed to convince the admiral in charge to give them a guided tour of the HMS
Dreadnought
, the flagship of the royal navy. Not knowing any Amharic, the language of Ethiopia, the group conversed in a gibberish composed of bits of Swahili and Latin, punctuated by exclamations of "bunga! bunga!" at regular intervals. The hoax was only revealed afterwards, which led to a parliamentary inquiry and stricter security regulations for the navy.
@joefromchicago,

From joe's hilarious link:
Quote:
the noted adventurer William Horace de Vere Cole....
.....The next day Cole sent the above picture and the details of his hoax (which cost him some 4,000 pounds) to the Daily Mail.
Just looked it up-£4,000 in 1910 is worth between £364,000 and £2.3 Million today. Years later, Cole died penniless in France.