Tue 11 Nov, 2014 03:15 am
I saw this at Facebook, and it looks interesting.
Ten photos from the Rosetta mission taken at ten kilometers.
(I keep hearing John Lennon's voice saying "Rosetta" in one of their songs, and i don't mean "Get Back.")
@Setanta,

Rosetta are you better, are you well, well, well
?
Walter, are ESA events big news in your home town?
@Setanta,

Only in the media.
@Setanta,

Thanks for the link. Sounds like they are in for a tricky landing, though.
@neologist,

neologist wrote:
Sounds like they are in for a tricky landing, though.
Yes, and the time delay for communications from earth means they can't even actively control the landing. They are going to have to let the probe rely completely on its automatic systems for the landing.
I hope they make it. We'll get some close up shots of gas jets venting off the comet if everything goes well.
They will be attempting that tricky landing in a few hours. The mission launched over ten and a half years ago. Cool stuff. NASA's Dawn mission has already visited Vesta in the "asteroid" belt, and will reach Ceres, the largest "asteroid," early next year. Dawn is interesting because it uses ion propulsion. It is actually a joint venture of NASA and some of the ESA partners.
Anyone interested in sources for live updates can find them here:
http://www.esa.int/Our_Activities/Operations/Live_updates_Rosetta_mission_comet_landing
If I calculated the time zones correctly, the landing attempt should be at 11:02 AM eastern time.
I am unsure if that is the time of the actual landing, or the time we will receive news of the landing. There is supposed to be a signal delay after all.
In my experience, Twitter feeds are really good at getting simple news out really fast, so the question of "success vs failure" is likely to be answered first on one of the Twitter feeds.
@Setanta,

It's big (ish,) second news item after £2bn fines imposed on UK banks. And there's a reluctance to get too fired up considering what happened on our last big space venture.
http://en.wikipedia.org/wiki/Beagle_2
@izzythepush,

The signal should be here between 16:30h and 17:30h CET = 15:30-16:30 UTM/GMT = 10:30 to 11:30 Eastern Time.
@Walter Hinteler,

Its been said (still) that it will take seven hours for the probe to reach its destination at around 16:02 GMT
ESA's livestream from Darmstadt:
http://new.livestream.com/accounts/362/events/3544091
@Setanta,

I really hope they can get to Ceres (it's for fiction writing reasons, actually).
I love this stuff. Fingers and toes crossed!!
Picture of the descending lander: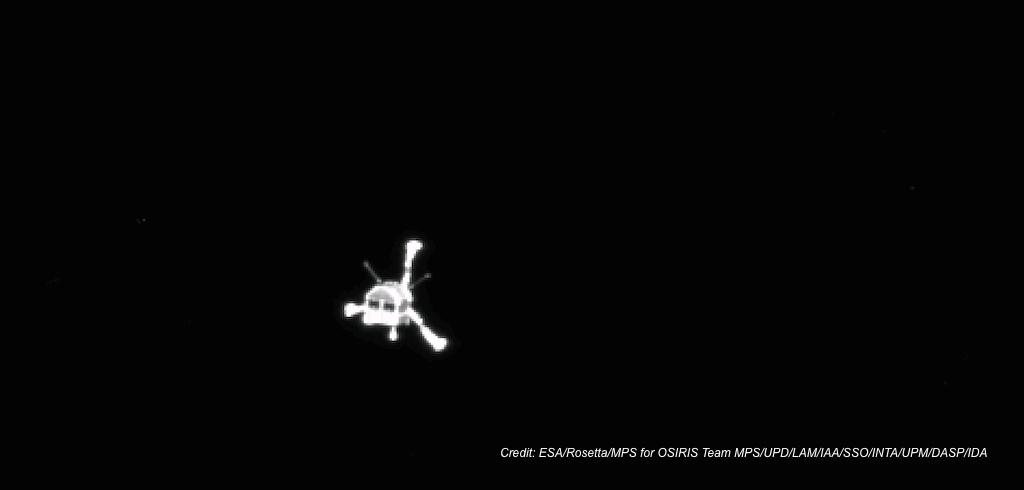 Success/Fail signal just passed by Mars on its way to Earth.
@oralloy,

I just picture that little lander yelling, "Whee!" as it floats down.
But then, you know, no one in space can hear you "Whee!"
Thanks for the updates.
@oralloy,

all over my FB page - success!
(the Egyptologists are going crazy)
Quote:
More analysis of @Philae2014 telemetry indicates harpoons did not fire as 1st thought. Lander in gr8 shape. Team looking at refire options
http://twitter.com/esaoperations/status/532575061543485440
Quote:
It looks like @Philae2014 made a fairly gentle touch down on #67P based on amount of landing gear damping
http://twitter.com/esaoperations/status/532575615527170048
It appears that it bounced at that first touchdown that we were all cheering, did not come back down for another two hours, and then had a second bounce that lasted a few minutes.
http://twitter.com/Philae_ROMAP/status/532676580787896320
http://twitter.com/Philae_ROMAP/status/532677554462011392