"we have not spoken earlier, as we are a staff that exists in fear of bullying, retaliation...
and losing our jobs."
http://blogs.edweek.org/teachers/living-in-dialogue/2014/03/san_diego_charter_teachers_bul.html
These are the words of the teachers from a San Diego charter school in March on the loss of a fellow teacher. They were asked not to discuss the circumstances with parents or students. They decided to speak out.
Another great post from Anthony Cody at Education Week.
San Diego Charter Teachers: Bullying Contributed to Death of Colleague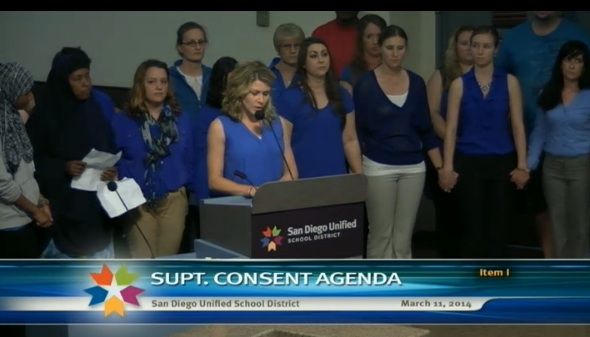 At a San Diego school board meeting on Tuesday, March 11, dramatic testimony from teachers and parents uncovered serious questions about the way their charter school has been run. Harriet Tubman Village Charter School is known for high test scores, but the death of a first year teacher has contributed to a sense of deep concern. Maggie Kuhn, founder of the Grey Panthers, once said: "Dare to stand before those you fear and speak your mind, even if your voice shakes." The testimony at this meeting is riveting. And the discussion that follows is disturbing.
And the teachers spoke.
We apologize that we have not spoken earlier, as we are a staff that exists in fear of bullying, retaliation and losing our jobs.
We have concerns regarding the protection of our students, the success of our school and the integrity of the charter. Our charter requires us to follow the credentialing requirements of the Education Code. Several teachers this year and last year taught without proper credentials in the subjects they were teaching. In fact, this is the case for two teachers at the moment. One teacher, when initially stating she was not qualified to teach a subject, and felt uncomfortable teaching the subject, was told she could do it, she was capable, and to do it "until we get caught, and then we have a year to fix it." We also have questions regarding whether one of our administrators actually holds an admin credential, as there is no record of it with the California Commission on Teacher Credentialing.
....I want to tell you the story of Sarah Jenkins. Sarah was a young, bright, dedicated, caring first year teacher at Tubman. When administration had concerns about Sarah's abilities and performance they did not provide support for her or guidance. Instead they piled more and more work on, called her names, and criticized her at every single turn. On October 24th, Sarah wrote an email to the administration informing them that she had a medical condition that made it difficult to meet their excessive demands. She ended the email by begging for positive support, writing "being kind, helpful and specific helps me better myself. But calling me incompetent is not helpful but rude and unprofessional." The next day, Sarah was terminated, which I believe is a violation of the Americans with Disabilities Act. Sarah passed away three weeks ago from complications of stress-related seizures. When administrators found out we did not receive support or compassion. Instead we were told to not share this information with students, not with parents, that Sarah was only at our school for two months, and at the end of the day she didn't make an impact.