I've got a Dell Latitude D600, running Windows XP Professional, and I've been having trouble adding a Bluetooth device I received for Christmas.
This is excrutiatingly frustrating, because while this is my first experience working with a Bluetooth device, this whole process seems very straight-forward, and I'm by no means a computer novice (except perhaps on this topic . . .

).
Here's what I've done. This Dell laptop has Bluetooth as an optional installation, so I purchased a Bluetooth 4.0 dongle - which the operating system appeared to recognize and add as a new hardware device almost immediately, evidenced by the device manager list,
and the Bluetooth symbol which also showed up in the Icon Tray.

So, I'm trying to install a wireless speaker, specifically a JAM Classic. The speaker's battery is charged, I know the speaker works (I've tried the auxiliary wire connection), all the speaker's controls appear to work correctly. Also, the Bluetooth transmitter (conveniently, a flashing
blue
light) are all visible, so seemingly are working fine.
However, when I run the Add Bluetooth Device Wizard, the JAM Classic speaker is detected as a Bluetooth device, which I highlight to install, and apparently successfully complete the installation - but then speaker never seems to generate any sound output (and yes, I do generate audio from the laptop from a variety of sources . . . ), but only the internal laptop speakers generate any audio. The JAM Classic appears not to need (nor will it accept) any kind of "passkey" to complete the installation - as the installation completes when you select the No Passkey needed for this device, option.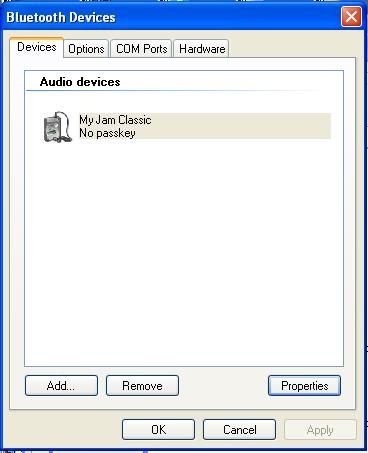 What's the inevitably simple step that I'm missing that thwarting me on this installation? Thanks!