Sun 11 Apr, 2004 03:55 pm
is he in a prolonged slump? or just so rich and famous that he just doesn't care anymore...
Slump I think. I wish I could play as good as he does in a slump.

Did you watch Arnold take his last walk up the 18th Friday? It was sad for me I remember the days of Arnies Army well.
no, but i saw it on sportscenter -- he looks like he can still teach the young pups a thing or 2...
I just polled the guys in the other room and they said two words...Elin Nordegren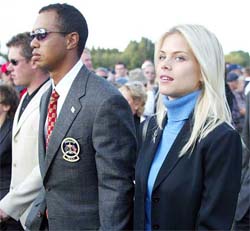 yeah that could understandably throw someone off their game...
Ha, ha. Looks like Tiger is winning to me!
tiger + elin, sittin' in a tree...
The same thing happened to Boston Red Sox player,
Nomar G, last spring!!
Military training gives Tiger renewed perspective

FORT BRAGG, N.C. (AP) -- For years, Tiger Woods heard his Green Beret father talk about life in the military and felt the stir of curiosity. After spending four days at this sprawling Army post, the golf great now knows some of what Earl Woods experienced as a soldier 40 years ago. Woods trained with various Army units, fired weapons, awoke early for 4-mile runs and twice jumped from a plane. By Friday, he was back on familiar ground, hosting a junior golf clinic and providing one-on-one instruction for eight young golfers.

That his training was a watered-down version of what his father went through during two tours of duty at Fort Bragg in the Vietnam era hardly mattered to Woods. He said the experience alone reinforced many of the lessons his father taught him. Earl Woods first trained at Fort Bragg in 1963 following a tour in Vietnam. The elder Woods also was assigned to a Special Forces unit here before leaving for another tour in 1970.

"Throughout the week, I think everyone was impressed with his physical abilities," Buckner said. "He's a good soldier." Woods' competition on the golf course will be disappointed to learn that Woods may have picked up something that will help him on the putting green during firearms training. Earl Woods said his son discovered while trying to aim the guns that he is left-eye dominant.

After conducting the youth clinic on Friday, Tiger Woods gave a skills exhibition for about 4,300 soldiers, students and invited guests, some of whom won tickets in a lottery. He arrived in a Humvee, sitting at the helm of a machine gun, to cheers from the audience. Bragg is one of the nation's largest Army posts, with nearly 47,000 soldiers. Thousands are currently deployed to places like Afghanistan and Iraq. "I'm just trying to hit the ball into a little bitty cup that's 400 yards away," Woods said. "These people here are putting their lives on the line. That to me is the ultimate dedication. They're doing it for our country to keep all of us safe."

Kudos to Tiger. He's a good man and what a morale booster for the troops!
this should be a wake-up call.
vijay singh knocked him out of the #1 slot on the world golf rankings leader board, a position tiger held for over 5 years.
maybe now he can get back to business?