Quote:
Romeo said: Define Satan.
Germlat replied: According to Christianity, the embodiment of pure evil ( powers and principalities ). A willful, prideful spirit who is father of all lies. One who possesses such narcissism as to set up the human race for failure in order to win a bet
Tsarstepan said: Wow! Satan has a severe case of psoriasis. No wonder why he's so grouchy and evil all of the time
Well, we know the earth is a testing ground-
"Blessed is the man who perseveres under trial, because when he has stood the test, he will receive the crown of life.." (James 1:12)
and the "crown" is like the berets awarded to Rangers, SAS and other Special Forces recruits who pass the gruelling selection test, so in that sense Satan is like Sgt Hartmann who God "uses" to sort the men from the boys-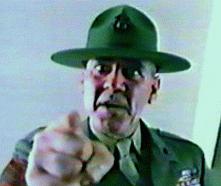 And yes, Satan does look a bit tatty, that may be because he's a mass of spiritual bad vibes created by the nasty thoughts of millions of humans which he feeds off.
Forbidden Planet gives a good analogy, where the invisible creature is given life by feeding off the dark subconscious thoughts of Dr. Morbius.
Hence the warning not to radiate bad vibes and nasty thoughts which Satan will be able to feed off-
"..whatever is true, whatever is noble, whatever is right, whatever is pure, whatever is lovely, whatever is admirable—if anything is excellent or praiseworthy—think about such things" (Philp 4:8)