I had to figure out US measures for this by looking at http://www.onlineconversion.com/
but that was easy
.
This turned out delicious, even extremely delicious.
quoting -

http://www.guardian.co.uk/lifeandstyle/2011/mar/31/spanish-chicken-with-garlic-recipe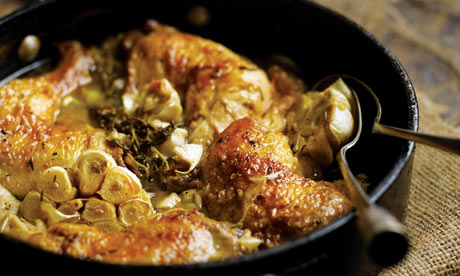 Spanish chicken with garlic recipe
Pollo al ajillo is a traditional, very Spanish slow-cooked stew
Chicken with garlic (pollo al ajillo) from Stew! by Genevieve Taylor. Photograph: Mike Cooper /Absolute Press
Don't be put off by the sheer quantity of garlic in this traditional Spanish garlic and white wine chicken recipe. The slow braising really mellows it out, giving you an almost roasted flavour. I like to eat this with lots of crusty bread to mop up the delicious sauce and a sharp green palate-cleansing salad.
Stew!: 100 Splendidly Simple Recipes
by Genevieve Taylor
Serves 4–6
Takes 15–20 minutes to make, plus overnight marinating, and 1½ hours to cook
1kg chicken legs -
something like 2.2 pounds. Osso - Mine added up to 2.9, so I slightly upped measurements.
300ml white wine -
Osso - my measuring cup shows mls., so, easy
.
100ml extra virgin olive oil
3 whole heads garlic, unpeeled and halved horizontally
3–4 sprigs of fresh thyme
2 tbsp olive oil
200ml chicken stock
(osso used 1 cup)
salt and freshly ground black pepper
generous handful of fresh flat-leaf parsley, roughly chopped, to garnish
crusty bread and green salad, to serve
Place the chicken legs in a large non-metallic bowl and pour over the white wine and extra virgin olive oil. Add the garlic and thyme and season well with salt and black pepper. Stir thoroughly, cover with cling film and marinate in the fridge overnight.
When you are ready to begin cooking, preheat the oven to 180C/gas 4.
(350F/or close enough.=/osso
Remove the chicken from the marinade, scraping off and reserving as much of the marinade as possible. Lay the chicken on a plate and pat dry with kitchen paper.
Heat the olive oil in a large, flameproof casserole until smoking hot. Fry the chicken pieces on both sides until crisp and golden.
Add the reserved marinade, along with the garlic and thyme, and stock to the casserole. Bring up to the boil and cover with a lid. Transfer to the oven and cook for 1½ hours or until the chicken is so tender it is falling off the bone.
Carefully remove the chicken to a serving dish, along with the garlic cloves, and keep warm. Place the casserole over a high heat and boil the sauce really rapidly, whisking to emulsify the oil with the wine. Once the sauce is glossy and reduced, pour it over the chicken and garnish with the flat-leaf parsley. Serve with the bread and salad.
Osso, I didn't do that last bit. And I threw the parsley in earlier.
Not suitable for freezing.
Osso - of course not, it will have been scarfed up. The liquid would probably be good for soup or sauce.
• This recipe is taken from Stew! 100 Splendidly Simple Recipes by Genevieve Taylor with photographs by Mike Cooper (Absolute Press, £12.99).
-----------------------------------------------------------------------------------------------
Oh, man, this was really good.
I happened not to have thyme on hand - I used dried basil and mexican oregano instead, plus the fresh parsley.
I didn't have that much garlic, fresh anyway, but I had two heads of roasted garlic to use.