Mon 18 Apr, 2011 01:04 pm
Happy Birthday, Failures Art!
I have no idea which birthday you're celebrating, or what presents you like, or any of that. So I'll just hand you a Vegan Birthday cake, get out of the way, and let you celebrate. Cheers!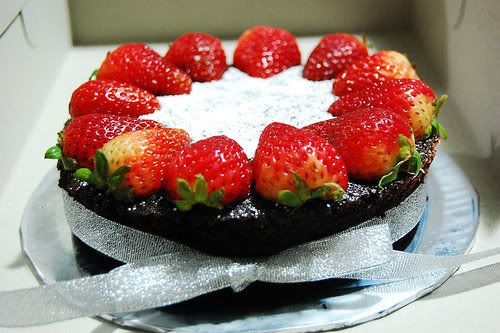 @Thomas,

I am going to guess his 28th. Happy birthday, dude.
Doesn't he live in Washington, D.C. now?
Some vegan papaya lime sorbeet (or fruit flavor of your choice -
Happy Birthday, Art!
Happy Birthday to youuuuuuuuuuuu!
@Letty,

Letty wrote:
Doesn't he live in Washington, D.C. now?
i don't think we can hold that against him
especially on his birthday
Happy Birthday you young
F
A
R
T
i hope you are having a fantastic day
@Thomas,

HAPPY BIRTHDAY, ART!!!!
Aren't all birthday cakes vegan?
Happy Birthday, Failures Art! All the best wishes for a great year ahead..
LOL. I just found this. Thank you all. The day has been good. Working through the night, but I'm very happy. It is my 28th, and yes I'm in DC proper now.

All I got from my birthday is the loss of congressional voting representation. But as an upside, I also don't have a d-bag claiming to represent me either. Instead I get the dead pan, but always hilarious, Elenor Holms Norton.

For those who are curious, my choice of celebration will be pickling myself in wine come the weekend and looking fantastic(ish) while doing it.

For orbit 29, I plan to do more blogging. I just got offered to be a writer (unpaid, but whatever) for ReadySetDC. I'll be interviewing local artists and designers, which is another passion of mine. I also hope to change jobs soon, so it looks like another exciting year. Thanks for the birthday wishes!

(I keep scrolling over that lime sorbet... mmmmmmmm)

A
R
Token vegan.
@failures art,

Watch out, I've no idea what those little pellet things are..
ReadySetDC sound interesting..
@ossobuco,

Here's the site. Pretty exciting stuff. All local and pretty vibrant. There's a few blog "clans" of sorts in DC amongst the 20-30s crowd. I like them the best.
http://readysetdc.com/
Not trying to advertise, I'm just sharing a new project I'll be working on.
A
Ready...
T
@failures art,

That looks lively, and nice set up.
I know you're not advertising. Have fun.
@Thomas,

Happy birthday to you, Art.
I was going to give you this cookbook, to encourage further culinary adventures in your vegetarian kitchen ...
http://www.newint.org/books/food/global-vegetarian-kitchen/
But then I thought, no.
You have received lots of terrific gifts of vegan food already.
So I decided to give you these flowers instead.
Nature & beauty is just as important for sustenance for the soul, yes?
I hope you're a flower person.
But just to be on the safe side, I'll throw in the cookbook as well!

I hope today has been (perhaps still is?) a really good day for you.
Happy Belated! Looks like an exciting year ahead, great to hear.