Sat 15 Jan, 2011 11:36 am
I thought this year to post random MLK items. His life and speeches are accessible the year round. Maybe a bit of personal reflection, songs, writings. Whatever you the reader care to contribute is welcome.



MLK - 2011

dr king
your day has come
once per year we salute
the era of civil rights
we return to grubbing
and cursing their loss
by increments
but for twenty-four hours
you're still the man
Walks of Peace

All the wars eventually
Must fall before Walks of Peace
Walks of Peace, Walks of Peace
Must fall before Walks of Peace

I dreamed I went with MLK
On a rare and fateful day
As he strolled along with me
We journeyed back through history

We saw all the wars of race
Wars of countries, even faith
He declared these wars all must cease
Folks must be troops for Walks of Peace

Yes the wars eventually
Must fall before Walks of Peace
Walks of Peace, Walks of Peace
Must fall before Walks of Peace

As Martin said, Don't be deceived
All of these wars are wars of greed
Its up to us these wars must cease
Folks must be troops for Walks of Peace


Are we closer to the mountaintop?
A new AP-GfK poll finds that 77 percent of respondents believe America has made "significant progress toward Martin Luther King Jr.'s dream of equality," roughly equivalent to the percentage of those who responded in 2006, more than two years before President Barack Obama became president.
Twenty-two percent of those surveyed said that there has been "no significant progress" in reaching racial equality.
At the same time, however, 69 percent of Americans said they did not plan to do anything to commemorate Dr. King's national holiday, while 30 percent said they would. Yet 74 percent of those asked said the day should remain a holiday.
As to theories on why the number of those surveyed who indicated that progress had been made toward fulfilling King's dream has remained the same, even though the country elected its first African-American president, Rutgers University history professor William Jelani Cobb had the following to say:
The violent rhetoric we've seen directed towards [Obama] diminishes the initial sentiment that we've made great progress because of the election.
http://www.aolnews.com/2011/01/14/martin-luther-king-day-2011-most-americans-see-progress-but-wo/
@edgarblythe,

I wonder what those percentages would come out to if they were broken down by skin color.
As you know, edgar, I am color blind. Love Abraham, Martin, and John by Harry.
Another tribute.
http://www.youtube.com/watch?v=glLESOK582Y&feature=related
Old Crow Medicine Show lyrics to "Motel in Memphis"

Were you there when the man from Atlanta was murdered in Memphis?
Did you see him layin' at the Lorraine Motel?
Did you hear them say that the CIA is witness -
To the murder of a man at a motel in Memphis?

Motel in Memphis
Motel in Memphis
Run and tell somebody there's blood on the riverside
Oh muddy water, rolling to Memphis
If you were there, you'd swear it was more than a man who died

Did you see Coretta? She was sobbin' on the corner in a black veil.
Did you watch Mr. Crump in a white coat grin?
Did you walk downriver where the cottonwoods are swingin' -
With the ghostly bodies of men?

Motel in Memphis
Motel in Memphis
Run and tell somebody there's blood on the riverside
Oh muddy water, rolling to Memphis
If you were there, you'd swear it was more than a man who died

Were you there with Mahalia wailing at the funeral?
Did you watch them lower his casket in?
Did you tremble when you thought about the future -
And cry out for a martyred man?

Motel in Memphis
Motel in Memphis
Run and tell somebody there's blood on the riverside
Oh muddy water, rolling to Memphis
If you were there, you'd swear it was more than a man who died.


He was heard around the world--"I have a Dream", subtitled in Dutch

@MontereyJack,

That's some powerful lyrics, MJ.
@Letty,

Mahalia's singing adds just the right touch to that tribute, letty.
A Dream Deferred
by Langston Hughes

What happens to a dream deferred?

Does it dry up
like a raisin in the sun?
Or fester like a sore--
And then run?
Does it stink like rotten meat?
Or crust and sugar over--
like a syrupy sweet?

Maybe it just sags
like a heavy load.

Or does it explode?

I, Too, Sing America
by Langston Hughes

I, too, sing America.
I am the darker brother.
They send me to eat in the kitchen
When company comes,
But I laugh,
And eat well,
And grow strong.

Tomorrow,
I'll be at the table
When company comes.
Nobody'll dare
Say to me,
"Eat in the kitchen,"
Then.

Besides,
They'll see how beautiful I am
And be ashamed--

I, too, am America.

Let America Be America Again
by Langston Hughes

Let America be America again.
Let it be the dream it used to be.
Let it be the pioneer on the plain
Seeking a home where he himself is free.
(America never was America to me.)

Let America be the dream the dreamers dreamed —
Let it be that great strong land of love
Where never kings connive nor tyrants scheme
That any man be crushed by one above.

(It never was America to me.)

O, let my land be a land where Liberty
Is crowned with no false patriotic wreath,
But opportunity is real, and life is free,
Equality is in the air we breathe.

(There's never been equality for me,
Nor freedom in this "homeland of the free.")

Say, who are you that mumbles in the dark?
And who are you that draws your veil across the stars?

I am the poor white, fooled and pushed apart,
I am the Negro bearing slavery's scars.
I am the red man driven from the land,
I am the immigrant clutching the hope I seek —
And finding only the same old stupid plan
Of dog eat dog, of mighty crush the weak.

I am the young man, full of strength and hope,
Tangled in that ancient endless chain
Of profit, power, gain, of grab the land!
Of grab the gold! Of grab the ways of satisfying need!
Of work the men! Of take the pay!
Of owning everything for one's own greed!

I am the farmer, bondsman to the soil.
I am the worker sold to the machine.
I am the Negro, servant to you all.
I am the people, humble, hungry, mean —
Hungry yet today despite the dream.
Beaten yet today--O, Pioneers!
I am the man who never got ahead,
The poorest worker bartered through the years.

Yet I'm the one who dreamt our basic dream
In the Old World while still a serf of kings,
Who dreamt a dream so strong, so brave, so true,
That even yet its mighty daring sings
In every brick and stone, in every furrow turned
That's made America the land it has become.
O, I'm the man who sailed those early seas
In search of what I meant to be my home —
For I'm the one who left dark Ireland's shore,
And Poland's plain, and England's grassy lea,
And torn from Black Africa's strand I came
To build a "homeland of the free."

The free?

Who said the free? Not me?
Surely not me? The millions on relief today?
The millions shot down when we strike?
The millions who have nothing for our pay?
For all the dreams we've dreamed
And all the songs we've sung
And all the hopes we've held
And all the flags we've hung,
The millions who have nothing for our pay —
Except the dream that's almost dead today.

O, let America be America again —
The land that never has been yet —
And yet must be--the land where every man is free.
The land that's mine — the poor man's, Indian's, Negro's, ME —
Who made America,
Whose sweat and blood, whose faith and pain,
Whose hand at the foundry, whose plow in the rain,
Must bring back our mighty dream again.

Sure, call me any ugly name you choose —
The steel of freedom does not stain.
From those who live like leeches on the people's lives,
We must take back our land again,
America!

O, yes,
I say it plain,
America never was America to me,
And yet I swear this oath —
America will be!

Out of the rack and ruin of our gangster death,
The rape and rot of graft, and stealth, and lies,
We, the people, must redeem
The land, the mines, the plants, the rivers.
The mountains and the endless plain —
All, all the stretch of these great green states —
And make America again!


At the Houston MLK Day parade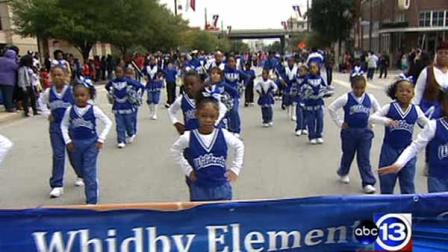 @edgarblythe,

Can it be seen as a sign of the times that many people CAN NOT AFFORD to take MLK Day off so if they are forced to work that day, the meaning is somewhat lost on them?
I was relieved to find that I had to work MLK Day as we don't get paid on our national holidays off.
@tsarstepan,

Here in Texas, the only ones I know having a day off are teachers and federal workers.
@edgarblythe,

The irony is, at the Weitz and Luxenberg law firm for whom my work project works for, the firm will be closed for President's Day (an unpaid holiday). Why do they chose to close for President's Day and not MLK Day? Is it a coincidence?
@tsarstepan,

I think it all comes down to individual discretion in some cases.
Almost 43 years after his death, the void left by the absence of the Rev. Martin Luther King's inspirational leadership has never been filled. His tragic death was an immeasurable loss for our country. So much might be different now had he been given more time. As a society, we still struggle to realize his dream.
The Landmark for Peace Memorial
Quote:
The Landmark for Peace Memorial is a memorial sculpture at Dr. Martin Luther King, Jr. Park on the northside of Indianapolis that honors the contributions of the slain leaders Dr. Martin Luther King, Jr. and Robert F. Kennedy. The sculpture, which features King and Kennedy reaching out to each other was designed by Greg Perry.

At the site of the memorial, on April 4, 1968, Robert Kennedy gave an impromptu speech to an inner city crowd about reconciliation between the races after he learned of the assassination of King. Kennedy was told that riots had broken out in other cities and he was advised not to make the speech. He refused to cancel his plans. Originally he intended to make a speech on his presidential aspirations, instead he spoke of King. Despite rioting in other major American cities, no riots took place in Indianapolis that night, a fact many attribute to the effect of his speech

One of the markers of The Landmark for Peace Memorial contains the entire text of Kennedy's speech, parts of which were later inscribed on his own memorial at Arlington National Cemetery after the senator's assassination later that year. The other, which marks the actual spot from which Kennedy spoke, standing on the back of a flatbed truck, contains remnants of guns confiscated by the Indianapolis police.

http://en.wikipedia.org/wiki/Landmark_for_Peace_Memorial
Robert Kennedy's statement, made to a crowd the night of MLK's assassination, was powerfully moving then, and it still retains it's power and wisdom and truth.
My favorite quote by him:

I have decided to stick with love. Hate is too great a burden to bear.
Martin Luther King, Jr.

Excerpt from my favorite speech by him - I can't listen to this without crying- still so powerful. He spoke these words the night before he was shot.
Now at least he's Free at last....