Thu 23 Dec, 2010 05:58 am
I knew a atheist who used to grouse about the season. He would lock himself in his room to avoid the bustle and good cheer. He heard me sing a snatch (singing snatch?) of It's Beginning to Look a Lot Like Christmas. That launched a loud harangue about the evils and foibles of the hated day, which lasted about fifteen minutes. Since I was a passenger in his car, it was not feasible to walk away. At the end, he turned the radio loud enough to drown any retort. The assault wounded me. For three years I stewed, vacillating between hurt and anger. Finally, I did the only thing I could do: Wrote a story, in which the person was converted, without making him a Christian as a side effect. It gave me surcease, somewhat. But, several years later, I can feel the bruises his words left on me. I last saw the man two years ago. He was busy working out schemes for the government, some of which involved placing sharpshooters at the border, to pick off illegal families as they set foot on our soil. Well, Merry Christmas, ya little sap. Happy New Year.
Good King Coleslaw looked him out
On his feets uneven . . .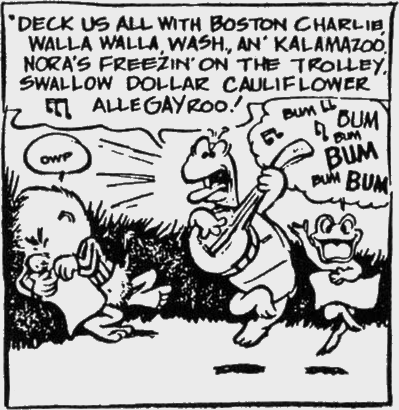 @Setanta,

we have met the enemy
@Setanta,

Setanta wrote:
Good King Coleslaw looked him out
On his feets uneven . . .
When I was a boy and young adult (the latter succeeding the first), Pogo was my brother Sam's and my favorite comic, along with several others. The strip did a take-off on Ezra Pound one time that I still chuckle over. Unfortunately, I can't find a copy of it. Sam used to send the artist, Walt Kelly, samples of his own work. Kelly responded by sending him autographed copies of Pogo books. They corresponded for perhaps half a year.
He as long my favorite comic artist . . . the satire of the strip was wonderful . . .
@Setanta,

I loved his portrayal of Spiro Agnew as a hyena.