@thack45,

Timmy is not big enough to play tight end. and not fast enough to be a receiver or tailback.
he projects as a fullback that can pass the ball better than most fullbacks, but not as well as the quarterbacks.
DOH! I just realized that the Jets Off. coordinator is Tony Soprano(sic) who developed the wildcat offense in Miami. No wonder the Jets want him on the bench.
@edgarblythe,

but is the NFL going to allow him to keep the scriptures under his eyes when a national networks and sponsors are paying the bills
@venus111,

Quote:
keep the scriptures under his eyes
I believe he stopped doing that after he left Univ of Florida. I might be wrong though.
@Rockhead,

He's not big enough to be an
elite
TE. But he's big enough to be a mediocre second stringer that would have some value in crafty play calling (or the old "make the other team think you're going to be crafty" bit).
@Sandraer,

Quote:
Yankees fans boo Tim Tebow

Tim Tebow has work to do if he's going to win over New York sports fans.

The new backup quarterback for the Jets was booed at Yankee Stadium on Sunday night when he was shown
on the giant video board -- even though he was wearing a Yankees cap.

Sitting in the third row next to the Los Angeles Angels dugout, Tebow cracked a smile and acknowledged the
camera. There was a smattering of cheers, but most of the initial reactions were boos.

Tebow was acquired by the New York Jets from Denver in a much-hyped trade last month. He is expected to
back up starter Mark Sanchez, even though Tebow rallied the Broncos to the NFL playoffs last season and
became a polarizing sensation in the process.

Sitting next to Tebow was Miami Heat star Dwyane Wade, also booed when he was shown on the scoreboard
earlier in the game. But those boos quickly turned to cheers when Wade held up his Yankees cap.
(espn)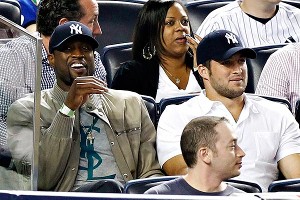 @Region Philbis,

some people's children...
@Region Philbis,

I think Wade did a number on a not-so-hot Knicks team.
Tim Tebow now joins the ranks of the Westboro folk, Kirk Cameron and other hate mongers, having just announced that he will be the guest speaker at a famed anti-gay, anti-semitic and anti-Muslim church in Dallas. Love when religion is cloaked in hatred.
@JeffreyEqualityNewma,

I'm truly disappointed.
I met Tim when I was working at the UF stadium years ago and have followed him since then. I thought he was a good role model; not anymore.
@panzade,

He doth protest too much! when he retires he will come screaming out of the closet and make a fortune on his story!
Quote:
ESPN Boston (facebook)
BREAKING NEWS: Per Ed Werder -- Patriots are signing quarterback Tim Tebow
and expect him to participate in minicamp starting tomorrow
@Region Philbis,

Oy Vey as Mir!. If anyone in the NFL can do it, Josh McDaniel could get something worthwhile out of him. I could safely say he's the luckiest man in pro football.
@Region Philbis,

WHAT?????