List as many as you want. Reasons to
looks?
behavior?
temperament?
inbred skills?
Im getting a dog fanciers license as soon as i get a real,stable job.
first one.
1.
neapolitan mastiff
- huge, graceful, scary. bred from ancient roman molossers, for war or hunting big game AKA lions. mostly getting for looks, but will mot likely hang out with some to get a feel for their personality.
2.
dogo argentino
- pitbullish breed, pure white, square head black eyes. pretty,slim elegant. same pitbull tenacity learning ability and dedication.
3.
weimaraner
- cute, awesome color, awesome eyes, every weimaraner i meet feels like a pitbull without the muscles/scary look. adorable, love to play, learn tricks fat as hell for treats. and they just seem like little buddies.
4.
red doberman
- always loved these dog, if they even seem ruthless at times, and cunning as well. ive always wanted to trasin one. they are more intelligent than any other dog ive met. but i havent met that many types of purebreds so.. elegant, slim, "business" look. always alert, top 5 best guard dogs IMO.(and i dont like black on dogs, on certain dogs all black is nice but i always like red coat pinks kin pink mask)
5&6.
white and blue nose pitbulls
- i love pitbulls, i used to hate them until i foung mine outside in the streets. i thought they were ugly, but i found a rednoce one, it was like destiny. she learned instantly, whenever i teach her a trick she rememebrs it after that day, always attentive, ferocious, determined, protective but not overly so, super friendly, if not wary of people who are intoxicated. just the best dog ive ever seen. i wish conformation shows let pink skinned pitbulls in them, they are so much better looking. i want a white pit with blue eyes,and the bluenose can ahve any color IDC.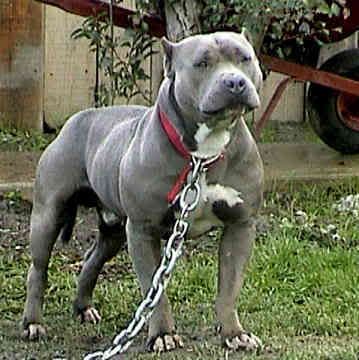 others high on my list include:
the brazilian matiff **fila brasileiro
- pitbull, bulldog, mastff,bloodhound. has a unique gene that makes it extremely aggressive towards "strangers"
i want to eventually breed a perfect "guard dog" and this would be in the recipe. scenting abilites obviously, strong, big and able to do minor pulling duties. mixed with other dogs i would streamline the look, tone down the stranger aggression, lighten up the fur skin and eyes... add some redbone coonhound/chocolate labrador for added "sportness". presto. awesome rural / guard dog.(added as well would be rednose pitbull, mastiff, dogue, red doberman)
dogue de bordeaux
- looks great. big and muscular.
english mastiff
- a classic.the english have dominated the mastiffs for 2000 years and have some of the best dogs period. and mastiffs originated in the East/Mediterranean.