Woman charged for wiping nose on policeman
A US woman has been charged with assaulting a police officer after wiping her nose on his shirt.
It happened after police in Dunbar, near Charleston, West Virginia, were called out to deal with a domestic dispute.
Corporal S E Elliott arrived to find a man sitting near his front door while a woman tried to slap him, reports the Charleston Daily Mail.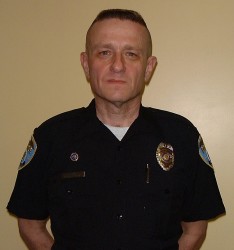 Her wet nose on the back of my shirt was horrible, relates Corp. Elliott
He arrested the woman, Georgia Newman, 30, after reportedly seeing her bite the man on his elbow and spit in his face.
Here Ms Newman is seen trying to stave off the drippiness of her nose by other means
But as he later walked her into a local police station, she allegedly leaned over and wiped her nose on the back of his shirt.
Ms Newman was charged with domestic battery and battery on a police officer.
Battery on a police officer is defined as intentionally making any physical contact of an insulting or provoking nature against an officer.