Thu 15 Nov, 2007 12:05 am
gotta love Frank's Red Hot
Do I? You're talking to someone now from New Mexico...
Depends. Crystal Sauce for American food, Sririchara (Vietnamese chili-garlic sauce; often has a rooster on the label) for fried stuff and sometimes Mexican (if there's no pico de gallo, or if someone has Anglo-ed all the taste out of it), Japanese chili powder for eggs (Unless I use the sririchara)... About the only one I never use is red Tabasco.

They laugh at me here at work when I say something's not spicy. It could be chock-full of jalapenos and I'd say that.

p.s. Frank's is.... well, blah. All heat, no flavor.
Frank's is our choice cause there isn't much else out there. At least as to what I have found. Here, that is.
Oh yeah, gotta have plenty of that chili-garlic sauce about. It's good on almost anything.

The sweeter chili sauce is a favorite for me too. On chicken. Oh my god.
This is pretty much the standard hot sauce fare in new mexico.
I have a photo, um, where, of a set of shelves in that place with all the chile peppers by the front door in Old Town, Dys.... something like 50 kinds of local hot sauce...
found it!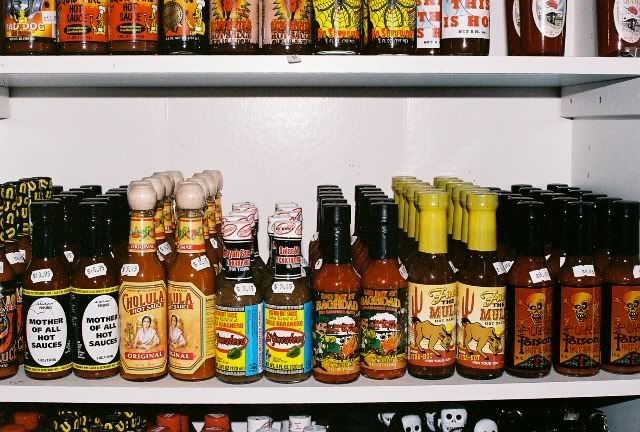 Ultimate Hot Sauce Taste Test