http://www.archnewsnow.com/features/Feature226.htm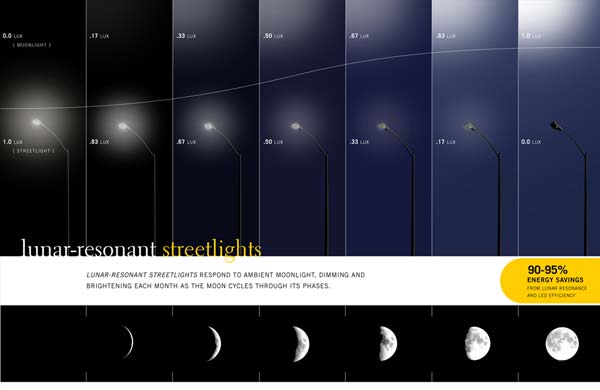 Civil Twilight Team Wins 2007 Metropolis Next Generation® Design Prize
Members of San Francisco design collective awarded $10,000 for energy-conserving "Lunar-Resonant Streetlights" proposal.

By ArchNewsNow
April 27, 2007
"Civil twilight is defined to begin in the morning, and to end in the evening when the center of the Sun is geometrically 6 degrees below the horizon. This is the limit at which twilight illumination is sufficient, under good weather conditions, for terrestrial objects to be clearly distinguished." - U.S. Naval Observatory Astronomical Applications Department
Created by Metropolis magazine, the Next Generation® competition, now in its fourth year, encourages and recognizes outstanding ideas from young architects and designers for making our built environment better, safer, and more sustainable. This year, entrants were asked to submit proposals relating to energy issues.
A team from San Francisco-based design collective Civil Twilight has been chosen as this year's winner of the Metropolis Next Generation® Design Prize. The winning team members - Anton Willis, Kate Lydon, and Christina Seely - were honored by the architecture and design community at a gala awards celebration held last evening at the Herman Miller showroom at the San Francisco Design Center.
The winners were presented with the annual Next Generation® $10,000 prize for their innovative, energy-saving urban outdoor lighting concept, Lunar-Resonant Streetlights. Their proposal: Replace standard urban streetlight bulbs with "lunar-resonant" units that would automatically dim or brighten in response to ambient moonlight - potentially saving as much as 95% of energy used in street lighting, while also enhancing nighttime visibility and enabling city residents to once again experience the pleasures of observing the nighttime sky.
According to the team's statistics, streetlights account for 38% of all electricity used for lighting in the U.S., and produce about 300 million tons of carbon emissions per year. In addition, their light pollution prevents two-thirds of Americans from seeing moonlight or stars.
The concept could be implemented simply and economically, by retrofitting existing lights with dimmable LED bulbs and a highly sensitive photo-sensor cell that would detect/respond to moonlight (as well as cloud cover and atmospheric conditions affecting daytime needs for street lighting). Most parts required are available off the shelf.
Fourteen additional proposals from Canada, China, New Zealand, U.K., and U.S. were also honored as runners-up at the awards event.
"This year's winning team - and the very noteworthy runners-up - have fully realized the combination of practical and imaginative that we wish to encourage through the Next Generation® competition," says Metropolis publisher Horace Havemeyer III, who notes that all competition entrants are required to submit business plans for their proposals.
"The Next Generation® competition is exciting because it showcases the positive force that young designers represent," says Metropolis Editor-in-Chief Susan S. Szenasy. "They are at the forefront of the latest developments in integrating ecological and social sustainability, digital technology, and materials innovation, all of which are critical in shaping the quality of the built environment and our lives in the 21st century."
The judges for this year's competition were Jeff Barber, executive director of the Architecture Studio for Gensler's Southeast region; Fred Dust, head of IDEO's Smart Space practice; Suzan Globus, principal of Globus Design Associates and current president of the ASID; and Michael Hendrix, co-founder of Tricycle, Inc. Szenasy moderated the deliberations.
For the rest of the article and other graphics, please see archnewsnow link above.