Link to article on Hudson World Bridge
I'll show you the article, but won't transfer all the photos. I'm not sure what I think.. I'm a little conservative about cluttering up rivers, but on the other hand, this sounds and looks rather nifty....
Quoting article,
Hudson World Bridge: An architect's proposal to span the Hudson River would be a gathering place like no other. By Fred Bernstein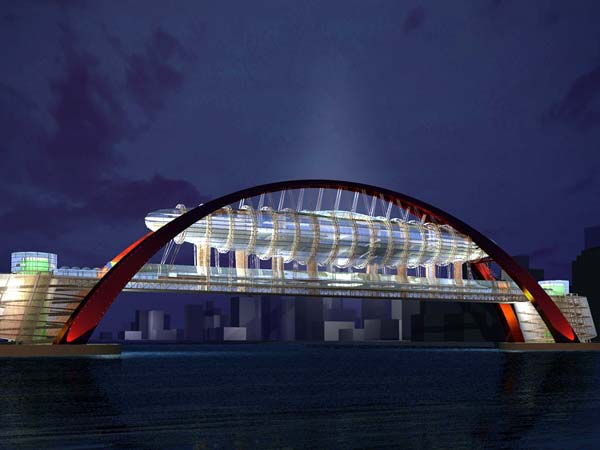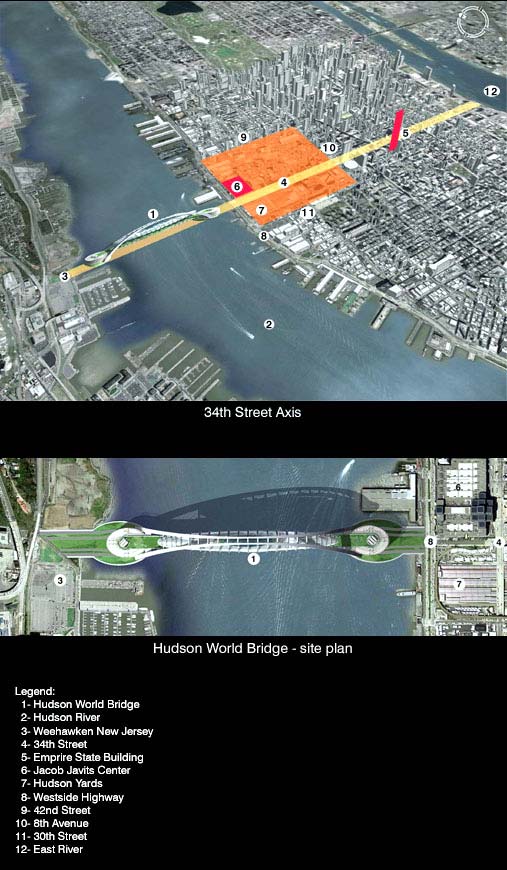 Eytan Kaufman (mages/photo and graphics)
By Fred Bernstein
April 18, 2007
In 2002, I reviewed a show of designs for "A New World Trade Center" at the Max Protetch Gallery in Chelsea. One proposal, by Eytan Kaufman, stood out from all the others. Kaufman's project included a bridge across the Hudson River near Ground Zero. Kaufman realized that the redevelopment of Ground Zero could and should extend beyond the original World Trade Center site. (In fact, as subsequent events have proven, trying to squeeze a memorial, office buildings, stores, museums, train stations, and parking lots into 16 acres shortchanges them all.) And Kaufman had realized that a building over New York Harbor had the power to be especially stirring, not only because of the evocative power of water, but because that one body of water contains symbols of Freedom (the Statue of Liberty) and diversity (Ellis Island). My own Twin Piers proposal was directly inspired by those aspects of Kaufman's bridge.
Five years later, Kaufman is back with a proposal for another bridge over the Hudson River, the Hudson World Bridge. This time, there is no direct connection to 9/11. The bridge, designed in consultation with Ove Arup engineers, would span the Hudson at 34th Street, and would be not so much a transportation corridor as a destination, providing the city with a gathering place like no other. The surface of the bridge, nearly a mile long and 200 feet wide, would provide more than 10 acres of green park and plaza to be used for cultural and commercial activities. Hanging above the park would be a capsule-shaped building containing hundreds of thousands of square feet of meeting and exhibition space. At either end are hotels and ramps for emergency and service vehicles. (Automobiles would not be permitted on the bridge, but there would be escalators, moving sidewalks, and cable cars.) With its 34th Street location, the bridge could supplement the Javits Center, and would do so in far more spectacular fashion than the addition now planned. It could also do something the Javits Center has so far failed to do: attract development to Manhattan's Far West Side.
New York is where the suspension bridge and the skyscraper - the engineering marvels of the 19th and 20th centuries - came to fruition. In recent years, the city has ceased to be the world's leader in design technology. Kaufman's scheme would allow New York to reclaim that distinction.
Hudson World Bridge Team :
Eytan Kaufman (Principal Architect), Andrea Ljahnicky (Architect, Associate Designer), Martin Newton (Architect, Digital Rendering), Kazushi Miyata Digital Drawing)
Project Engineers: Ove Arup and Partners: Pete Tillson (Associate Principal), Iraklis Lampropoulos (Engineer)
Eytan Kaufman, Int'l. Assoc. AIA, started his New York City design and development practice dedicated to conversions in SoHo and Chelsea in 1977. Born in Israel, he received a B.Arch degree from the Technion Israel Institute of Technology, and came to the United States in 1966 to study and teach with R. Buckminster Fuller at Southern Illinois University where he received a M.Sc. degree in 1968. Kaufman taught Urban Design at New York University and Pratt Institute from 1971 to 1976.
Fred Bernstein has written about design for more than 15 years. He also contributes to the New York Times, Metropolitan Home, Oculus, and Blueprint./