Sat 17 Feb, 2007 06:13 pm
Inspired by Roberta's wonderful Beautiful Animals topic, here's a topic about beautiful plants -- all kinds -- let's add a little Spring to A2K even if the weather outside is less than optimal for flora.
I carried these plants in my wedding bouquet:
Blue irises:
Daisies:
Sonja roses:
Lady Di roses:
Baby's Breath:
English ivy:
Oh! great idea, will be back. Tap, tap, tap, while I try to remember a certain latin name..
OK, I remembered. This is a gorgeous plant - Dianella caerulea - with some troubling behavior.
Big dark strappy green leaves and exquisite flowers, and then gorgeous fat purple-blue seed pods. Need I say more? I finally tore mine out, I put it in a stupid place. Wonder how it would do in a half wine barrel?
The aussies will know more about it than I do...
I came across these bird of paradise flowers when I was looking for photos of bird of paradise birds. I think they're beautiful.
But mine was niftier than that particular flower in the photo.. darker blue...

I didn't mark the source as I usually try to do, as if anyone ever uses my photos, I'd like that. But, as we all know, you can right click...
I used to grow those, Roberta, no virtue of my own but that they do well in southern California. They come with variation, short and tall... I forget, this minute the diff names. Strelitzia regina, and... ah, Strelitzia nicolai.

And, yes, gorgeous.
That's a beaut, osso.
I love peonies for their fragrance, not just their visual beauty, but I do love how they look too.
I like Nasturtiums a lot
Back on the Dianella, the darker blue outer petals were more apparent to me in my dianella possession. So I misread that photo as oddly pale, when it is a snapshot of progress.
I like nasturtiums too C.J. Do you eat the flowers?
Another nasturtium lover. Tricky to work what they go with, rather like california poppies. At least in LA, once you plant nasturtiums, you have nasturtiums. Not that that is a bad thing.

That reminds me. When I hardly knew my later business partner, back when I was a starting proj mgr in a design firm and she was working her way forward as a landscape contractor, she brought in a giant box of bearded irises she'd culled from her yard. We each took some. I must have missed the intermediate ones..

in any case, I ended up with very light, near ice, colored blue irises and some near sulfur yellows. Now you may like this but it struck me as gaaaaack. Not the same chroma... clash city.

I liked the light ones, at that time, and spent years trying to get rid of the, er, vulgar, yellows. I say this tongue in cheek of course.

Point being, depending on your palette, some things go better with .... some colors.
No, osso, I don't eat the nasturtium, but I have used them as decoration.
They look so lovely as hanging plants too.
Pansies:
Food plants are also lovely: tomatoes:
Peppers:
Pumpkins on the vine:
Cilantro:
Sage:
mmm? I didn't say anything about eating them, but I have... just like I've tried Feijoa flowers, and a few others. My taste palette is not the most discerning, no matter how many times I post on food, I've a diminished sense of smell. I'm your basic grunt, I like it or I don't. I didn't dislike either nasturtiums or feijoa.
Tomatoes!!! (real ones)... Salvia!!!! Pansy faces!!!!

Pansies might have had something to do with my ever loving plants.
Here are our California poppies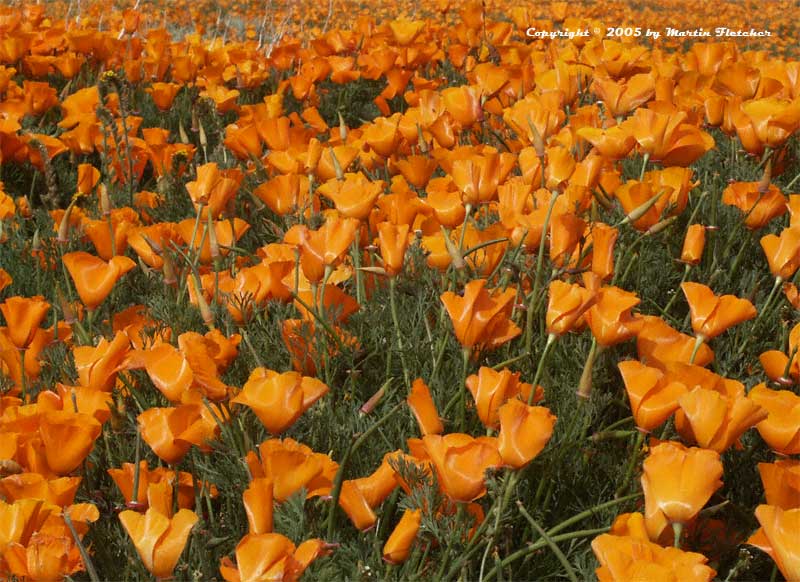 hydrangeas:
flowering onion plants:
Even more incentive to resurrect my old imac's data. I've some photos on there of california wildflowers by a very eco friend in LA planning. Rhythm of color and hillside..
Someone tell Green Witch about my award-winning hosta leaf, which is pictured below, on the left...