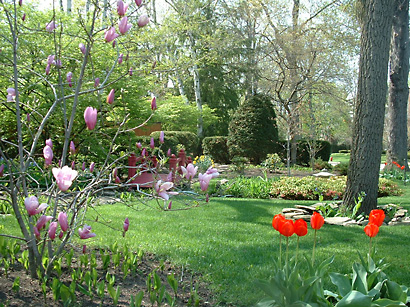 I would have panzade's yard looking like that in about two weeks. Wouldn't be cheap though. We're probably talkin' a case of beer, a few joints, a couple of groupies, and maybe, if I have time... a boat ride.
That's gorgeous!

Doesn't seem very Floridian, though... more of a 4-seasons type of climate.
Yeah, looks like Gus started on the joints a little early.
Never too early. Oh wow! A spider just crawled across the base of my monitor! It was....like....really cool, man.
Dude!...you gonna travel at all this summer?
I was thinking that gus's layout is a bit formal, perhaps we could move the trees a bit together and prepare a bed of portulaca with a center of pachysandra...
Like now Im havin some cheetos with peanut butter and everyso often I , like take a cheeto an dip it into some Hersheys syrup man. I like the combination of really sweet followed by a salty crunchy snack Wait, Im gonna take a walk downstairs and watch the clothes dryers spin around. Theyre really cool with some salty snacks and ...
Aha, you posted photos. Cool house, I like it a lot... and a yard with lots of possibilities related to the style of the house -
I have sprouting opinions, more immediately re layout of the space than exact plants to keep or toss. Back in a bit.

But first, do neighbors or guests ever park in the street?
NO! No one is allowed on my clover swale!