I think I'm washing my hair that week.
May is too far away - I'll bookmark first
we can gang up and share rooms to cut costs. which may result in a lot more fun and possibly a few divorces.....
The Palmer House Hilton? Sigh, maybe not.
Even with a group rate, which we should get - thus the same hotel is a great idea- it would be around $150 or more. might be worth it, as it's a beautiful hotel, but a little over my budget, i think.
$ 150/night for a city like Chicago is not bad. If you share
your room with littlek, then you'll pay only $ 75.00 dagmar.
Don't share with Slappy, he'll give you either an IOY or is
offering sexual favors in return.
Yeh, I loved the Palmer House when I was a kid.

<washing yer hair, by then it'll need it>

I looked at packages for both the loop and the river/whatchacallit area to include both flight and hotel. Staring at the Seneca.. and the Congress. (I'm in thrift mode). The Best Western is relatively inexpensive, doesn't attract ms. picky.

but I want to go look at small boutique places sans the amenities, perhaps further north. If I get a list of some, perhaps a Chicagoan can advise if I've picked something on Skid Row.

I managed to click off Expedia just after it loaded all hotels in all areas (took a while, I went to the grocery store while I was waiting). Sheesh.

Now to check out hotels.com

First I'll try to find some maps.
There are a lot of cheaper hotels in the suburbs, easy access by train to downtown. The suburb I know is Naperville which is on the high end of affordability, but hotel fares there are still very reasonable (compared to $150, anyway...)
I don't know about renting a place to meet, Soz. Expensive enough for some of us to get and stay there.
Oh, I know. I'd only want to do it if it were cost-effective -- which it definitely can end up being. Like $10-25 for the whole event per person.

Really depends on how many people (more = cheaper per person), but I've done this kind of thing before.
I lost my map links - from the Lonely Planet, most useful so far but I've barely started looking - but got these from the ad on the page...
mention them because they were significantly less than my big interest, the Palmer House, at least re a flight hotel combo price on Expedia.
http://www.crshotels.com/search/hotel_view.asp?HotelId=496
congress plaza
http://www.crshotels.com/search/hotel_view.asp?HotelId=460
seneca
(I'm not sharing a room and the Palmer House would be high for me. I'll be glad to visit though.)
We'll have to see which area folks end up in. I tend to like the Renaissance Chicago myself but it is on the steep end of the scale.

As it is I'll have to figure out if Quinn will go or not. She won't fly so if we do go it'll be a 2 day (long days! lol) drive each way.
Here's a batch of maps: first one turns out to be least interesting..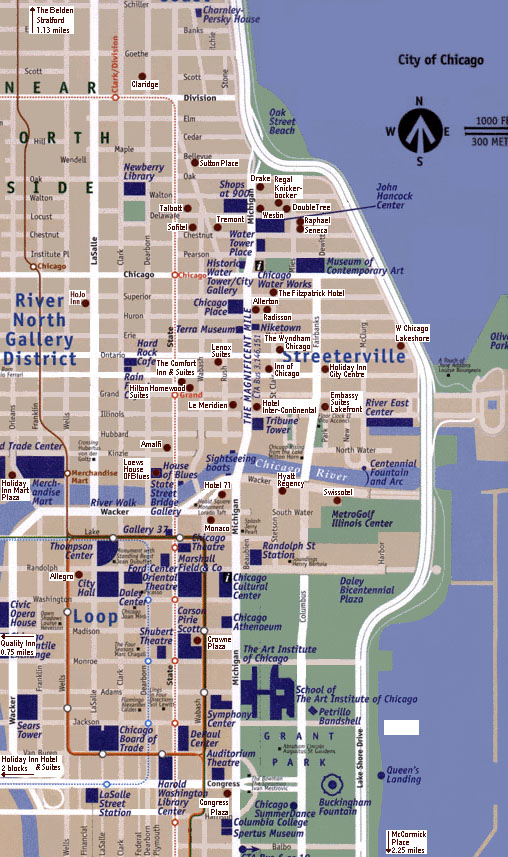 Already this looks more accessible to me - if not with a riproaring review.
Days Inn Gold Coast, by Lincoln Park
I've just wasted a half hour looking up hotels in Evanston, many of them far far away, with slow loading. I suppose the old Orrington is dead and gone, or nobody ever stays there.

sigh.
May? MAY?? That's six months away, facrissake! I'll sure try to make it, but I wouldn't promise anyone anything six WEEKS in the future. Six days...well, maybe. I'll watch this thread. But I sure ain't making no airline or hotel reservations until sometime after the first of the next year. More likely not until after the Spring Equinox.

Chicago has a number of fine hotels (and some not so fine). I always liked the Omni Ambassador East, home of the Pump Room, the bar that was the "in" place back in the 1940s and '50s. Every movie star, musician and other type clebrity stayed there and the walls are covered with their autographed photos. It hasn't aged all that well but it still has that historical charm. (It's sister house, the Ambassador West, across the street, has been converted to condos and no longer takes transient trade). It;s within walking distance of Lakeshore and the John Hancock Tower and a lot of other places. Probelm is, unlike New York, Chicago's midtown center city section isn't quite as compact. In theory, you could walk from the Palmer House to the Chicago Art Institute but it's quite a trek.

Let's just keep each other posted.
Oh, cheezits, has that place changed...

barf city.
getting more nitty gritty re my own interests...
y'all may not share this, but, just in case
http://www.oprf.com/hotels/index.html
Oak Park could be dicey, Osso. You can sometimes get really great rates at some pretty nice hotels on the weekends.