@engineer,

Quote:
...he's not an idiot...
But he's an impulsive, ultra-wealthy, egotist – a dangerous combination.
Personally, I think he's out of control:
Quote:
The tech billionaire has become the dominant power in satellite internet technology. The ways he is wielding that influence are raising global alarms.
(...)

Since 2019, Mr. Musk has sent SpaceX rockets into space nearly every week that deliver dozens of sofa-size satellites into orbit. The satellites communicate with terminals on Earth, so they can beam high-speed internet to nearly every corner of the planet. Today, more than 4,500 Starlink satellites are in the skies, accounting for more than 50 percent of all active satellites. They have already started changing the complexion of the night sky, even before accounting for Mr. Musk's plans to have as many as 42,000 satellites in orbit in the coming years.
nyt
@hightor,

Impulsive is the word I was thinking. I also think he's not as smart, informed or clever as he thinks he is. I think criticism he receives is all the validation he needs that he's on the right track, because no one else can understand his unique and special beautiful mind. Much of what he's said and done lately has reminded me of Trump.
@hightor,

The recent news that Tesla has been completely falsifying the mileage capabilities of their cars is also really bad. It's hard to believe that a couple of years ago this guy could do no wrong.
@engineer,

Quote:
you figure somone would have done due diligence on the construction permit.
they didn't have a permit for the removal of the original sign, so i guess they assumed they wouldn't need one for the X either...
Quote:
Twitter was already in hot waters

(sic)

with the city of San Francisco last Monday for removing Twitter's original sign, which

includes its name and iconic blue bird, without proper permits or taping off the sidewalk as part of pedestrian safety measures.
@Region Philbis,

Region Philbis wrote:
Quote:

you figure somone would have done due diligence on the construction permit.

they didn't have a permit for the removal of the original sign, so i guess they assumed they wouldn't need one for the X either...
That's not the first construction permit scandal they've come across.
From February 2023:
Updated permit required to legalize bedrooms at Twitter HQ
@tsarstepan,

they are batting a thousand...
the idiotic transition has begun...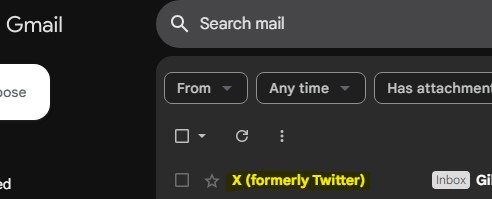 @hingehead,

That takes guts. He has a group of workers shutting down the cars of critics.
Quote:
Elon Musk is in talks with Italy's government about hosting his proposed cage fight with Mark Zuckerberg at a historic site in the country, but the Colosseum has been ruled out as a venue.

The owner of X Corp and the chief executive of Facebook-owner Meta first raised the idea of a one-on-one scrap in a series of social media posts back in June. The challenge came as Zuckerberg prepared to launch Threads, a rival microblogging site to Musk's now rebranded Twitter platform.

The Italian culture minister, Gennaro Sangiuliano, said he was discussing holding the bout "in full respect of the sites" where it might be staged, but that it would not be held in Rome.

"I had a long and friendly phone conversation with Elon Musk," he said. "We talked about the common passion for the history of ancient Rome. We are discussing how to organise a great charity and historical evocation event, in full respect of the sites. It will not be held in Rome."

This week the president of the cage-fighting promotion company Ultimate Fighting Championship, Dana White, said he had spoken to the culture ministry about staging the fight between the two billionaires in the Colosseum.

Musk added to the speculation on Friday when he posted on Twitter, now renamed as X, that the fight would be livestreamed on his and Zuckerberg's social media networks, saying: "Everything in camera frame will be ancient Rome, so nothing modern at all."

He said he had spoken to the Italian prime minister, Giorgia Meloni, and the culture minister and had "agreed on an epic location". Earlier on Friday, Musk had posted the word "gladiators" next to two crossed-sword emojis.

However, Sangiuliano then issued the statement ruling out Rome. From the north to the south, Italy is home to hundreds of ancient Roman and Greek sites, including the Capua amphitheatre and the ruins of the disaster-struck city Pompeii, near Naples; the ancient Greek temples in Agrigento, in Sicily; and the arena of Verona, completed in AD30, which is still used for opera, concerts and other events.

Musk posted on X that the fight would be managed by his and Zuckerberg's charitable donations, not UFC, and that all proceeds would go to military veterans' organisations. Sangiuliano said in his statement that any location deal would include a donation worth "many millions of euros" to two Italian paediatric hospitals.

However, Musk also indicated that any fight was not imminent. He posted on X that he had a shoulder problem requiring minor surgery with a recovery period of "a few months".

Zuckerberg wrote on Sunday that he was he was "not holding his breath" over the mooted fight, as he revealed that he had suggested a date of 26 August for the contest. That now seems unlikely given Musk's post about surgery.

The chief executive of X, Linda Yaccarino, also questioned the seriousness of Musk and Zuckerberg's plans, saying this week that talk of a bout "may be a humorous back and forth between Zuck and Musk". She also jokingly described the fight as a "great brand sponsorship opportunity".
https://www.theguardian.com/technology/2023/aug/11/elon-musk-mark-zuckerberg-cage-fight-italy-government
The only thing I can add to the Printing fiasco, is that my son runs a company that makes custom signs for business's. The permitting process in Maryland, Delaware, Virginia and Pennsylvania is tough and rigorous. Designs have to be handed in for approval from the boards (including dimensions and colors) and once approved, the permitting people come out often to make sure everything is how the board agreed it could be. If not (even a one inch diversion or shade of blue too light or too dark) the sign is not approved until it's made correctly. Sometimes it means the whole sign comes down, big loss for the sign company.

Companies usually have to hire large equipment if the sign is close to the sky, or overly heavy. That stuff is ridiculously high priced for most of the smaller companies. All of that becomes an even bigger problem if someone doesn't show up to work, or something vital is left at the plant.

All of that is for actual items being installed at building, I assume the procedures for permitting vanity tags for Herr Musk might be less problematic. Something everyone should remember, don't piss off the people who run the permitting process............it's a stupid mistake.
Continuing a long stream of X bans for Musk critics, X
banned a college professor
this week for criticizing Musk. I've got to wonder if (a) anyone still thinks Musk cares about free speech and (b) how Musk, who is CEO of several corporations, has time to police random people who disagree with him.
Quote:
New York University professor Scott Galloway has claimed he has been blocked from X, formerly Twitter, after turning down a meeting with Chief Twit Elon Musk, who considers himself a "free-speech absolutist."

He cited an incident where a mutual acquaintance communicated that Musk felt he was being "unfairly attacked" by him and had expressed an interest in a meeting. However, Galloway found himself locked out of X shortly after he refused to meet Musk.
@engineer,

Quote:
how Musk, who is CEO of several corporations, has time to police random people who disagree with him.
i'm guessing he has a team of open-mouthed lackey moderators who happily do his bidding...
@Region Philbis,

Perhaps, but it has to be exhausting. Galloway (for example) is a marketing professor, and his critique of Musk is mirrored by many people who site his poor history running the company and his arbitrary decision to throw away one of the most recognizable brand names in the world. Why him when the same stuff has been said in hundreds of articles by others?
Apparently Space Karen is limiting the ability to block to paid-for blue ticks. Clearly he's seen the rise in the use of blocking (triggered by his enshittification of twitter).
The obvious repercussion is the loss of women and climate scientists for whom this was their only source of protection from abuse.
The less obvious repercussion is that removing the ability to block abusive content creators violates the Apple Store's TOU, and Zuckerberg would love an excuse to kick Musk in the balls.
This is a preview of Ronan Farrow's story in this week's
New Yorker.
Quote:
The meddling of oligarchs in the fate of nations is not new. But Elon Musk's current influence on global affairs is especially "brazen and expansive." As Ronan Farrow explains in a deeply reported story from this week's issue, Musk's SpaceX is currently the sole means by which NASA transports crew from U.S. soil into space. The govern­ment's plan to move the auto industry toward electric cars requires increasing access to charging stations, many of which are owned by another Musk enterprise, Tesla. Meanwhile, the Ukrainian military has relied on Musk's Starlink mobile Internet terminals for communications in its fight against Russia. "We are living off his good graces," a Pentagon official said, of Musk's role in the war. "That sucks."

We asked Farrow what his biggest misapprehension about Musk had been before he began reporting the story. "As someone who had followed news about Elon Musk fairly casually, I don't think I'd registered just how exposed he is," Farrow said. "There is little truly new to observe about one of the world's most observed people. But I also hadn't—and I think most people haven't—reckoned with just how pervasive and consequential his influence is. I didn't know that Musk is not just advancing technology but shaping the outcome of wars and policy debates."

Farrow added that it is easy to become distracted by the flurry of strange news and controversies that Musk invites and incites. "For all the arresting details about him, say, using ketamine and speaking with the Kremlin, I was in the end less transfixed by Musk and more by what his influence shows us about the systems around him," he said. "There's a lot to learn here about the consequences of extreme capitalism and the way in which declining state investment in important areas of progress has empowered private entities to fill new spaces—with consequences both positive and dangerous."

As for one additional takeaway, Farrow noted, "It must be said: the man has sophisticated taste in video games."
article
I listen to Radio 4 in the car. I heard this yesterday.
Musk is compared to similar figures from history, Henry Ford and Clive of India.
Quote:
Tech billionaire Elon Musk has begun dabbling in geopolitics. Unelected and unaccountable, he has the power to hold one-to-one meetings with world leaders like Benjamin Netanyahu.
https://www.bbc.co.uk/programmes/m001qt64