This thread will deal with famous cinematic moments. Do you have a particular scene from a movie which is forever etched into you memory?
Post it here. Can't find the scene? Simply describe it.
On of my favorite scenes was from Evil Dead 2. The classic fight scene between Bruce Campbell and his severed hand....
Who's next?
The Blob, in which a woman is pulled down a garbage disposal.
Nice choice, Edgar. I was unable to find the particular scene you were talking about, but the movie poster alone sent chills up my spine....
The thought of that poor woman being pulled down a garbage disposal by the hideous creature known as "The Blob" will cause me many sleepless nights.
When Bambis father got shot in the head, I wondered what calibre did that guy use?
It was a great shot.One of my favorites .
I don't recall that scene, farmerman. Remember the scene where Bambi has her head blown off by the guy with the double-barreled shotgun? The guy used his daughter to entice Bambi with some food...
Seconds later, the guy enters the scene and.....BLAM!!!..... Bambi's head is vaporized, the little girl is covered in blood, and the twitching, headless deer corpse, legs flailing in the air, is the last thing the viewer sees as the screen fades to black.
Classic friggin' cinema.
lotta dark meat on them young deers
The scene in which Bruce Willis gets a padlock clamped about his testicles.
Along the same theme as Evil Dead 2 (a fabulous movie), is the movie Dead Alive. One of the most jaw dropping scenes I've ever seen took place after a zombified body was torn apart (I believe by a lawn mower) and the intestines continued to go after the hero. hey climbed the cord of a light fixture, and had a little toot on the way up.
Young Frankenstein

When the monster is choking Dr. Frankenstein
and he's trying to ask for the sedative.
Scanners. When the heads asplode.
I also liked it when Nemo got sent down the garbage disposer, but that was an alternate ending.
Mine's actually a juxtaposition of scenes: the end of
The Godfather I
; the scene where Michael Corleone is becoming a godfather in the cathedral while his hitmen are eliminating his enemies.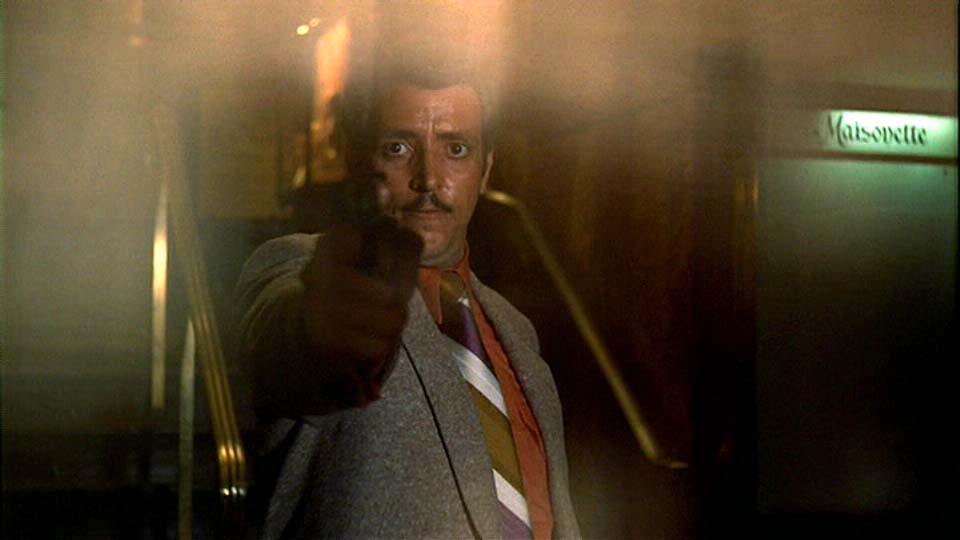 (I apologize for the obnoxiously big image.)
[Post edited 8/19 b/c original images became unavailable)
favorite movie scene
Well, I don't go for violence, so I'll stick with "Shocked! Shocked!!". Need I identify the film, hmmmm?
Only if you want us to know what you're talking about.
I think the best movie scene ever was in Shaun of the Dead, wherein Shaun does his entire morning routine of going to the convenience store, without realizing that he's in a post-apocalyptic zombie world.

Also it's great when Shaun and Ed spend 5 or 10 minutes trying to figure out how to kill the two lumbering zombies in Shaun's backyard, and they stop what they're doing to go through the records, deciding which ones are too valuable to be used as weaponry.

God that was funny. The high-tension music in that scene made it all the more ludicrous.
Dirty Dancing-- when Patrick Swayze teaches Jennifer Grey to dance for the first time....stellar scene!
Who could just name one? But for me, here's a list in no particular order:

!) The Russian Roulette scene in the Vietcong riverside prison camp between Michael and Nicky in "The Deerhunter" -- possibly one of the most riveting scenes of human courage ever put on film.

2) Gordo Cooper answering reporters' question "who was the greatest pilot he ever knew?" near the end of "The Right Stuff", first citing the test pilots who'd died, then his fellow Mercury astronauts attending the same Texas barbecue where he was asked the question, then Chuck Yeager who first broke the sound barrier and finally, giving his stock answer, "Yer lookin' at him."

3) Robert DeNiro's bounty hunter explaining to his in custody mob accountant Charles Grodin why he had kept the wristwatch that wouldn't keep ticking his ex-wife had given him in "Midnight Run" -- Grodin's reply of "Better get yourself a new watch, Jack" served me well over the years.

4) The ending monologue in "The Big Kahuna" by Danny DeVito as the world-weary, ready to quit petroleum lubricant salesman to the rookie "Bob" (I can't remember the actor's name, but he bears a passing resemblance to Tom Cruise") about how as you get older, the experiences you regret "tatoo themselves on your face" and you carry them with you, wishing you could get rid of them but you can't, because it's too late and it's at that point in life that one truly gains "character".

5) Jack Nicholson's obsessive-compulsive (Melvin) novelist in "As Good As It Gets" firing his response to his gay artist neighbor's explanation why Melvin was having trouble deeply connecting with waitress Helen Hunt: "I'm drowning here and you're explaining the water!!!"

6) And finally (at least fer now), any number of scenes from one of my "favorite" movies of all time, 1983's "My Favorite Year" (and hence, the screen moniker, Allan Swann), but for now, I'll pick the scene where screen idol (think Erroll Flynn) Swann tells 50's TV skit comedy writer Benjy Stone what we all want: "Romance, Stone, That's what we all want."
Monty Python and the Holy Grail where King Arthur is arguing with the insolent gate guards of a castle over the origins of his patsy's coconut shells.

"Are you suggesting coconuts migrate?"

Also in a later scene where King Arthur is arguing with the even more insolent French guards.

French Soldier: I don't want to talk to you no more, you empty headed animal food trough wiper! I fart in your general direction! Your mother was a hamster and your father smelt of elderberries!


Arthur: Is there someone else up there we could talk to?
French Soldier: No, now go away before I taunt you a second time.
My favorite scene is probably the last one in Godfather part III. The scene that brings the most powerful man to his knees with the knowledge that by being who he is and doing the things he has done has killed the only pure thing in his life.