Dear Lord - Murdoch press attempt to quell the hysteria they help create.....

Clue - don't pander and inflame this crap to start with.

Sigh - why bother. he sells more papers both ways.

Is post-natal abortion ever moral?
<sigh>
Behind the Corby frenzy
By Dewi Anggraeni
Australian correspondent
Tempo News magazine
Indonesia
May 30, 2005
Michael Corby, Tony Wilson and Roseleigh Rose visit Schapelle Corby in Bali's Kerobokan jail
Photo: Jason South
An Indonesian colleague called yesterday morning with a request: "Maybe, from your vantage point, you could explain what it is about the Schapelle Corby case that has whipped up such a frenzy in Australia."

She added that the hundred or so other Australians in foreign prisons had never had such an effect. I gave some theories as to why this should be so, but in the end I said I didn't know. Deep down, I had some idea. But I deflected because what I said might have been interpreted to revive suspicions that Australians are racists.
... <cont.>
<complete article>
http://www.theage.com.au/news/Corby-Case/Behind-the-Corby-frenzy/2005/05/30/1117305558275.html
I agree whole heartedly with both of you.
What i find most ridiculous and embarrassing ( as an Australian) is how people have been requesting the return of donations they made to tsunami victims.
I truly find that disgusting and imbecilic beyond words!
msolga wrote:
goodfielder wrote:

... There is a persistent calumny here that says it's based on "guilty until proven innocent". That is completely untrue, there is a presumption of innocence....

That's interesting. Then why haven't the more "intelligent" media pointed this out, if it's true? I've heard that again & again ...
I think it's a combination of a virulent media meme and journalistic laziness. The Australian to be fair has published a Melbourne legal academic who is an expert on Indonesian law and he has explained the Indonesian legal system very clearly.
Just to show how this laziness happens (and not wanting to mount a thread coup) some weeks ago a British soldier was awarded a VC for his bravery in Iraq. The British Army website stated it was the first VC awarded since x (can't think of the date but it's not important). It was wrong. It was wrong because two Australians were awarded the VC in the Vietnam War which was after x. But because the British Army website got it wrong so did the media. All of them. All over the world. The reason is that they just reproduce what other agencies publish. Lazy journalism. Heck I didn't have to look it up, I knew they were wrong (I remembered WO Keith Payne for one).
Anyway back to the point at hand. I wonder if journalists bother to check all their facts these days.
Thanks for that, goodfielder. It makes me wonder, too. Just how often does the media use primary sources for "news" reporting these days? Seems that everyone has simply been repeating everyone else in this case.
It's funny when you read Reuters eg - and then other stories - most are just padded from the mouth of the primary agencies.
A bit like one of those games where a story is whispered around a group sitting in a circle, Deb. The story might have gotten a bit distorted via the method of communication, but basically everyone repeated what they'd heard from the previous source. And if the first source got it wrong, then we've all got the wrong informatiom!
You can also blame the media for giving her such a harsh sentence? (a rapist got 5 years)

Well I do respect other countries justice systems, etc...
What I am more concerned is how the media and our people are trying to get the goverment involved in this... So I am generally pleased with our Government's caution to this case, (note I am usually anti-Howard)

One thing I noticed is that the media put a lot of coverage on Corby, and thus making her a scapegoat, as the Indonesian is pressured to deal with it. If Corby was freed, it could set an example for traffickers, so there is a possiblity that the Indonesian Justice system have to make an example of her...

Another thing is that the coverage makes it harder for the Corby defence to pay a considerable higher fee for appeal that will result in setting her free....(yes you read it as bribing, and don't be surprise, the Indonesian judges can be corrupted, but I don't intend this as a slur)

And on her case of being guilty or innocent... I can never say: She looks innocent, her cases seems fine that the weed is not hidden properly in her luggage as traffickers would do.

On other hands, Australians DO traffick drugs to Bali to sell to Westerners for same price as in Australia, cos the drugs are top quality compared to Indonesian.
And she could use her beauty to look innocent... It is a possiblity, and perhaps overconfident about her own ability to carry the drugs?

But one question let me ask this: why are her friends who she travelled with not charged or even questioned?
Actually, the whole thing about the corruption in baggage handlers is making me more doubtful re her guilt.

It seems to be coming out more and more about that.
What's interesting about all this is that the topic was right in the background (news-wise) for quite some time and then suddenly it burst into life in the tabloid media (tv, radio and press). It was almost like it came from nowhere.

Re the judges reading books. Not only do some of our judges look sleepy they actually fall asleep in trials. I could be cynical and say that's why we have transcripts :wink:

Anyway the court has found her guilty, there are a few appeals to go yet. I won't comment on her guilt or innocence but 20 years for cannabis is bloody harsh - for anyone, pretty girl or decrepit old bloke.
OMG! If she is innocent, then who needs the "help" she's received so far? Now this!
Last Update: Thursday, June 23, 2005. 8:35pm (AEST)
QC alleges Corby team in bribe bid
A Perth QC helping Schapelle Corby's legal team appeal against her drug smuggling conviction says he was asked to pass a letter from a member of the team to the Australian Government requesting money to bribe Indonesian judges.
However, Corby's defence team says the money was requested for a public relations campaign in Indonesia.
Mark Trowell QC claims the team's coordinator, Vasu Rasiah, gave him an unsigned letter this month asking the Government for $500,000. ... <cont>
http://www.abc.net.au/news/newsitems/200506/s1399262.htm
Look who's got a new fragrance now
Couldn't resist slappin this in here.......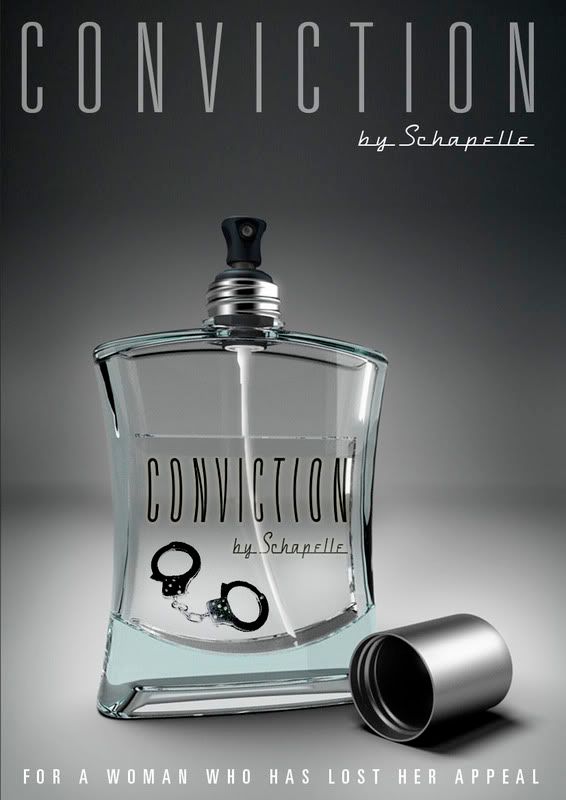 Re: Look who's got a new fragrance now
Kirky wrote:
Couldn't resist slappin this in here.......
Baaaaaaaad newbie!
:wink:
Aw.... Muriel, you are awful!!
Then there was the new Victa 'Shapelle', a lawn mower so advanced that its catcher was able to hold 4 1/2 kg of grass without making the mower feel any heavier.