signs of spring
eastern lake ontario : daffodils and snowflowers are doing well . some tulips are opening up . drat , mrs h planted quite a few new bulbs but i forgot to sprinkle blodmeal on top of the soil ! some sqirrels decided to investigate ... drat !
started raking the lawn this afternoon . we had a lot of rain over the last weekend , now warming up nicely - about 13-14 C , almost 60 F .
that's spring ! hbg
Our spring native flowers are starting to show, starting with hepaticas and yellow trout lilies.
click this photo for full- screen size (800 x 600) view.
The juniper and the italian cypress stand a mere few feet from each other. Caramba, one of them has to go. And so, tomorrow the juniper will go to El Dumpo, as will the beetle infested and weedwhacked pinon pine, which looked to have been nice before all that, and another italian cypress planted 10 inches, count'em, 10 inches, from the fence... well, maybe I exaggerate, but not by much. Apparently the developer of this tract never looked up how high and wide those naturally get - or perhaps it was the former owner, but I doubt it. She/they didn't do much.

I have my beady eye on a non-native looking sort of hedge that works its way downslope next to driveway. I think I want to terrace that with level areas and plant something I can love.

I may manage to post some photos.

Am getting bids on a short retaining wall and steps so one can enter my place from the sidewalk instead of hiking up the driveway - that plus sleeving and then threading a 3/4" pvc pipe under the sidewalk so I can eventually drip irrigate the parkway.

Today has been exhilarating. Henry the Total House Renovator and his help guy Mike took out the carpet from hell, which I'd tried doing myself and despaired about. It was the kind of carpet that if you had it cleaned, mud would rise to the top... and they took off the offending front overhead roof thing, saving one good 4x10? beam and the two posts for other use. Suddenly I like the house a lot better. (Also I got my car back from Air Conditioning Limbo, and I have cold air available now.) Life is good...

As for signs of spring, it is a little late for that in my doing all this but, just as I am, irises are budding...
The ill-placed planting...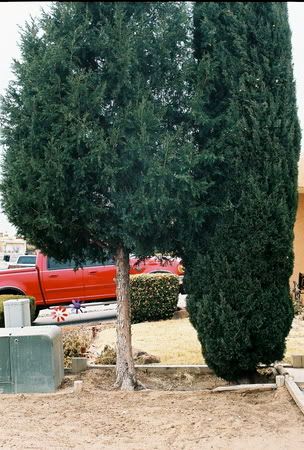 The dying pinon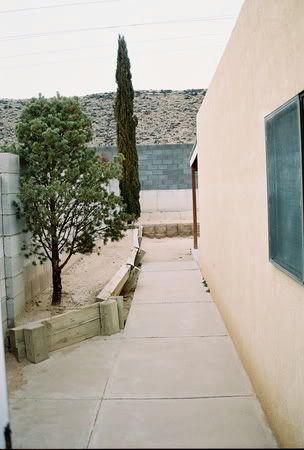 The dreadful roofette, don't get me started..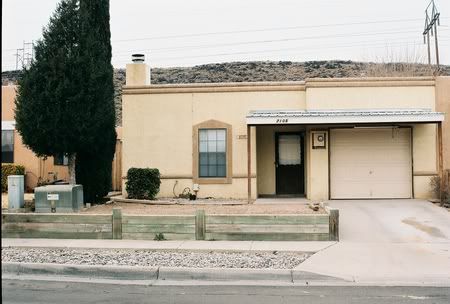 side view of dreadful roofette
view of the 10" away from fence chaemocyparissus - across which is a non-pruned ever before seemingly mulberry, cachoo....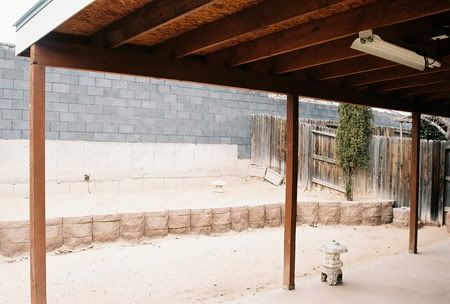 See all that dirt? It is sand...
Some may notice the structure of the back patio overhead is lame.. I'm working on that...
It was damn hot here in Silicon Valley today; probably in the mid-eighties. Yeah, it was real hot.
Photos!

I can see how the removal of the rooflet thingie would much improve what's there.

I have been trying to imagine where you are, this fits fairly well. Small, with character. I so look forward to seeing what you do with it; I'd be interested in watching the progression of most anyone's remodeling/ landscaping attempt, but that's all doubled to see what YOU'D do with it. Not a pressure thing, I know that there are constraints up the wazoo, but I'm sure you'll do much with what you have, and I like to see artisans at work.
Oooohhhh, Osso, thanks for the photos! <sigh>
That brown storm door is history too. as is the brown outline for the garage. The sub-friends took the storm doors away just after they understood what I want re the small wall and steps bit. (good, I didn't have to pay $30.00.)
I tried to save a faux wavy grill thingy, but couldn't pry it off in ten minutes and gave up re how much I might want that faux thing in the first place.

Well, I have another guy bidding, smart fella that I like. I am all morassed, as in that I like both folks, and am circumscribed by money matters.

Hmm. I slightly connected to the key sub guy for the wall stuff. I know he's ok, as I like his work at Dys & Diane's. We mostly but not entirely needed Henry to talk to each other. Almost did ok on our own. We are equally lame in english and spanish, and equally adept, in our ways.
I also like the pix of Neko's wildflowers. I adore trout/dogtooth lily and have become a recent fan of hepatica as well.
Lavender smells nice in the garden..
Oh satt, that's such a beautiful picture, and your new camera
is obviously very good.
Very pretty!

That's not lavender, though, it's muscari/ grape hyacinths.
Gorgeous flower portrait !! Goes to show just how pretty small flowers can look at close range !
Keep those pictures coming !
I can't see the lavender/muscari!
Our wisteria is in bloom, and this is the most flowers we've ever had. I think it has something to do with the heavy rains this season.
Up close and personal.
I love the look of wisterias, cicerone. Yours has an abundance of
flowers on it - just beautiful.
Wysteria is one of those plants that bloom better when pruned well. Ci, did you do much pruning last year? Beautiful set up, there.
Not real pruning; just a cut here and there to cut back unwieldy branches.