@rosborne979,

I was wondering exactly the same thing.
Mission controllers at NASA's Jet Propulsion Laboratory in Pasadena, Calif., 310 million miles away, received a signal from the spacecraft at 8:36 a.m. EST that Dawn was healthy and thrusting with its ion engine, the indicator Dawn had entered orbit as planned.

"Confirmed: I am in orbit around #Ceres," Dawn said in a Twitter message.

"Since its discovery in 1801, Ceres was known as a planet, then an asteroid and later a dwarf planet," said Marc Rayman, Dawn chief engineer and mission director at JPL. "Now, after a journey of 3.1 billion miles (4.9 billion kilometers) and 7.5 years, Dawn calls Ceres, home."

The spacecraft, trailing a beam of blue-green vapor behind it, was captured by the dwarf planet's gravity at about 4:39 a.m. EST, the mission team said.
Alright . . . now tell us what the damned bright lights are!
@Setanta,

The sign is always lit at the open 9 hour and 4 minute a day Walmart on Ceres.
We've been neglecting our dwarf friend . . . here's the very latest from the BBC, less than three hours old:
Ceres' bright spots back in view.
@Setanta,

I write Ceres as a budget vacation spot. Maybe the bright spots are neon signs?
Ceres, the Tijuana of the Solar System.
PS I think this is incredible and can't wait to learn what those spots really are.
People may think i'm goofy, but i find it exciting. NASA's next project, supposedly, is to capture an asteroid.
See it right here on yer tee-vee!
@Setanta,

They're even going to shrink wrap it before bringing it home!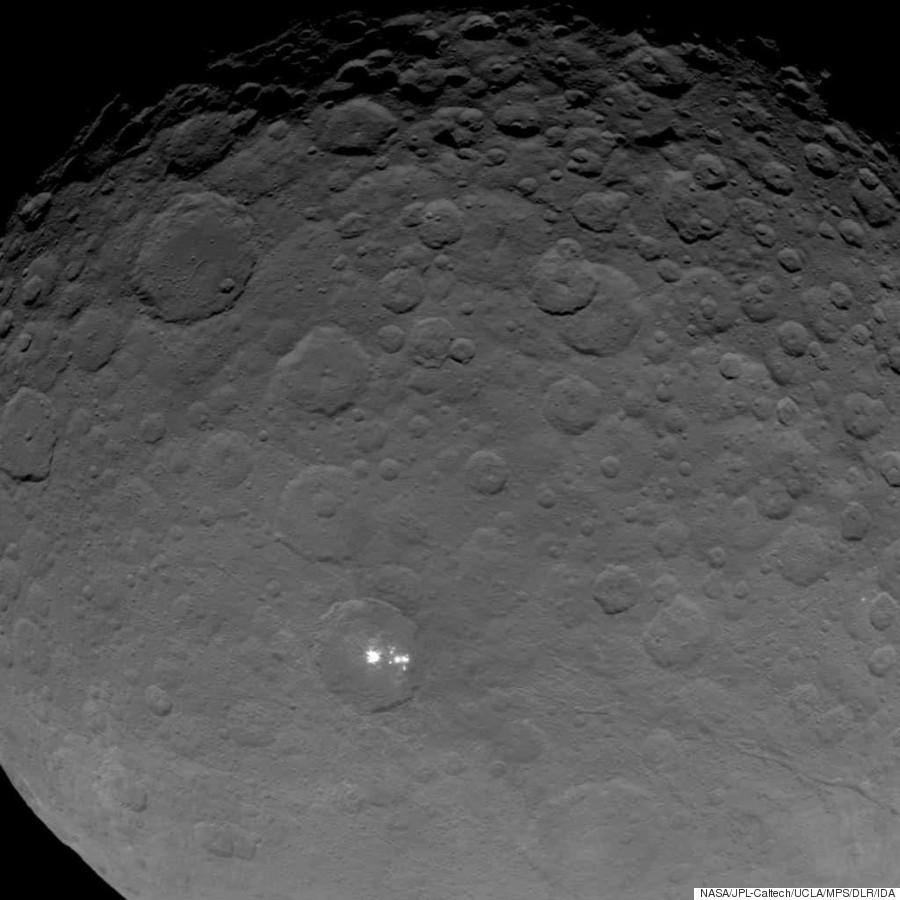 @edgarblythe,

Now that's even creepier . . . it just makes the mystery more ominous . . . now for some mood music . . .
Quote:
A new animated video of dwarf planet Ceres, based on images taken by NASA's Dawn spacecraft, provides a unique perspective of this heavily cratered, mysterious world.

The video is based on observations of Ceres that were taken from Dawn's first mapping orbit, at an altitude of 8,400 miles (13,600 kilometers), as well as the most recent navigational images taken from 3,200 miles (5,100 kilometers).

Data from 80 images are combined into the video. Analysis of overlapping images provided three-dimensional detail. The vertical dimension is exaggerated by a factor of two in the video.

"We used a three-dimensional terrain model that we had produced based on the images acquired so far," said Dawn team member Ralf Jaumann of the German Aerospace Center (DLR), in Berlin. "They will become increasingly detailed as the mission progresses -- with each additional orbit bringing us closer to the surface."

Dawn entered its second mapping orbit on June 3. It will spend the rest of the month observing the dwarf planet from 2,700 miles (4,400 kilometers) above its surface. The spacecraft will conduct intensive observations of Ceres, completing orbits of about three days each.

https://www.nasa.gov/jpl/dawn/fly-over-ceres-in-new-video
See all the latest Dawn Mission images of Ceres
here
.
@mesquite,

Good one. Thanks.