Wed 14 Apr, 2004 09:44 pm
If you could be any animal, what would you be? I'd be a monkey, mostly because I just like doing that high pitched screetching thing that they do. And I'd like to be able to fling my poo around without being ostracized for it.
LOL...I'd be a cat, because all they do is eat, sleep, and ****....wait i do that already!
I think this thread has high comedic potential.
I would be a slender loris. I would spend my time picking flowers for the slender loris ladies, and once they were under my spell I would spend the rest of the evening making passionate slender loris love in the treetops.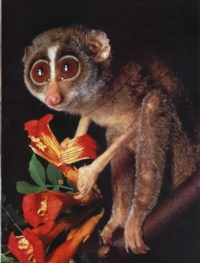 I'd be a turkey. A fat top on stick legs.
Hey, that sounds like a pretty good life. By chance do you know if they ever fling their own poo?
Boy, that's an easy question to answer. I would be a rabbit cause I like to do the things that makes you be fruitfull and multiply!!!
No, Scoates, the question is... What would you like to be?

This is your chance for a little escapism.
Doglover, have you ever seen a monkey in action? Don't underestimate monkey sex, baby!
kickycan wrote:
damn it, I can't post this picture.
C'mon kicky, you CAN post the picture. Nobody's here 'cept us. :wink:

Monkey sex, huh? Hey, I'm adventuresome and willing to learn! I must say kicky, I've heard that a apes dick is the size of a pinky finger. How much fun can that be?

OH GOD! YOU ALREADY DID. I DIDN'T SEE THAT WHEN I POSTED MY STUFF!

Wow! That's HOT. Time for me to go wake up the hubby!
Actually, neither one of them has a passionate look on their face. I wonder if she isn't saying to him "is that all there is...I got more satisfaction from a banana yesterday".
The banana patiodog or the monkey picture :-)
Daddy has a Harbor Seal
He keeps it in the pool
It swims around like crazy
And it leaves a little stool.
Easy....I would be Animal from the Muppets. Cool drummer and "WOMAN!!! WOMAN!!!"
I'd like to be a hawk,<<<<<see left<<<<< but a duck has always appealed to me too. They always seem happy quacking, swimming and lolling about. I'd want a menu change though.
Mind you, pigs apparently have really long intense orgasms. Something to ponder I guess. :wink:
Ceili wrote:

Mind you, pigs apparently have really long intense orgasms. Something to ponder I guess. :wink:
Is that a fact? That isn't firsthand knowledge I hope. LOL If that IS the case, then I wanna be a pig.