@ossobuco,

I'll copy from a book I had a long time. I gave it away but got another one, it's fairly interesting, as a start book.
This is an old fashioned americanish recipe, but.. I loved it, at least then.
The Ortho book (Ortho!) called Adventures in Oriental Cooking (Oriental!)
Here's the photo: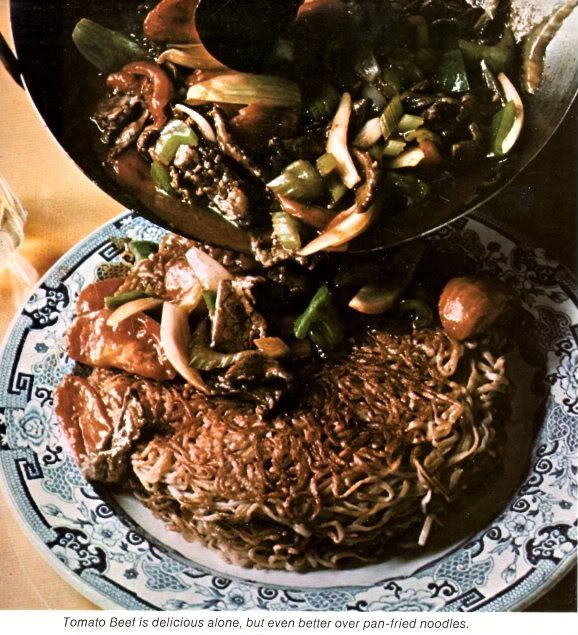 quoting -
Tomato Beef Chow Mein
to add even more contrast of flavor, serve this with little dishes of soy, vinegar, and mustard.
1/2 flank steak (about 3/4 pound), cut in strips 1/8 inch wide and 1 1/2 inches long
Marinade
2 tsp cornstarch
1 tbs soy sauce
1 tsp sherry
1/2 tsp salt
1/8 tsp monosodium glutamate (!!!!)
1 clove garlic, minced
2 quarts water
1 pound fresh chinese style egg noodles
2 tbs soy sauce
salad oil for frying
Gravy
1 tbs each soy sauce, worcestershire, and cornstarch
3 tbs catsup (hmm, but I guess it happens)
1 tsp curry powder
1/2 cup water
4 tbs oil
salt
2 large stalks celery sliced diagonally 1/8" thick
1 medium onion cut in wedges, separate layers
1 green pepper cut in bite sized pieces
3 medium tomatoes cut in 6 wedges each
1. Marinate meat in mixture of cornstarch, soy sauce, sherry, salt, mg, and garlic. Set aside while you prepare noodles and vegetables.
2. Heat 2 quarts of water to boiling. Add noodles, stir, and again bring to a boil. Add 1/2 cup cold water, reduce heat and simmer 2 to 3 minutes. Drain, rinse with cold water and toss noodles with the 2 tbs soy sauce.
(Osso - I never have fresh chinese noodles at hand, though I suppose I could make them. No memory of what works with the packaged stuff, except following the directions)
3. Heat 2 tbs salad oil in a non stick frying pan. Spread one third of noodles in pan and cook, without stirring, over high heat until light brown. Drizzle a few drops of oil around the edges of the noodles if they appear to be sticking. Turn the sheet of noodles to brown other side. Repeat with remaining noodles, adding oil as needed.
4. Prepare gravy by combining the soy sauce, worcestershire, cornstarch, catsup, curry powder, and water.
5. Heat 2 tbs of the oil in a wok or large frying pan. Sprinkle a little salt over the oil, then stir fry celery and onion 2 minutes.
add green pepper and cook 1 minute. Add tomatoes and heat through. Remove from pan.
6. Heat the remaining 2 tbs oil in wok and stir fry marinated meat for 1 minute or until sauce thickens. Stack pan fried noodles on a platter and cover with meat sauce.
Bunch of busy work, I did that a few times, delicious, at least back then.
I do like my mein on the crispy side, for at least the bottom of it. The recipe writer has more to say, but I'm tired now.
I'm attached to this recipe since it was from when I was first playing around with cooking. I suppose there are plenty out there on the web.