Mon 17 May, 2010 12:00 pm
I thank heavens every day for Jews and Muslims . . . that's more pork for the rest of us ! ! !

Ham . . . that is the most sublime pork there is . . . the back "bacon" of Canadian fame, the pork back roasts called pea-meal bacon in Ontario--if not overcooked until they are dry, are almost as good. And, of course, any good pork sausage. I love liver sausage, too, which in North America, in my experience, at least is made from pork liver.

Give me a good pork roast, well cooked but not overcooked, and i'll be a happy man. What's your favorite pork dish or form of pork?

Here, piggie piggie piggie . . . Soo-eeeeeeeeeee ! ! !
I have ta agree with you there, setanta. I eat pork chops, sausage, bacon - Only meat I eat more of is chicken.
@Setanta,

boneless butterfly chops and sauerkraut.
slow cooked...
I thought this was going to be about Congress.
@Rockhead,

maroon! when you remove the bone, you remove half the taste.
@dyslexia,

OH, I think so too Dys...bone in porkchops are so GOOD.
@Setanta,

we've long known the joys of pork in Canada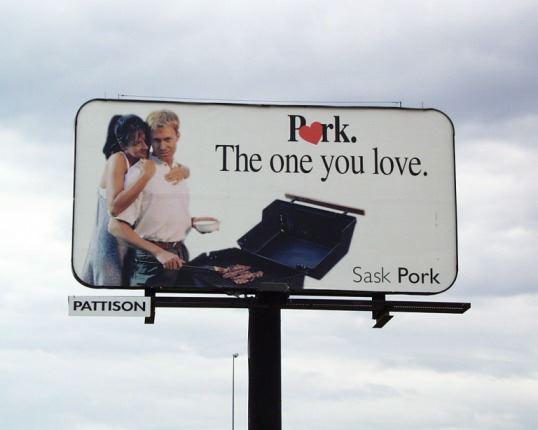 and we eat pig products too
Roasted uncured hams are great also.
@Setanta,

Country ham and red eye gravy. Pork chops and gravy with corn bread. My mom used to do the chitterlings bit as well: she called them chittlin's
So if you can't be
With the one you lo-ove . . .
Pork the one you're with ! ! !

Hehehehehehe . . .

I love that red eye gravy, too, but give me that white milk gravy, with pork chops, and some fried hominy with pork sausage?

Heaven
I'm in heaven . . .
@Letty,

Anyone for a barbecue?
Or pork chops in vermouth sauce:
@Francis,

Better than shrimp on the barbie, Francis. Yum.
The Ink Spots.
http://www.youtube.com/watch?v=D2HNchkebwk
I am the RIBMASTER. We had our first bbq ribs of the season this weekend and it was superb. I had a butt in the bbq also, in case someone wanted some pork yank. Ive found that even pulled pork can be improved by adding a little bit of bacon to the pulled pork pile and mixed with the sauce.

I could go back right now and eat more ribs!! I pity the culture that shuns the piggy and its many uses.


Enjoy your swine flu heathens.
Lamb rocks my socks
mmm, battered pigs feet in red chile sauce. . .
@InfraBlue,

ckckckckcrispy roasted pig tails
some sea salt
done
babyback ribs...slow cooked...with barbeque beans, potato salad and nice wine.
@Bi-Polar Bear,

Porchetta alla Perugina - a stovetop version of porchetta that has worked very well for me:
http://able2know.org/topic/8605-1