@Robert Gentel,

First up " thanku Robert.
Second...
UNBELIEVABLOODYBLE " I am going insane with this!
So frustrating " everything was working fine for a while " started up this morning no problem (how, how does that happen) " then... it all goes off again and could switch itself off again any minute. Driving me nuts!
Have Downloaded and run the Trojan.Brisv.A!inf Removal Tool from Norton " tho everything said I had nothing wrong an alert did come up the other day and then, whether or not coincidentally, the laptop shut off! So have done it anyway " in safe mode, restore point disabled, internet disconnected.... etc.... did it all " said it found the virus " it then removed it. Laptop then crashed. Would not start up for about an hour or so...... then start up and into startup repair.
This came back:
Startup repair cannot repair this cpu automatically
Problem Event Name: StartupRepairV2
Problem signature 1 " Autofailover
Problem signature 2 " 6.0.6000.16386.6.0.6000.16386
Problem signature 3 " 2
Problem signature 4 " 65537
Problem signature 5 " unknown
Problem signature 6 " no root cause
Problem signature 7 " 0
Problem signature 8 " 2
Problem signature 9 " WrpRepair
Problem signature 10 " 2
OS version " 6.0.6000.2.0.0.2561
Locale ID " 1033
(I don't understand any of this stuff)
Diagnose and repair details
It detailed all the sessions as completed successfully except:
Root cause found
Unspecified changes to system configuration might have caused problem
Repair Action: system files integrity check and repair
Result " failed
Error Code = 0 x 2
Time taken 3999518ms
Tried to go into the advanced bit....it won't allow me " says "system recovery " administrator " your account has been disabled. See your system administrator" <that being moi>
Then: do I want to restart " yes " and it started up!!!!!!!!!!!!!!!!!!!!!!
I don't get it. Scared that it's gonna crash again and I can't do anything about it. Dammit.
Anywho: when it was working a little earlier on...
I installed the temp software " brill " thanku... this is what it says:
Address $50 appears to be WRITE ONLY...
Found Intel(R) Core(TM)2 Duo CPU T8100 @ 2.10GHz
End of detection
When I start a program like Picasa the GPU goes up to 60 deg with 3 flame signs beside
GPU 60
Core 0.66
Core 1.63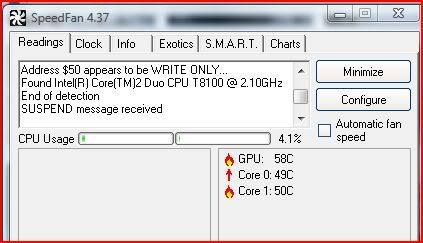 At 60deg msg reads
I/O properly closed
Ready for suspend!
APMRESUME message received
Resuming from suspend...
Not sure what any of this means " whether it's normal or not.
At the moment , after the fiasco of the last couple hours, with the cooler underneath and not whirring REALLY LOUD, only loudish - running at 62C , 0.59 and 1.6.
Whaddya reckon " time to chuck it thru the window and into the river! It's doing my head in. I haven't had the chance to un and reinstall Norton 360 yet " I have run a quick Norton scan again and the Iobit " what I don't understand is that if I had that Trojanb*stid thing there " why didn't it get stopped??????????????????????? What's the point of antivirus if it doesn't stop the viruses??? The corrupted file was music file. The Iobit I use is the paid version which does a deep scan " yet it didn't detect anything. Is this a new virus?
There is a Norton Diagnostic report but I'm not sure whether I should post it on here as there's a lot of information there??? Should I still go ahead and reinstall Norton?
Been doing this for many hours now " infuriating.
Thanks for the help. Appreciate it.
Oh, one other thing. When I go into hotmail now - it comes up saying I am secured - then to get into hotmail (email) I have to agree to be over an unsecured setting where information can be seen. Whats that about? never had that before - I thought all email was secure.
Hope all that makes some sense.
(sorry, lots of questions here - yes, have access to a verra old PC whose hamsters spin exceedingly slow but I can get on the internet with it at a push - slight prob with feet at the moment sitting down in a chair tho)