@Fountofwisdom,

Quote:
Your complete lack of knowledge of history . . .
This is uproariously hilarious, coming from you. Yes, i'm an American, and in this and oh so many other threads, you have demonstrated that regardless of what your nationality may be, you don't know **** about history. Tell me again about your claim that most cultures have a flood myth. Tell me again about the contributions of Henry I to Oxford University, and it's "state function." It wouldn't be hard to search your posts and come up with a dozen other boners . . . more than a dozen.
At no time did i mention the date 1777. You mentioned the English going to Australia, and i pointed out that the penal colony was started in 1788, at Botany Bay, which was mapped by Cook in 1770. In fact, the first time i mentioned a date in this thread was 985 or 986 in referring to the voyage of Bjarni Herjolfsson. Telling me how many astrolabes are at the Maritime Museum at Greenwich has absolutely no bearing on the question of who, in the southern hemisphere, ever devised and employed an astrolabe.
The west coast of Africa, to the north of the equator, was the venue for slave traders from Europe and North America, and as i have already pointed out, by the mid-18th century, which was when American merchants from New England began trading directly with the slave coast, mariners were using the sextant, and not the astrolabe.
Here is a map of the Guinea or Slave Coast (read the map itself), from 1731. If your "scientific training" stands you in good stead, you'll be able to see that the slave coast was all to the north of the equator--that it lay between the Tropic of Cancer and the Equator.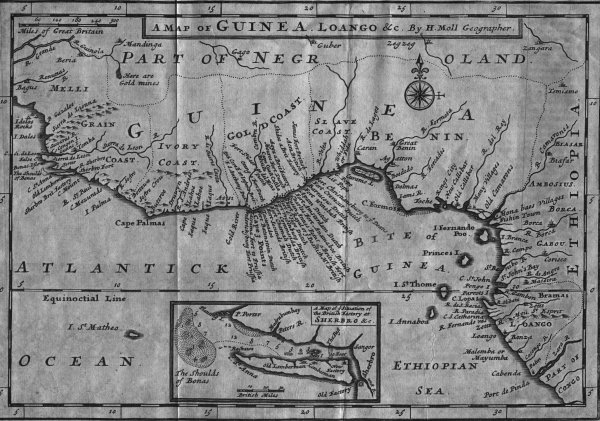 It is also hilarious to see you accuse me of giving imprecise answers. When it comes to history, i can nail your scientific ass to the wall with precision, every time.
As an academic, you are apparently incapable of correctly spelling the word "although."