Little Richard's 'Keep a knocking' just came up on random



When the drum intro started I honestly thought it was going to be this


'Signed D.C.' by Love just came up and I thought it was going to be a cover of the Moody Blues 'Nights In White Satin'. Apparently I'm not the first person to notice this
https://www.youtube.com/playlist?list=PL765CC0763A25B3AB
Love:
Moody Blues:
@hingehead,

I never made the connection.
@panzade,

Do you hear it now - or is it a long bow?
@hingehead,

You mean there's another version of the Dickies' classic?
Bloody random played this



I've never realised how much the bridge to the chorus and the chorus itself sound like complete rip offs of this:

Old Louis Armstrong track Muskrat Ramble came up
About 24 seconds I swear I hear the chorus for Country Joe Macdonald's Fixing to die rag.
I wondered if anyone else heard it - and who would have thought - Kid Ory's (the composer) heirs tried to sue Macdonald in the early 2000s because they heard it too!
https://en.wikipedia.org/wiki/The_%22Fish%22_Cheer/I-Feel-Like-I%27m-Fixin%27-to-Die_Rag#Copyright_lawsuit

I need someone to tell me what song has the same music/beat when he sings the "I'm gonna ride my horse........" part in old town road by lil nas. I can't remember what song sounds like that for the life of me. It's driving me crazy.
@Ap166724,

Sorry, it sounds like lots of things which makes it hard to pin down. Will let you if I can discern something definitive.
@hingehead,

A bunch of soldiers from my office made the trip to Woodstock...I would have loved to see the bands...but porta-pottys and sleeping in the mud wasn't something I was willing to do..........Today coming home from an appointment and listening to the radio, the DJ said there would be a 50th anniversary concert to commemorate Woodstock..then he started to announce who was going to perform....the first name was Miley Cyrus..DO THEY HAVE TO RUIN EVERYTHING?????
@glitterbag,

Janet Jackson is doing the same to Pilton, sorry Glastonbury.
Quote:
You may have thought The Killers and The Cure were headlining this year's Glastonbury Festival.

It was, after all, officially confirmed by organisers earlier this month that they would top the bill at Worthy Farm come June.

But Janet Jackson's Twitter feed tells a slightly different story.

The R&B star was added to the Glasto line-up on Friday - a bill which also features the likes of Stormzy and Kylie Minogue.

The version of the Glastonbury poster Jackson has tweeted, however, has seen her bumped up to the top slot.

It's unclear whether the singer's team asked for this version of the poster to be made or whether Glastonbury offered it (we've asked them both).

But we think it's unlikely Janet was up late one night on Photoshop doing it herself.

https://www.bbc.co.uk/news/entertainment-arts-47624747
The original poster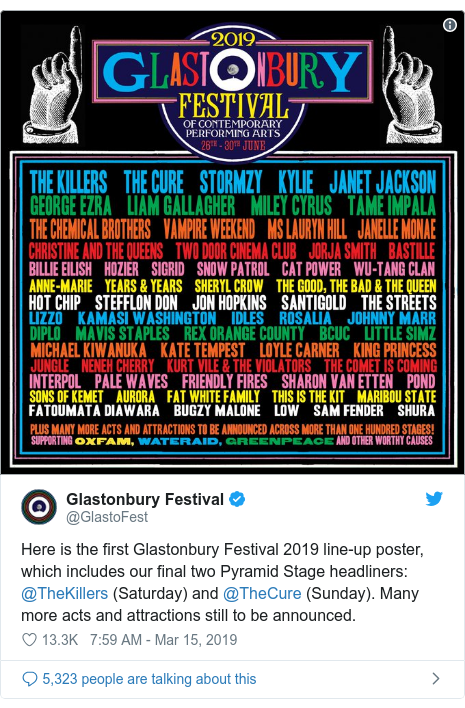 Janet's Poster