This looks cool to me, what do you think?
Link to Article in ArchNewsNow.com -
New science building at Arizona State University
Here's one photo, there are more in article -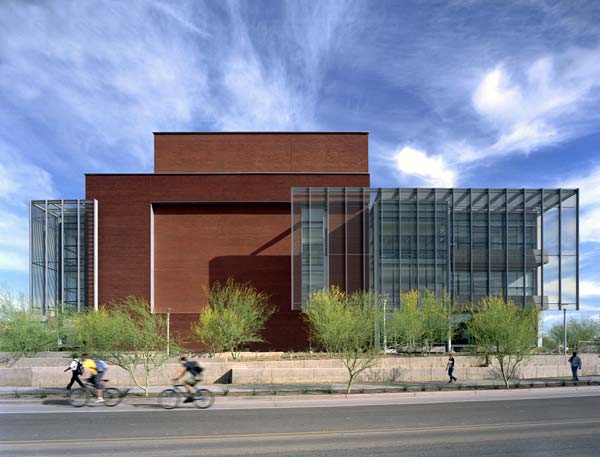 photo credit - Timothy Hursley
quote of the beginning of the article -
New Frontiers in Science and Design: ASU Biodesign Institute by Gould Evans and Lord, Aeck & Sargent

Tempe, Arizona: When architects were asked to be as innovative and hi-tech as their client, collaborative team expertise delivered the vision.
By ArchNewsNow
September 20, 2006
Form and function are the calculus of every architectural project. But rarely has that mandate provided challenges as demanding as the construction of the Biodesign Institute at Arizona State University in Tempe. Bordering on Phoenix, ASU is the fourth largest university in the U.S.
The Institute, a state-of-the art research facility, creates a structural nucleus for the interactive convergence of the most advanced contemporary sciences. It serves as a catalyst for collaboration between the historically disparate disciplines of chemistry, biology, physics, and engineering. The first 13 research centers represent this spectrum and include applied nanobioscience, bioelectronics, infectious diseases, and environmental biotechnology.
The Design Assignment
The vision presented by ASU President Michael Crow was determinant and specific in detail. Design elements must create a dynamic setting of openness and easy access to "encourage intellectual fusion." It should utilize natural light, provide views from all workspaces, and the infrastructure should be flexible to respond to unforeseen changes in biotech. Visually it must relate to the campus architecture and be "inspiring to occupants as well as the community." Additionally, the Institute should express its ecological focus with green strategies applied to materials, water, and energy conservation.
Beyond these strictures were exacting technological specifications. Because of the sensitivity of the equipment and experimentation, a vibration-free environment shielded from electromagnetic interference (EMI) was essential. A failsafe security system must protect equipment and experiments from unauthorized intrusion.
The architectural firms of Gould Evans and Lord, Aeck & Sargent have translated the vision into a form that functions.
end/quote (rest of the article tells how....)