Is this the recipe you want?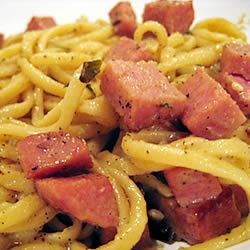 1 (8 ounce) package uncooked spaghetti
1 tablespoon vegetable oil
1 (12 ounce) Spam, cubed
1/2 green onion, chopped
1 clove garlic, chopped
1 tablespoon soy sauce
1/2 cup water
1/2 tablespoon sesame oil
1 teaspoon freshly ground black pepper
Directions
Bring a large pot of lightly salted water to a boil. Add pasta and cook for 8 to 10 minutes or until al dente; drain.
Meanwhile, heat vegetable oil in a medium saucepan over medium heat.
Add Spam, green onion and garlic and saute until light brown. Stir in cooked spaghetti , then stir in soy sauce, water, sesame oil and pepper. Mix all together, heat through and serve.