What is good to eat?

Should we be meat-eaters?

What will genetically make us sustained?
@TheCobbler,

1. A bacon sandwich.
2. Yes. Bacon eaters to be nore specific.
3. Good quality bacon.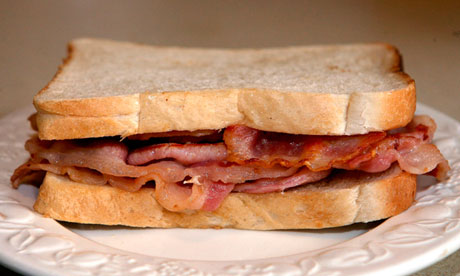 Do crustaceans feel pain?
What are we saying about ourselves?
Diet...
The ocean can be cruel and the ocean can be kind and until the day we know her will, the town is standing still. tc
@TheCobbler,

The sea was angry today my friend--GC
We had one thread here by devote vegens, quite smart ones, and I think many of us have flirted with it.

Me, I'm a lifelong meat eater mixed with consideration for the animals. I grew up not liking vegetables very much (turns out they were overcooked by a lot, but I'm an oldie and that was the way back then); never heard of a salad until I was about twenty. Now I like or love a lot of vegetables and they are my primary food, except for my own homemade bread (except that I cheat and buy it once in a while. Mine is better.)

I need protein and meat/fish is a way to get it. Plus, I like them. I buy one biggish meat package a month (pork shoulder? 10 chicken thighs?). The fish selection at my old favorite store was relatively poor, but I do make fishcakes with canned mackeral or salmon. With those packages, I can make a pork shoulder (carne adovado?) last a month, similar with chicken. Similar with fish cakes, which take a little work; I make them differently every time.

Sorry if you or anyone doesn't like this. I cook 98% of my meals and get fairly weary if I don't stock up things to thaw from my small freezer.

I understand the problems meatgrowing brings to the land. But so do a number of crops.

_ I looked for that couple's thread and no luck, but there are pages of threads about being vegan.

A sure cure for seasickness is to sit under a tree. - Spike Milligan.
@Lordyaswas,

Sounds like Spike had a lotta smarts.
I like eating dead animals, just like my ancestors. If necessary, i'd kill 'em myself--i've done it before. The only down-side is weepy women coming around looking for their toddlers.
@Setanta,

You like killing animals?
I like eating muscles and snales... (scallops)
Shaved pepper steak and cheese?
@Glennn,

Glennn wrote:

You like killing animals?

Personally, I prefer paying other people to do the killing for me.
I do seem to enjoy killing plants.
@Glennn,

Yes, seeing those cute little eyes look up as the cold metal tube shoots metal through the brain stem isn't something I would enjoy.
Just give me the ground beef, wrapped in plastic, in the refrigerator section of my local supermarket.
@maxdancona,

Quote:
Yes, seeing those cute little eyes look up as the cold metal tube shoots metal through the brain stem isn't something I would enjoy
Why not? It's completely natural to do so.
@Glennn,

Maybe that turns you on, Glennn. But, it just isn't my thing. To each her own.