Sun 20 Mar, 2016 01:08 am
The spirit of Ama said that the three wise men or magi were really kings. They just met as they neared Jerusalem. They passed by the way to Nazareth on their way to King Herod the Great at Jerusalem.

Their names were Melchor, Gaspar, and Baltazar. They came from Arabia, Saba or Sheba, and Persia. When they reached Jesus two weeks after Jesus was born, they kissed the feet of Jesus, and offered their gifts of myrrh, frankincense, and gold, and laid down their scepters and crowns.

King Melchor offered myrrh as gift because He is "true man who will save mankind from sins." King Gaspar offered frankincense because He is "true God, merciful and savior to prayerful person." And King Baltazar offered gold because He is "true king, owner and holder of gold and the world."

These came from Pasiong Mahal chanted by Filipinos during Holy Week, pages 23-25, and related by Ama.

@peacecrusader888,

The spirit of Ama is not very well informed.
You better find a more educated spirit to teach and tell you about the Bible.
Right . . . kings have nothing better to do than to tramp around the middle east, with no retinue, wandering from stable to stable. The gulliblility of religious fanatics who are would-be new messiahs is only exceeded by that which they hope their followers will display.
Pubs could walk in those days, now you can only see it when you've had ten pints.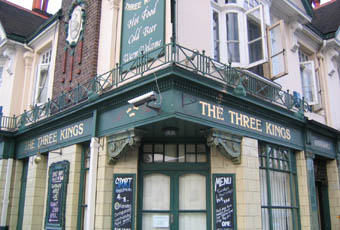 @peacecrusader888,

Filipinos do tend to have an unusual take on Christian staples. Seems to be rooted in their native culture.
@saab,

Do you think that the spirit of Ama is not well-informed? When was Jesus Christ born and when did He die?
@ehBeth,

Where will World War III start?
@peacecrusader888,

In my pants baby!
@peacecrusader888,

Do not try to confuse me with another question I have made up my mind.
That means I trust more the theologians who has done as well a research which is even possible that it could not be kings but magicians or astronomes
The spirit of Ama has not read up on the latest information
fun fact... contrary to the nativity, the "star" led the magi not to Jesus, but to Herod, who was threatened by and wanted to kill Jesus. It was only through the intervention of angels did they avoid unwittingly giving Herod his location once found.
Fact?

Fun fact?

How do you allege that a star lead them anywhere? Did you ever study astronomy in school?
@Setanta,

It's true!! They rode on camels and kept looking up to the flying saucer, massive bugger or something, I just watched the video, it has to be true !~
https://www.youtube.com/watch?v=PQ_ezGeIO4I
It has to be true if you seen it on the interwebs . . .
@peacecrusader888,

Who said they were kings?
Who said there were three?
@neologist,

The spirit of Ama said that they were kings and there were three. These are confirmed in Pasiong Mahal, a book chanted in the Philippines during Holy Week.
@FOUND SOUL,

They rode on dromedary camels found in parts of India, Arabia, and northern Africa. They have only one hump and are swift and used for riding. The Bactrian camels have two humps and found in central Asia.
@peacecrusader888,

So you don't believe it's sinful to add to scripture. Did the book of Revelation fall out of your bible?
@peacecrusader888,

The worst sin is committed by the one who drowned the whole humankind (with the exception of Noah and his little family).
Just imagine that the dead bodies of innocent children are strewn around the world like stars strewn the black skies. You'll get the true concept of what is sin.
And what is the one, with his shockingly poor ability of education, named? "God"? "Creator"? Or Monster? You decide.
@oristarA,

Floods is nothing unusual - and the whole world you should take as a symbol for the area where Noah lived.
@neologist,

The spirit of Ama said that we read also Pasiong Mahal beside the King James Version (KJV) of the Holy Bible which is nearer the truth (KJV). Remember that the Romans first made Easter (Christian Passover) to be near the spring equinox.