Turkmenistan bans beards

A new law banning men from having unkempt hair has been passed in Turkmenistan. The country's president Saparmurat Niyazov announced that long hair, beards and moustaches will no longer be allowed.

The law was reportedly passed on the grounds that hair gives outsiders the "wrong impression" of the country and is "unhygienic". It also applies to foreigners and barbers are being set up at airports and border crossings to make sure the new ruling is adhered to.

The bizarre law is the latest in a list of strange regulations passed by MPs under pressure from Niyazov, who has been in power since 1985.

Other laws include a ban on ballet and a tax on foreigners wanting to marry women from Turkmenistan. That levy - which includes a honeymoon bed sheets tax - is a bid to clamp down on brides using online dating agencies to leave the country. Prospective overseas suitors have been told they will have to stump up more than £25,000 and give the bride's family ten solid gold rings before they can tie the knot.
No ballet! What are they, barbarians. I know gustvratzenhofer won't be goin there.
I guess being the Turkmen president is a boring job...
[QUOTE="Rick dJust a week ago (the 'bear law' was announced on February, 23) President Saparmurat Niyazov of Turkmenistan has ordered the dismissal of 15,000 medical workers.

Two years ago, all the traffic policemen were sacked and now the streets are patrolled by army recruits.

And a clothes factory in the ancient city of Merv is staffed by the military.

President Niyazov, who recently banned men from keeping beards, apparently makes his decisions single-handedly.

There is no real parliament or any political checks and balances.

International bodies tend to have their movements restricted in Turkmenistan, while foreign governments tend not to raise their voices against the president's methods.
(source: BBC-online from March, 1 + 2)
Lee Kuan Yew of Singapore used not to allow men with long hair - they all used to scrooge their hair into tight pony-tails for the passport photos - and wear hats with their hair up in them when passing through.

And no chewing gum - which I wish they would pass here - damn streets are full of black chewie marks!
BBB
Oh, oh, better watch that wabbid wabbit. First its chewing gum, then its no dentures allowed.

Gumbys of the world unite!

BBB
I'm with you on the gum ban, Deb. Filthiest habit goin'.
Ah, finally a thread about Turkmenistan's loony dictator.

He also had different months of the year renamed - one after his mother, I believe, another one after his wife.

He also had a gigantic statue of himself, in solid gold, placed in the capital - the statue itself rotates on top of a huge pillar, I believe.

(Would have to doublecheck for the details).

Turkmenistan has huge natural reserves that give the president lots of money to toy around with ... meanwhile, the people are very poor.
Merry Andrew wrote:
I'm with you on the gum ban, Deb. Filthiest habit goin'.
I would propose that smoking is filthier than gum chewin'.
Niyazov is usually just referred to as "Turkmenbashi", or "father/boss of the Turkmens".

He's been appointed president for life, I believe.

(I really should google this stuff up before bothering you with more "going on memory" anecdotes)
Here you go ... Turkmenbashi's playground:
"Ashghabat: Saparmurat Niyazov - the Turkmenbashi - rotating statue that always faces the sun"
Here it is in full-length:
Gold statue of a fully grown President Niyazov revolving 24 hours a day to face the sun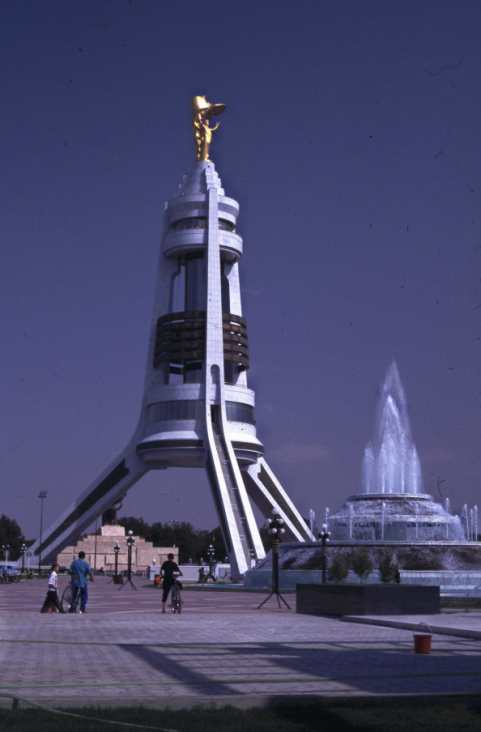 Not that its the only statue of him ... from the same webpage:
Gold figure of saviour President Niyazov as a child held high by his mother, Mrs Niyazov, having thrust herself out of a despairing world on the back of a bull - in black granite
(you have to click that link to see it, the picture's too big to post here).
Radio Netherlands World Service reports:
Quote:
Mr Niyazov, also known as Turkmenbashi ("Father of All Turkmen"), has ruled since 1985. His portfolio includes the posts of president, prime minister, army commander-in-chief, and Communist party chief.

[..] When the "suggestions" are approved by the national parliament, the Turkmen year will begin with the month "Turkmenbashi", and proceed through "Gurbansoltan" (Mr Niyazov's mother's name) and "Rukhname" (the name of a moral tome written by Mr Niyazov.)

Already streets, factories, and even toiletries have been named after Turkmenbashi; [..] Arne Goli, a journalist with the Turkmenistan service of Radio Free Europe [..] says every town now has a Turkmenbashi Street.

"It's unacceptable to Turkmens. All of the buildings, official buildings [have been renamed], even citizen's houses must have a picture of the president on the wall. It's unbelievable. It's an extreme personality cult."

[..] Last week officials announced the imminent publication of a collection of the president's poetry. The book is expected to become part of the school syllabus in the mostly Muslim nation.
The Committee to Protect Journalists (CPJ) reports:
i guess i can't go there either, in addition to having a beard, i smoke and chew gum.
Eh - no problem with smoking in Turkmenistan, I think ... and the chewing gum thing was Singapore ...
Sorry, Caprice. Nobody sticks dead cigarette butts on the backs of seats in movie theaters. Butts dropped on the pavement don't stick to your shoes when you accidentally step on them. Let's not confuse 'unhealthy' with 'filthy.'
Let me guess, the US supports Turkmenistan's leader in his efforts on the "war on terror," right?
I am not fond of spitting, or hawking, as a pasttime either, used to be suspect, and maybe still is, for tb bacillus distribution. I would guess gum would be too since it also has a coat of saliva. Exposure to catching it is not all that great, but does exist, I think. And with today's antibiotic resistance...

Back to Turkmenistan, this is of course a sad situation, especially the contrast between the well being of president (or whatever) and the people.
hobitbob, I think you've got it. And they have great oil reserves, all that's necessary to warm the cockles of W's alleged heart.
Let's attack him! They got oil or something! And, with loony statues like that, who's gonna care...
Democracy programmes in Turkmenistan got the largest share of US assistance in FY 2003. The USA issued US$4.7 million to these programmes, US$2.4 million to economic and social reform, US$2.1 million to cross-secotrial initiatives, US$1.4 million to security and law enforcement programmes and US$0.5 million to humanitarian assistance.


Saparmurat Niyazov was declared president-for-life and Turkmenbashi (father of all Turkmen) in 1999.
4.7 million dollars to democracy programmes in Turkmenistan? Dude, where'd they spend that on? Whatever it was, it ain't working!